DVDs from TCM Shop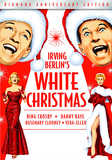 White Christmas Two musical stars team with a... MORE&nbsp> $13.95 Regularly $16.99 Buy Now blu-ray
NOTES
DVDs from TCM Shop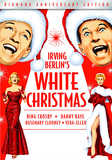 White Christmas Two musical stars team with a... MORE&nbsp> $13.95
Regularly $16.99 buy now
The film's onscreen title cards read: "Paramount proudly presents the first picture in VistaVision...Irving Berlin's White Christmas." White Christmas was advertised as a follow-up to Paramount's 1942 release Holiday Inn, which starred Bing Crosby and Fred Astaire and featured thirteen songs by Berlin, including "White Christmas" (see AFI Catalog of Feature Films, 1941-50). The plots of the two pictures bear little resemblance to each other, however. "White Christmas," which Crosby first performed on December 25, 1941 and recorded on May 29, 1942, became an enormous hit and acquired special significance during World War II as a song of hope and yearning. It won the 1942 Academy Award for Best Song and for over fifty years was the best-selling single in recording history. In White Christmas, Crosby sings the song during the opening war sequence. In addition to the songs listed above, snippets of Berlin's songs "Heat Wave" and "Let Me Sing and I'm Happy" are heard.
According to a January 2, 1953 Daily Variety news item, Astaire originally was to star in White Christmas with Crosby, but bowed out and obtained a release from his Paramount contract. Crosby bowed out at the same time, citing the recent death of his wife Dixie Lee and his desire to spend time with his son Lindsay as reasons for his departure. In late January 1953, however, Crosby returned to the picture, and Donald O'Connor was announced as Astaire's replacement. Shortly before production was to begin, O'Connor became ill and was replaced by Danny Kaye. According to a January 23, 1953 Daily Variety item, by the terms of their contracts, Crosby and Berlin shared the film's profits equally with Paramount. Hollywood Reporter news items and production charts add the following actors to the cast: Millard Mitchell, Pat Denise, Leighton Noble, Nick Stewart, William Meader, Charles Morton and Jim Elsgood. The appearance of these actors in the final film has not been confirmed.
VistaVison was Paramount's widescreen process and, according to an October 1953 New York Times article, used single-strip Eastman color film and a new camera with a double, or 70mm, frame. The camera exposed the negative horizontally rather than vertically "from magazines specially mounted on the side of the lens." The image was then optically printed into a positive 35mm frame and projected in the usual, "vertical feed" fashion. As noted in the Daily Variety review, VistaVision boasted a "consistent picture quality in the various wide-screen projection ratios...from the standard 1.33 up to 2 to 1. The quality carries over into 2.55-1 when the VV negative is printed anamorphically for that aspect ratio."
The Los Angeles premiere of the film was a benefit for the Southern California Society of Mental Hygiene. Berlin's song "Count Your Blessings Instead of Sheep" was nominated for an Academy Award. The film was re-released in the fall of 1961. A stage version of the picture, featuring all of the songs from the film plus a few other Berlin tunes, opened at the St. Louis Municipal Opera on July 17, 2000.