DVDs from TCM Shop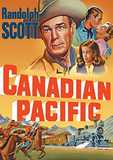 Canadian Pacific A railroad surveyor faces an... MORE&nbsp> $14.96 Regularly $19.95 Buy Now blu-ray
Articles
SEE ALL ARTICLES
Canadian Pacific (1949)
Fifteen years after the American transcontinental railway was completed, construction began on the Canadian Pacific Railway to connect British Columbia to Eastern Canada. For the purposes of the 1949 film Canadian Pacific, it's simply a setting for a western in the mountains and forests of western Canada, where the challenge of finding a route through the Rocky Mountains is compounded by the opposition of local trappers and Indian tribes. It is, shall we say, a portrait that refuses to let history dictate the details of the story.

Randolph Scott stars as Tom Andrews, the buckskin-clad surveyor and "trouble boss," a kind of foreman who has an instinct for spotting troublemakers and intervening in a very physical way before they have a chance to make any trouble. Scott plays Tom as a classic Scott cowboy: ramrod straight, with a big smile, quick fists, and fast draw. He instantly clashes with the railway's new doctor, Edith Cabot (Jane Wyatt), a cultured pacifist who abhors violence, before returning to Cecille (Nancy Olson), the frontier girl he met in the local trapper settlements while searching for the pass. It's a classic dichotomy: the man of the west torn between the wild frontier gal and the civilized society woman. In this pairing, trapper's daughter Olson is the gentler, more romantic of the two, while Wyatt plays the doctor as a fiery, obstinate woman under the corset and severe speeches.

Needless to say, circumstances toss Tom together with Edith while Cecille's people are whipped up into an anti-railway frenzy by the wonderfully-named villain Dirk Rourke (Victor Jory), a fur trader who fears his monopoly on the trading posts will be broken by the railway. Stir in stolen dynamite, Indian tribes on the warpath, and liquor-induced labor unrest, and you've got a war over the rails. Prolific character actor J. Carrol Naish, usually relegated to roles as villains or even Indians, provides color and comic relief as the sourdough Dynamite Dawson, an old coot with a bushy beard who drawls tall tales ("I once won the Kentucky Derby!") as the railway munitions man and Tom's most trusted ally.

If the history is dubious, the majestic landscape is real. Much of Canadian Pacific was shot on location in Banff National Park and Morley Indian Reserve in Alberta and Yoho National Park in British Columbia. Scott's introduction takes place in front of a deep-mountain waterfall that could be a picture postcard. Dense forests fill the screen and mighty mountains in the distance frame the drama. The production was shot in Cinecolor, a budget-minded answer to Technicolor with stronger reds and blues, less dynamic greens (which show in the forest scenes), and softer hues all around, but the color explodes throughout the picture nonetheless.

Randolph Scott and producer Harry Joe Brown formed their own company, Scott-Brown Productions, in 1949. Scott put most of his efforts into his own films for the next decade but continued to make films outside the partnership, including a number for Nat Holt, who left RKO (where he made three solid westerns with Scott) to become an independent producer. Canadian Pacific was the debut feature for Nat Holt Productions and the producer entrusted the project to director Edwin L. Marin, a journeyman who made over 50 films in a twenty-year career, including three earlier films with Scott. The collaboration was successful enough to continue beyond Canadian Pacific. Marin helmed only six more films before his premature death in 1951. Five of those were Scott westerns, including two produced by Nat Holt.

Canadian Pacific delivers familiar western conventions against an impressive backdrop of Canadian locations, giving the film a visual spectacle a little different than most westerns of the era. Such ingenuity does not extend to the portrayal of native tribes, however. The Indians in the film are shown as gullible and childlike at best and savage and treacherous at worst. One scene presents a party of warriors as both sadistic and stupid, and plays their violent deaths for gallows humor. It's quite the old fashioned film, looking back to the simplistic frontier adventures of the past while the industry was starting to mature in the more adult westerns of the 1950s. Like most of Scott's westerns, it was dismissed by the critics and embraced by audiences, turning this into another moneymaker for Scott. When he retired from the screen in 1962, Randolph Scott was one of the richest men in Hollywood.

Producer: Nat Holt
Director: Edwin L. Marin
Screenplay: Jack DeWitt (writer & story); Kenneth Gamet (writer)
Cinematography: Fred Jackman Jr.
Art Direction: Ernst Fegt
Music: Dimitri Tiomkin
Film Editing: Philip Martin
Cast: Randolph Scott (Tom Andrews), Jane Wyatt (Dr. Edith Cabot), J. Carrol Naish (Dynamite Dawson), Victor Jory (Dirk Rourke), Nancy Olson (Cecille Gautier), Robert Barrat (Cornelius Van Horne), Walter Sande (Mike Brannigan), Grandon Rhodes (Dr. Mason), Don Haggerty (Cagle), John Parrish (Mr. Gautier).
C-95m.

by Sean Axmaker

Sources:
"Randolph Scott: The Gentleman From Virginia," Jefferson Brim Crow III. Windriver, 1987.
"The BFI Companion to the Western," ed. Edward Buscomb. Da Capo, 1988.
"The Encyclopedia of Western Movies," ed. Phil Hardy. Woodbury Press, 1984.


back to top
---