skip navigation
Daily Schedule
Sun, Sep 25, 2016
DAILY SCHEDULE
WEEKLY SCHEDULE
Sunday, September 25, 2016
When Andy (Mickey Rooney) returns home from the Army, all he can think about is getting to college for a reunion with his sweetheart. As ever, a series of comical and romantic... more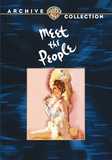 A fading stage star tries to revive her career by taking a job in a shipyard. 1944 Charles Riesner directed musical comedy starring Lucille Ball, Dick Powell & Virginia O'Brien. This... more
12:00 PM
C - 116 m

TV-PG
Widescreen
Closed
Captions
2:15 PM
C - 128 m

TV-PG
Widescreen
Closed
Captions
4:30 PM
C - 95 m

TV-PG
Widescreen
Closed
Captions
Frankie Avalon and Annette Funicello star in Muscle Beach Party as fun-loving surfer Frankie and beach bunny Dee Dee. The pair is ready to surf some waves, soak up some sun and dance... more
6:15 PM
B/W - 97 m

TV-G
Widescreen
Closed
Captions
An inmate learns guitar from his cellmate, then gets an agent and turns rock 'n' roll star. more
TCM PRIMETIME - WHAT'S ON TONIGHT:
STARRING BILL ROBINSON
Synopsis: In this comedic short, a talented tap dancer who can't get an audition uses his prowess at playing craps to gain ownership of a musical show. Vitaphone Release 1687-1688.
Dir: Roy Mack Cast: Bill Robinson , Ernest Whitman , Dusty Fletcher .
B/W
21 min

12:00 AM
B/W - 100 m

TV-PG
This is the breakthrough feature from Luc and Jean-Pierre Dardenne (THE KID WITH A BIKE), who would go on to become a force in world filmmaking. The brothers brought the unerring eye... more
3:45 AM
B/W - 104 m

TV-14
There are no titles in the genre scheduled.
Recent Movie News
Sylvia Sidney- Paid by the Tear
-
Sylvia Sidney- Paid by the Tear
(BearManor, 2016) offers an insider's look into the personal life of the salty, opinionated, funny, natural-born actress. Scott O'Brien's exhaustive research is complimented by a treasure trove of 134 photos from Sylvia's personal life and career. 488 pages.
TCM Movie Database
Your destination for exclusive material from the TCM vaults
LEARN MORE >