Repent at Leisure
---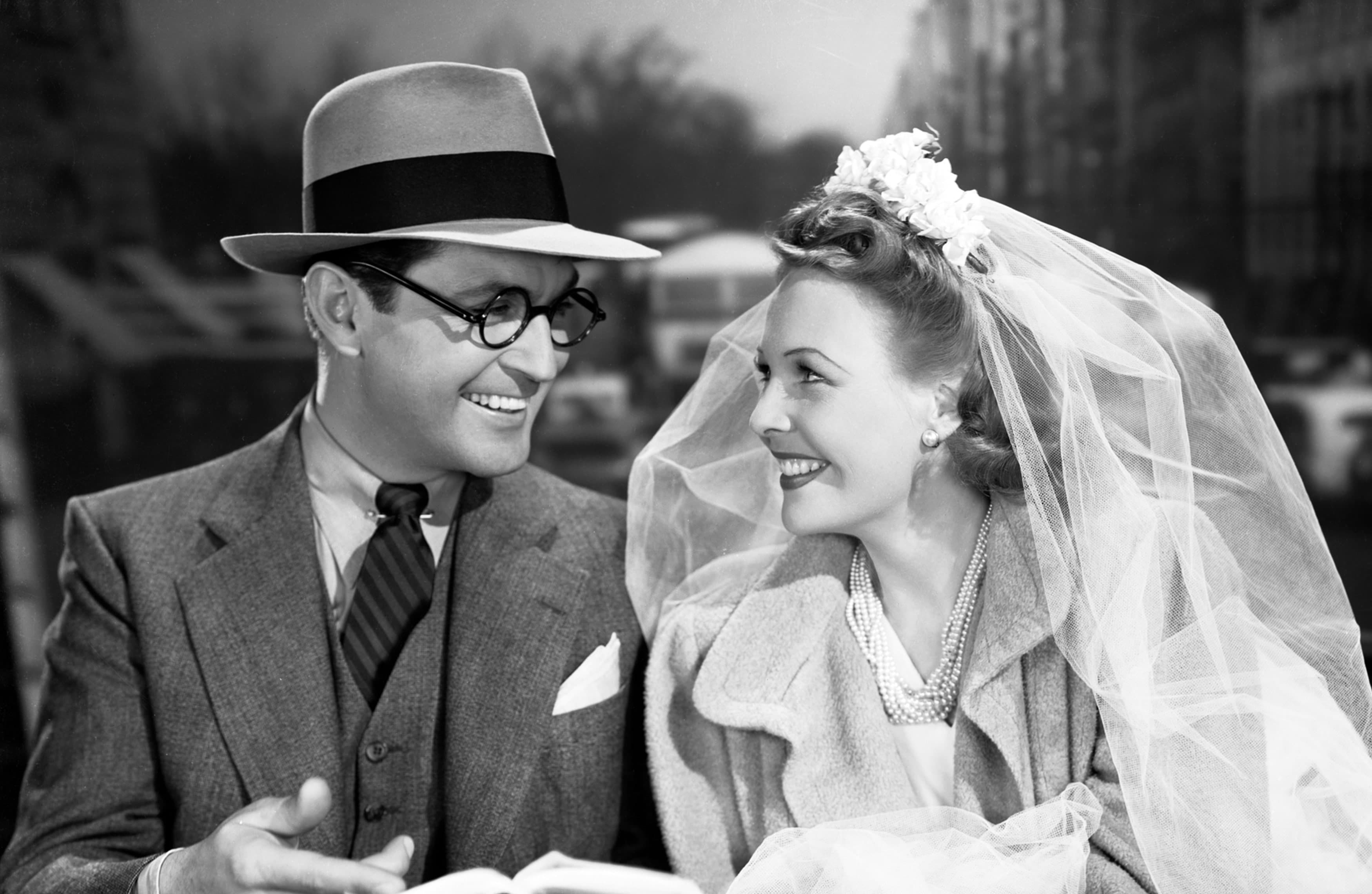 Brief Synopsis
A newlywed tries to keep her husband from learning she's the boss's daughter.
Film Details
Genre
Release Date
Apr 4, 1941
Premiere Information
not available
Production Company
RKO Radio Pictures, Inc.
Distribution Company
RKO Radio Pictures, Inc.
Country
United States
Technical Specs
Duration
1h 6m
Film Length
5,944ft

Synopsis
While dressing for her wedding to Prince Paul Stephanie, Emily Baldwin confides to her father, Robert Cornelius "R. C." Baldwin, that she fears the prince is marrying her for the Baldwin department store millions and not for love. Encouraged by R. C., Emily flees the house in bridal attire and boards a bus. Unable to pay the bus fare, Emily borrows ten cents from fellow passenger Richard Hughes, telling him that she is a model who walked out in the middle of a job when her supervisor made advances toward her. After Richard invites her to dinner that night, Emily returns home for her clothes and informs her father that she has found the man of her dreams. At his daughter's urging, R. C. agrees to tell his wife that Emily has gone to visit her friend Polly in California. At dinner that night, Richard tells Emily that he is a clerk at Baldwin's department store and offers her the use of his room until she can find a new job. The next day, R. C. announces that he must trim his staff and is discharging all unmarried male employees. To keep his job, Richard tells Mr. Morgan, his supervisor, that he has married Emily, and Morgan invites the couple to play bridge at his house. Upon returning home that night, Richard confides his predicament to Emily and proposes that they marry. After her wedding, Emily visits her father and asks him to help Richard without letting him know that he has married the boss's daughter. At the Morgans' house, snide Mrs. Morgan goads Emily into claiming that she has a baby, and after Mr. Morgan accuses the couple of cheating at cards, Richard slugs him. To sustain the story of their parenthood, Richard and Emily adopt a baby from the foundling home. At work the next day, R. C. questions Richard about his fight with Morgan, and when Richard explains that he was defending his wife's honor, R. C. promotes him to floorwalker. When Morgan learns of Richard's promotion, he goes to R. C.'s office to protest and sees Emily's photograph on the desk. Morgan spreads the news that Richard is R. C.'s son-in-law, thus incurring the enmity of Richard's fellow employees. Blissfully unaware that he has married the boss's daughter, Richard is promoted to store manager. One day, R. C. visits Richard's office and upon seeing a picture of Emily and the baby decides to visit his daughter. R. C. admonishes Emily to tell Richard the truth, and when she refuses, he invites Richard and "his wife" to dinner. When Emily refuses the invitation, Richard goes without her. After he leaves the apartment, Emily receives a telegram from Polly, informing her that Prince Paul is flying in from California that night to look for her. Hoping to stop Paul, Emily rushes to the Baldwin house, where she confesses her true identity to Richard. Believing that his marriage has been responsible for his success, Richard takes the baby and leaves Emily and his job to go to work for Baldwin's competitor, Jay Buckingham. A ruthless department store war then ensues and forces the competitors to agree to merge. R. C. sends Emily to negotiate a deal with Richard, but at the bargaining table, Richard refuses Emily's pleas for a reconciliation but agrees to let her see the baby. Discovering that the baby has disappeared from the nursery, Emily and Richard begin a frantic search. After finding the child, Richard realizes that he cannot care for a baby by himself and reconciles with Emily. All ends happily as the two stores merge under the banner of Baldwin, Buckingham and Hughes.

Film Details
Genre
Release Date
Apr 4, 1941
Premiere Information
not available
Production Company
RKO Radio Pictures, Inc.
Distribution Company
RKO Radio Pictures, Inc.
Country
United States
Technical Specs
Duration
1h 6m
Film Length
5,944ft