Eric Sykes
---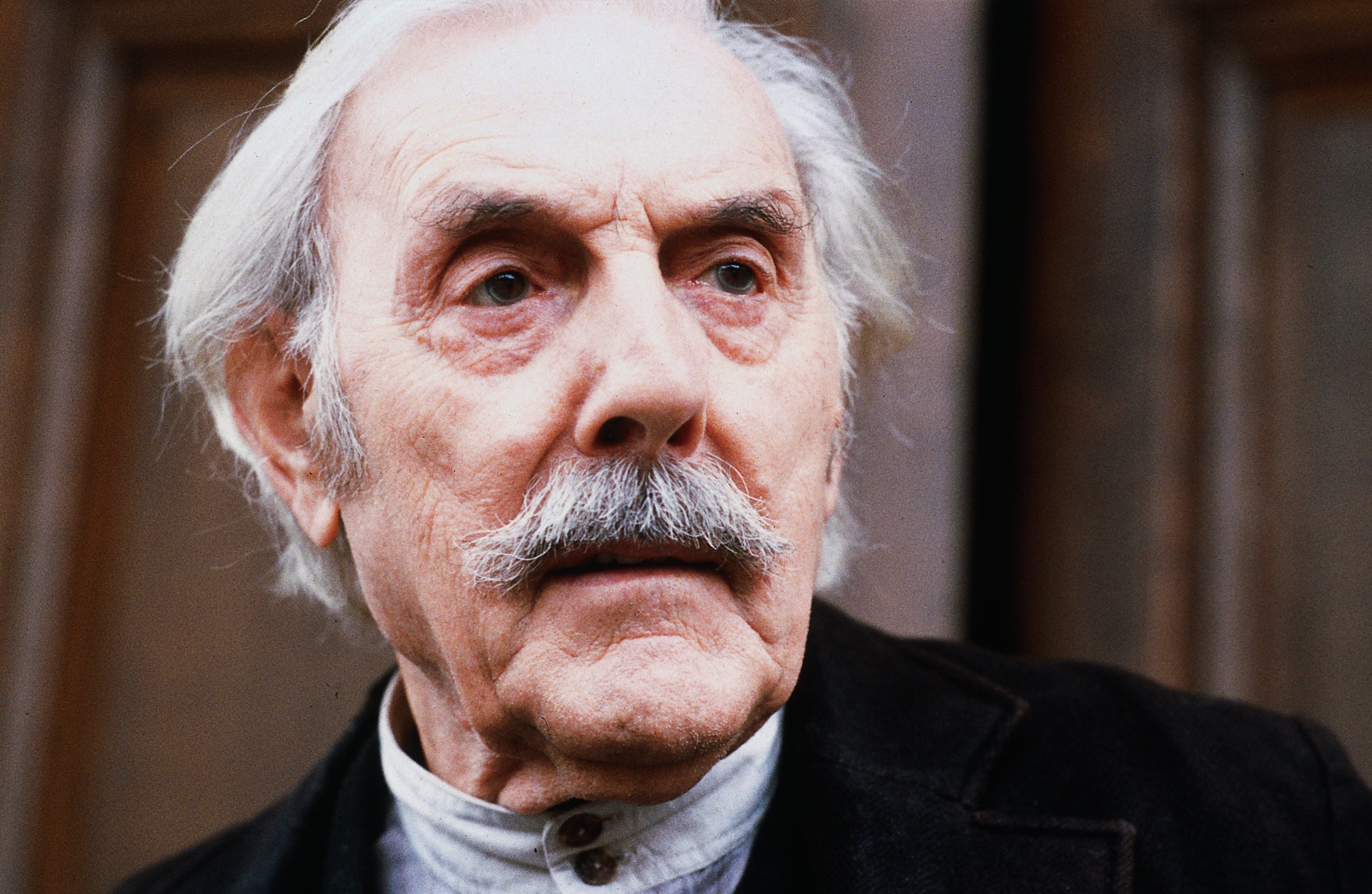 Birth Place
Oldham, Lancashire, England, GB
Born
May 04, 1923
Died
July 04, 2012
Cause of Death
Undetermined
A celebrated figure in British comedy for over a half-century, Eric Sykes was a writer and performer whose brand of gentle but absurd humor first came to flower as a writer for the famed "Goon Show" (BBC, 1951-1960) and later as the star of his own sitcom, "Sykes and A." (BBC, 1960-65). The latter program showcased Sykes' knack for crafting exceptionally funny shows out of the simplest o...
Biography
A celebrated figure in British comedy for over a half-century, Eric Sykes was a writer and performer whose brand of gentle but absurd humor first came to flower as a writer for the famed "Goon Show" (BBC, 1951-1960) and later as the star of his own sitcom, "Sykes and A." (BBC, 1960-65). The latter program showcased Sykes' knack for crafting exceptionally funny shows out of the simplest of storylines, many of which centered on his interest in a new gadget or a half-baked idea. Longtime co-star Hattie Jacques, who played Sykes' sister in the series and its revival, "Sykes" (BBC, 1972-79), added to the mayhem by loudly proclaiming his ineptitude, which he combated with unflappable optimism. Sykes also directed several well-received short films, most notably the slapstick comedy "The Plank" (1967), and toured in numerous stage productions like the improvisational comedy "Big Bad Mouse." But it was television that remained his primary showcase for his talents until the early 21st century, when he began appearing in high-profile features like "The Others" (2001) and "Harry Potter and the Goblet of Fire" (2005). Though age and illness hampered his ability to work with regularity, Sykes continued to play affable types well into his eighth decade before his death in 2012. The outpouring of affectionate tributes that followed his passing underscored his status as one of the U.K.'s most beloved comic figures.
Born May 4, 1923 in the town of Oldham, in Greater Manchester, England, Sykes' mother died during his birth. His mill worker father remarried two years later and raised him in dire poverty. Despite the harsh conditions of his upbringing, Sykes developed a talent for art, as well as a knack for making people laugh, primarily as a defense against bullying while attending Ward Street Center School. His family's financial situation prevented them from sending him to college, leading him to work odd jobs before joining the Royal Air Force before he was 18. While serving as a wireless operation, Sykes participated in the Allied landings at Normandy, where artillery fire irreparably damaged his hearing, as well as the German surrender at Lünberg Heath in 1945. His military service also marked the beginning of his career in entertainment through his participation in a Special Liason Unit with future Scottish comic actor Bill Fraser. Following his discharge in 1946, Sykes headed for London in hopes of finding work, but soon found himself penniless during the worst winter in the country's history. By chance, he ran into Fraser, who gave Sykes not only lodging but also a job writing scripts. A sale of a script to comedian Frankie Howerd led to steady work with Sid Colin on the BBC radio series "Educating Archie" (1950-58), where he became acquainted with his longtime acting partner and foil, Hattie Jacques.
By 1948, Sykes had graduated to television, penning numerous episodes for series like "The Howerd Crowd" (BBC, 1952-55). But he soon gained his most substantial acclaim as a writer for "The Goon Show," an uproarious radio comedy featuring Peter Sellers, Harry Secombe and Spike Milligan, with whom he shared an office in Shepherd's Bush. Sykes began writing for the program in 1954, the same year he made his screen debut in the comedy "Orders are Orders," which starred Sellers and fellow British comedy icon Sid James. His work on "The Goon Show" led to a contract as a scriptwriter and presenter on the newly formed independent television company ATV, where he performed on and acted as script supervisor for "The Idiot Weekly, 2d" (ITV, 1956), which attempted to translate the Goons' humor for television. Sykes would soon become a familiar face to U.K. television viewers through guest appearances on a number of specials, including "Dress Rehearsal" (BBC, 1956), for which he was top-billed as a TV director under duress moments before his program aired live. During this period, Sykes was virtually deaf, having lost most of his hearing in his right ear following an operation in 1952. He soon adopted a pair of spectacles without lenses, which concealed an elaborate hearing aid.
By 1960, Sykes was starring in his own weekly sitcom, "Sykes and A." as a hapless, accident-prone suburban bachelor whose penchant for gadgets or ill-considered plans drew the ire of his vociferous sister (Jacques). Its gentle humor made Sykes a star on British television, where his series ran for nine shortened seasons between 1960 and 1965. It also led to a modest film career with supporting roles in international productions like "Those Magnificent Men in Their Flying Machines" (1965), the spy thriller "The Liquidator" (1966) and the Western "Shalako" (1968) with Sean Connery. During this period, he also expanded a silent sketch called "The Plank" (1967) - which centered on a series of vaudeville-type physical comedy bits involving a large plank of wood - into a 45-minute short. That same year, he also toured with comic Jimmy Edwards in "Big Bad Mouse," a theatrical farce that featured both actors ad libbing their way through the script and frequently breaking the fourth wall to the audience, before concluding the decade with "Rhubarb" (1969), another largely silent short based on a "Goon Show" sketch in which the only word spoken was the title.
Sykes' career hit a snag with "Curry & Chips" (ITV, 1969), a controversial comedy with Spike Milligan in heavy makeup as a half-Pakistani, half-Irish factory worker who endured prejudice from his fellow employees. Pilloried in the press for its racially tinged humor, the series was cancelled after just six episodes. Despite his claims that he was done with "Sykes and A." in 1965, he returned to his most famous character for a revised version of the series in 1972 that proved as popular as its predecessor. The new program ran until 1979, fueled largely by remakes of classic episodes from the 1960s before the death of Hattie Jacques forced the end of production. Sykes would spend much of the 1980s as a guest star on various series, specials and the occasional feature, most notably Julien Temple's "Absolute Beginners" (1986). He felt some dismay over the fact that the BBC, for whom he had provided two successful, long-running comedies no longer showed any faith in his ability to headline a series. When he finally returned to TV stardom with the "The Nineteenth Hole" (ITV, 1989), the program - about a chauvinist secretary at a golf club received overwhelmingly negative reviews - was cancelled after a single season. His health, too, had taken a downward turn, which prevented lengthy runs in theatrical productions, including a 1981 revival of "Big Bad Mouse." The pallor of unfulfilled promise that hung over the decade was tempered somewhat by his appointment as an Officer of the British Empire in 1986.
Sykes worked sporadically in the ensuing decades, reuniting with Milligan for "Gormenghast" (BBC, 2000), a four-part television adaptation of the popular fantasy novel by Mervyn Peake. The following year, he enjoyed a dramatic turn in the supernatural thriller "The Others" (2001) as the elderly gardener Mr. Tuttle at an English country house whose occupants, Nicole Kidman and her two children, are not whom they seem to be. In 2005, he penned his autobiography, If I Don't Write It, Nobody Else Will, the same year he played the reclusive Frank Bryce, caretaker for the Riddle family, who were murdered by their grandson - later to became the evil Lord Voldemort (Ralph Fiennes) - in "Harry Potter and The Goblet of Fire." That same year, he was made Commander of the British Empire. Though further hampered by a stroke in 2002 and macular degeneration, which left him legally blind, Sykes continued to appear on U.K. television as late as 2010, with his final screen appearance coming in an episode of "Agatha Christie's Poirot" (ITV, 1989- ). On July 4, 2012, Sykes passed away at the age of 89 surrounded by family following a brief, undisclosed illness.
By Paul Gaita