DVDs from TCM Shop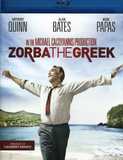 Zorba the Greek An amoral Greek peasant teaches a British student the... MORE&nbsp> $11.95 Regularly $19.99 Buy Now
Home Video Reviews
Zorba the Greek
was a smash hit in 1964, cleaning up in the market left behind by the beloved
Never on Sunday
four years earlier. The image of the earthy Anthony Quinn dancing is what now remains, that and the memory of Mikis Theodorakis' infectious music. Some bad plotting and unexplained character reactions blunt the film's "live for life" message.
Basil (Alan Bates) comes to Crete to restart his family lignite mine. His new foreman Alexis Zorba (Anthony Quinn) becomes his steady companion. They are greeted warmly by the locals but resentments against strangers lie close beneath the surface. Foreigner Madame Hortense (Lila Kedrova) is French and may do she pleases; she and Zorba begin a warm relationship. But the town's attractive Widow (Irene Papas) is shunned because she refuses to take one of the many unattached local men as a lover. When Basil finally becomes interested in her, it's bad news for everyone.
Michael Cacoyannis established himself as Greece's number one filmmaker in 1956's
Stella
, a film that shot the beautiful Melina Mercouri to stardom. For
Zorba the Greek
he secured Nikos Kazantzakis' best-selling novel and formed a producing partnership with the perfect actor for the role, Anthony Quinn. The actor had graduated from ethnic villain parts into major star status through Federico Fellini's
La Strada
, and from then on was the master of larger-than-life ethnic heroes in
The Guns of Navarone
and
Lawrence of Arabia
. The exuberant, life-affirming Zorba is the defining role of Quinn's career.
Shot on location with real peasants,
Zorba
is the story of a friendship between an inhibited English bookworm and a lusty Greek who lives to philosophize, drink, make love and express his affinity with nature. The two of them try to get an old mine back in operation, which seems a hopeless cause. Zorba obtains mineshaft timber from the local monks by fooling then into thinking water has changed into wine. But he's much more interested in amusing himself with the slightly unhinged Madame Hortense, or spending Basil's remaining money down in the fleshpots of the port city.
Cacoyannis creates fascinating characters for Zorba and Madame Hortense but leaves Basil frustratingly undeveloped. Expectations are raised that he'll find happiness with Irene Pappas' local widow, yet the Englishman doesn't act on the widow's signals of encouragement. Zorba helpfully advises Basil that "If a woman sleeps alone it puts a shame on all men."
Although the screenplay advances some hints, we're totally unprepared for the dark events in the movie's second act. Basil unaccountably lies to Hortense, telling the aged courtesan that Zorba intends to marry her. Basil and the widow do finally get together, but the villagers become enraged that she has chosen an outsider instead of one of their own, a heartsick young local. Their reaction is primitive and brutal. Basil is incapable of coming to the widow's aid, and although Zorba initially intercedes, he too abandons her to a horrible fate. Zorba shrugs his shoulders and Basil seems to have no reaction at all. Instead of accepting rural vigilante injustice as a regrettable fact of life, the heart goes out of the picture. Zorba and Basil can dance and spout philosophy all they want, but they no longer have our sympathy.
The film then proceeds to the bedside of the sickly Madame Hortense. The villagers we already hate now gather like scavengers, looting her house before she's even stopped breathing. Zorba comforts the dying lady and Basil asks whether she'll be buried properly, which is more concern than he had for Pappas' unlucky widow. What in Kazantzakis' book was probably an ethnographic revelation here comes off as a further outrage.
Zorba the Greek
won three Academy Awards and was nominated for four others. Lila Kedrova has the showy part but Irene Papas' haunted beauty now makes the greatest impact. Visuals of Anthony Quinn soulfully dancing on the beach have stayed with us, but I have the feeling that the Tijuana Brass's radio version of the title tune was
Zorba
's biggest cultural contribution. Newspaper clippings mention that theatrical bookings were extended after the song hit the top ten.
Fox Home Enertainment's DVD of
Zorba the Greek
is a great-looking enhanced encoding of the Greek-American hit. The B&W feature is on one side of a flipper disk accompanied by a Michael Cacoyannis commentary. He's a proud retired filmmaker who frequently comes up with amusing claims like being the first to use a hand-held camera. He also provides lots of fascinating information, such as mentioning a scene that had to be cut out. It was a Russian flashback that featured Ingrid Bergman's daughter Pia Lindstrom. A brief appearance by the young George P. Cosmatos, the director of 1993's
Tombstone
was left intact. He plays a pimply-faced letter writer.
The flip side of the disc holds some newsreels, trailers and a rather good
Biography
TV show on the life of Anthony Quinn. It makes frequent use of the words "troubled artist" when dealing with the star's various broken marriages. The best extra is the film's charming original opening scene, in which Zorba narrates his idea of Heaven. God is pictured as a bearded old man in Zorba's image, lounging in the clouds and benevolently admitting all sinners to heaven.
To order
Zorba the Greek
, go to
TCM Shopping
.
By Glenn Erickson