DVDs from TCM Shop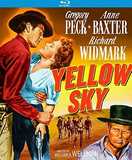 Yellow Sky Outlaws on the run hide out in a ghost town. MORE&nbsp> $16.95 Regularly $29.95 Buy Now
NOTES
DVDs from TCM Shop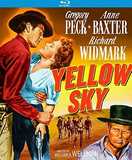 Yellow Sky Outlaws on the run hide out in... MORE&nbsp> $16.95
Regularly $29.95 buy now
According to documents in the Twentieth Century-Fox Records of the Legal Department Collection located at the UCLA Arts-Special Collections Library, the studio purchased William Riley Burnett's unpublished novel for $35,000 in November 1947. All drafts of the screenplay were written by Lamar Trotti. In a memo from studio head Darryl F. Zanuck, included in the Twentieth Century-Fox Produced Scripts Collection, also at UCLA, Walter Huston was suggested for the role of "Grandpa" and Fred Clark for "Lengthy." Paulette Goddard was originally cast as "Mike." The studio cast list isolates a credit to Jay Silverheels as "Indian," but he was not identifiable in the print viewed.
Exteriors were filmed at Death Valley National Monument, with the cast and crew living at Furnace Creek Inn and Camp, which was leased from the Pacific Coast Borax Company. Clarence Y. "Fat" Jones supplied horses from Hollywood for the picture. According to a studio press release contained in the AMPAS Library, a construction crew of 150 built a ghost town on the desert near Lone Pine, CA, by demolishing a movie set, called Last Outpost, that Tom Mix had built in 1923. At the request of the Society for the Prevention of Cruelty to Animals, the horses worked only three hours a day in the intense heat. Contemporary reviews commented on the effectiveness of the soundtrack, which contained almost no music, relying instead on natural sound effects.
The opening and closing music was taken from Alfred Newman's score for the 1940 Twentieth Century-Fox film Brigham Young-Frontiersman, which was also written by Lamar Trotti (see AFI Catalog of Feature Films, 1931-40; F3.0488). A radio adaptation of Yellow Sky, starring Peck and hosted by director William A. Wellman, was broadcast on Screen Directors' Playhouse on NBC on July 15, 1949. The film was remade in 1967 as The Jackals. Filmed in South Africa by producer-director Robert D. Webb, The Jackals starred Robert Gunner, Diana Iverson and, as the old man, Vincent Price. The 1967 film was not released theatrically in the U.S. but has been televised, syndicated through Twentieth Century-Fox.