DVDs from TCM Shop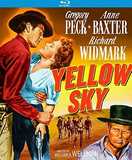 Yellow Sky Outlaws on the run hide out in a ghost town. MORE&nbsp> $16.95 Regularly $29.95 Buy Now
Home Video Reviews
How could anyone
not
like a western which features a gang whose members go by the names Stretch, Dude, Walrus, Half Pint, Bull Run and Lengthy? Fortunately, though, there's more to 1949's
Yellow Sky
than cool nicknames. Like such movies as
Pursued
,
Winchester '73
and
Red River
, William Wellman's western is a fine example of the increasing sophistication of the genre, post-World War II. While this Wild West drama doesn't have the dark noir mood of some post-war westerns, it does operate in a fertile moral grey area. It also boasts an unpretentiousness that puts it on the top shelf of the many movies by Wellman, along with
Public Enemy
,
Nothing Sacred
,
Roxie Hart
,
The Ox-Bow Incident
,
The Story of G.I. Joe
and
Battleground
, among others.
Yellow Sky
reunites Wellman and
Ox-Bow Incident
producer-writer Lamar Trotti, who adapted W.R. Burnett's novel (apparently unpublished at the time, though it's unclear if Burnett's later
The Goldseekers
is the book on which this is based or if the touches of Shakespeare's
The Tempest
come from Burnett or Trotti).
Yellow Sky
never reaches the grim poetry of their former collaboration, but not many movies do. While that movie succeeds despite its stagebound sets,
Yellow Sky
makes the most of wonderfully rugged locations. After the colorfully-named gang of thieves robs a bank and eludes a posse by heading into the massive salt flats nearby, you can feel the parched heat that threatens to kill them and their horses (this section was filmed in Death Valley, and it lives up to its name). On the verge of dehydration, the gang (Gregory Peck's Stretch, Richard Widmark's Dude, John Russell's Lengthy, Harry Morgan's Half Pint, Robert Arthur's Bull Run and Charles Kemper's Walrus) stumbles through the salt flats and the nearby desert, bolstered only by the sight of a town in the distance.
The town, Yellow Sky, turns out to be a ghost town, thought empty until they're "greeted" by a rifle-toting young woman, Mike (Ann Baxter, in an atypically feisty performance). Mike makes it clear the men aren't welcome in Yellow Sky. She and her prospector grandfather (James Barton) are the only people left in the mining town that went bust (here's the
Tempest
similarity), and the situation gets the men to thinking. Not just about Mike's figure, but about what's keeping her and her grandfather sticking around such a God-forsaken place. Gold, perhaps?
Mike and her grandpa try to ride out this little storm, feeding the men and hoping they'll simply be on their way after their horses rest up. But this band of thieves can't help scheming. Stretch isn't the only one eying Mike, but he might be the only one who could care for her, and the two have some tasty confrontations. The first time they're together, he grabs her gun away from her and she slugs him, and when he tries to kiss her the next time, she wrestles him, headbutts him and yells, "You smell!" He then actually shaves and puts on a new shirt, so he must be semi-serious. Dude, meanwhile, a former gambler sidelined by a bullet lodged in one lung, burns with the cold determination of Widmark's strongest characters and is after the gold, with or without Stretch's help.
The other gang members periodically switch allegiances between Stretch and Dude, after the first negotiates to take only
half
the prospector's gold if he and Mike tell them where it's hidden and the second decides that half simply isn't enough of a haul. While we weigh the sincerity in Stretch, who may be conning Mike,
Yellow Sky
checks in with several dandy action sequences. Wellman had already given us a thrilling post-robbery horse chase into the Death Valley salt flats, and now he uses the majestic rock formations of Lone Pine (a favorite location of Budd Boetticher's 1950s westerns) for several shootouts: one in which Mike and her grandfather shoot down on the gang of thieves, who've chased them out of their house to look for the gold there; another, later on, when the final break between Stretch and the Dude-led rest of the gang occurs. Even the few scenes played out on sets, like the final showdown of the climax, set inside the town's long-closed saloon, have an appealing grit, thanks to the razor-sharp cinematography of Joe MacDonald, whose formidable black-and-white work for Fox also includes John Ford's
My Darling Clementine
, Elia Kazan's
Panic in the Streets
and Sam Fuller's
Pickup on South Street
. The dialogue also has a compatibly terse edge to it: "She's as tough of a pine nut," the prospector tells Stretch about Mike, while Peck's gang leader meets Dude and the rest of the gang's mutiny by saying, "You wanna get rid of me, you've got to run me out." The language is vivid, and not a word is wasted.
Set in 1867, with the shadow of the Civil War still looming large over the characters,
Yellow Sky
presents Stretch's transgressions as a war-induced aberration that he must get beyond (in a speech to Mike's grandfather, he tells of growing up on a farm in Kansas and having his parents die in an epidemic while he was in the Union army). Stretch's redemption convincingly comes across, although the domestication of Mike that comes along with it is harder to take.
The
Yellow Sky
comes with no extras beyond several well-stocked galleries of poster art, production stills and behind-the-scenes photos. But bonuses aren't the draw here. Smart, accessible studio-era moviemaking is.
For more information about
Yellow Sky
, visit
Fox Home Entertainment
. To order
Yellow Sky
, go to
TCM Shopping
.
by Paul Sherman