DVDs from TCM Shop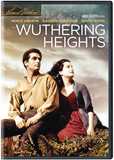 Wuthering Heights A married noblewoman fights... MORE&nbsp> $11.21 Regularly $14.98 Buy Now
Quotes
Heathcliff


Catherine Earnshaw, may you not rest so long as I live on! I killed you. Haunt me, then! Haunt your murderer! I know that ghosts have wandered on the Earth. Be with me always. Take any form, drive me mad, only do not leave me in this dark alone where I cannot find you. I cannot live without my life! I cannot die without my soul.

Heathcliff


If he loved you with all the power of his soul for a whole lifetime, he couldn't love you as much as I do in a single day.

Cathy


You could come back to me rich and take me away. Why aren't you my prince like we said long ago? Why can't you rescue me Heathcliff?

Heathcliff


Cathy, come with me now.

Cathy


Where?

Heathcliff


Anywhere.

Cathy


And live in haystacks and steal our food from the marketplaces? No Heathcliff, that's not what I want.

Heathcliff


You just want to send me off. That won't do. I've stayed here and been beaten like a dog, abused and cursed and driven mad, but I stayed just to be near you, even as a dog. And I'll stay 'til the end. I'll live and I'll die under this rock.

Heathcliff


Tell the dirty stable boy to let go of you. He soiled your pretty dress. But who soiled your heart? Not Heathcliff. Who turns you into a vain, cheap, worldly fool? Linton does. You'll never love him, but you'll let yourself be loved because it pleases your stupid, greedy vanity.

Cathy


He seems to take pleasure in being mean and brutal. And yet, he's more myself than I am. Whatever our souls are made of, his and mine are the same. And Linton's is as different as frost from fire... Ellen, I AM Heathcliff.

Cathy


Everything he's suffered, I've suffered. The little happiness he's ever known, I've had too. Oh, Ellen, if everything in the world died and Heathcliff remained, life would still be full for me.