DVDs from TCM Shop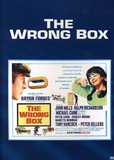 The Wrong Box Two elderly brothers plot to... MORE&nbsp> $17.95 Regularly $20.95 Buy Now
Quotes
DVDs from TCM Shop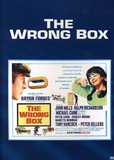 The Wrong Box Two elderly brothers plot to... MORE&nbsp> $17.95
Regularly $20.95 buy now
Queen Victoria


In recognition of your many and varied services to the crown, I dub thee...

Queen Victoria


Oh. We are frightfully sorry, Sir Robert.

First Driver


Fred?

Stoker


Yeah?

First Driver


We haven't heard the last of this.

Joseph Finsbury


I was in the water closet of the Bournemouth express when it quite unaccountably exploded, thereby extensively damaging the rest of the train. I can't really think that I was to blame, although at the time I was smoking.

Morris Finsbury


Now what we need is a venal doctor.

John Finsbury


But - Uncle Joseph's dead! It's too late!

Morris Finsbury


Not for him, for us! Now, you remember that chambermaid you got into... um...

John Finsbury


...thing.

Morris Finsbury


Thing. Who was the doctor who did the, um...

Dr. Pratt


I'm all right; it's just a fur ball; it's nothing. Strangely, I haven't had fur for a fortnight.