DVDs from TCM Shop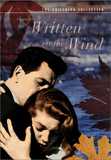 Written on the Wind A young woman marries into a... MORE&nbsp> $19.47 Regularly $29.95 Buy Now
NOTES
According to contemporary sources, Robert Wilder's novel Written on the Wind was inspired by the notorious 1932 death of Zachary Smith Reynolds, millionaire son of tobacco tycoon R. J. Reynolds, and husband of torch singer Libby Holman. Holman was accused of his murder, and, although the case was never brought to court, it inspired several films, beginning with the 1935 M-G-M production Reckless, starring Jean Harlow (see AFI Catalog of Feature Films, 1931-40). In 1945, RKO bought the rights to Wilder's novel, then sold them in 1946 to International. In 1951, International, which had by then merged with Universal, produced the adaptation, entitled Thunder on the Hill, directed by Douglas Sirk and starring Claudette Colbert and Anne Blyth. Although that picture's working title was Written on the Wind, the film was about a nun who shelters a society beauty accused of poisoning her pianist brother, and is unrelated to the 1956 Sirk film.
According to a May 1955 "Rambling Reporter" item in Hollywood Reporter, Universal considered Anne Baxter for a starring role. Studio production materials add the following information: New York's "21" club was reproduced on the set through the use of photographs and items such as menus and napkins lent by the club's owners; and the staircase used in scenes at the "Hadley" home was the same set used in Universal's 1925 film The Phantom of the Opera and in the 1936 picture My Man Godfrey (see AFI Feature Film Catalog, 1921-30 and 1931-40, respectively).
Many modern sources consider this picture to be Sirk's finest, including the Village Voice, which in October 1987 referred to the film as "the original Technicolor noir." Although the film's official release date was January 1957, Universal scheduled December 25, 1956 openings in Los Angeles, Chicago, New Orleans and Tulsa, OK in order to qualify the film for the 1956 Academy Awards. Although the New York Times review refers to "Mr. Stack's absurd performance and another even more so by Miss Malone," Stack was nominated for an Academy Award and Malone won the 1956 Best Supporting Actress award. The title song "Written on the Wind" was also nominated for an Academy Award for Best Song.