DVDs from TCM Shop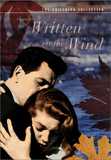 Written on the Wind A young woman marries into a... MORE&nbsp> $19.47 Regularly $29.95 Buy Now
Home Video Reviews
Fans of director Douglas Sirk will find a real treat in the DVD bins. Two of his wildest melodramas,
Written on the Wind
(1956) and
All That Heaven Allows
(1955), have been released in special editions with sharp new transfers, enhanced for widescreen. A noted director in his native Germany, Sirk was one of many who fled the Nazis in the 1930s for a new home in Los Angeles. It was there that he continued his filmmaking career, even though he essentially had to start over again, making B-movies for the major studios. Sirk's sense of style and reliable production techniques eventually found him making high-profile melodramas featuring big-name stars but Sirk's theatrical background and wide intellectual interests gave them a unique twist. His films are self-critical without ever abandoning direct emotional appeal, making his films among the most important work of the 1950s.
Written on the Wind
is a startling, overheated tale about the schemes and fantasies of a decadent Texas oil family. Robert Stack and sister Dorothy Malone run amuck through the lives of ad executive Lauren Bacall and geologist Rock Hudson. Sirk's imaginative but controlled style only highlights all the activity. The disc comes with notes by critic Laura Mulvey and production material.
All That Heaven Allows
is a bit more sedate on the surface but may be even more intense. Jane Wyman plays a wealthy widow attracted to her gardener (Rock Hudson again) despite the disapproval of her children and friends, a set-up that Sirk turns into an indictment of narrow-minded thinking. The disc includes a BBC documentary on Sirk plus a wonderfully demented essay by German director Rainer Werner Fassbinder, himself greatly influenced by Sirk. Both of the Sirk DVDs are from The Criterion Collection which is The Criterion Collection is distributed jointly by Home Vision and Image Entertainment. For more information, you can visit either
Image
or
The Criterion Collection
.
By Lang Thompson