DVDs from TCM Shop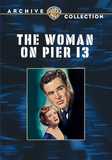 The Woman on Pier 13 Communists blackmail a... MORE&nbsp> $15.95 Regularly $17.99 Buy Now
NOTES
DVDs from TCM Shop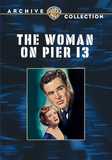 The Woman on Pier 13 Communists blackmail a... MORE&nbsp> $15.95
Regularly $17.99 buy now
The working titles of this film were I Married a Communist and Beautiful But Dangerous. In October 1949, the picture had "test runs" in Los Angeles and San Francisco under the title I Married a Communist. In February 1948, Hollywood Reporter announced that Eagle-Lion had purchased an original screen story entitled "I Married a Communist" and had assigned the picture to producer Aubrey Schenck. In September 1948, however, RKO head Howard Hughes announced in Los Angeles Times that he was making the film. According to a June 1949 New York Times article, Art Cohn, James Edward Grant and credited writer Charles Grayson wrote the original drafts of the script, while Robert Hardy Andrews did the "final polish job." The exact nature of Cohn's and Grant's contribution to the final film has not been determined. The New York Times article also noted that for the rewrites, Andrews was instructed to remove any "soapboxing" from the story and delete all references to Russia, including Slavic-sounding names. The studio was also concerned about not sending an anti-labor message and consequently created the "Jim Travers" character, who is a sympathetic union leader, but a Communist detractor as well. A September 1948 Los Angeles Times article notes that George W. George, who is credited with the film's story, was a "well-known writer" working under a pseudonym. The writer's real name has not been discovered.
Contemporary news items add the following information about the film's production: At the time of Hughes's purchase of the story, Barbara Bel Geddes and Robert Young were announced as the stars, and John Cromwell, the director. Merle Oberon was then slated to star, and Cromwell was taken off as director. In late November 1948, Jane Greer was announced as a possible replacement for Oberon, but because of scheduling conflicts with The Big Steal , Hughes eventually pulled Greer from the part. Nicholas Ray was then assigned to direct, and Glenn Ford and Paul Lukas were announced as the film's male leads. In January 1949, production was delayed after Ford and Lukas both dropped out and were replaced by Robert Ryan and Thomas Gomez. RKO borrowed John Agar from David O. Selznick's company and Janis Carter from Columbia for the production.
Background shots were taken in San Francisco, CA. Following the test runs in San Francisco and Los Angeles, Hughes pulled the film from distribution because, despite its ad campaign, which tried to make clear that it wasn't a documentary, audiences were still perceiving it as such. To combat the misperception, Hughes temporarily renamed the film Beautiful But Dangerous, a title he purchased from Leon Gutterman. Many reviewers criticized the picture for depicting American Communists like Depression-era gangsters. The New York Times review also commented that if "Louis Budenz and Whittaker Chambers, among others, could renounce the party, why can't a movie hero do the same for once without having to shoot it out and be killed himself in the end?" According to modern sources, the film lost $650,000 at the box office.