DVDs from TCM Shop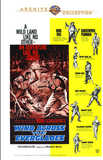 Wind Across the Everglades A game warden takes on a band... MORE&nbsp> $17.56 Regularly $21.99 Buy Now
USER REVIEWS
See Detailed Ratings
Acting of Lead Performers

Acting of Supporting Cast

Director

Music Score

Title Sequence

Screenplay

Cinematography

Historical Importance

Would You Recommend?

0 Member Ratings
Rate the acting of the Lead Performers

Rate the acting of the Supporting Cast

Rate the Director

Rating of the Music Score

Rating of the Title Sequence

Screenplay

Creatively uses the camera to tell the story

Importance in Cinema history

Would you recommend for fans of this genre
Submit Ratings
Cancel
Write a Review
Read Reviews
NO REVIEWS AVAILABLE
The title has not been reviewed. Be the first to write a review by clicking here to start.
wind across the everglades

Interesting attempt to make a movie with an ecological hero, especially noteworthy since it appeared four years before Rachel Carson's "Silent Spring" ushered in the environmental movement. Unfortunately, it falls flat in the dramatic tension department, a failing that can be laid squarely at the feet (or typewriter) of writer Budd Schulberg. Simply put, the movie takes too long to get going, needlessly sidetracked as it is with boring subplots involving a bordello run by Gypsy Rose Lee, an extremely dull love interest centered around an extremely dull actress named Chana Eden, and a Seminole Indian who is caught between the Audubon Society and the poachers. By the time we get to the most important part of the film, a dangerous journey through the Everglades to Miami, taken in a canoe by chief antagonists Christopher Plummer and Burl Ives, there is only about twenty minutes left and this trek, which needed to be epic in scope, with emotional and physical twists and turns, is over in a ridiculously short amount of time. Director Nicholas Ray does as well as can be expected with such a crappy script, and some of the scenes, like a drinking bout between Ives and Plummer that centers around the concept of "protest," manage to stay in the mind. As far as the acting goes Plummer is good, as always, (amazing that this guy is still around and doing good work) but Ives is recycling Big Daddy, which is basically all this one trick buffalo could do in the acting arena. Give it a C plus.

DVD availability

amazon.com have a DVD availalbe. It also turns up on ebay. Beware of one that is offered by an individual (I forget his name). It's a digital disaster..even on a large monitor, it is about 3 inches square..get out you magnifying glass!!! The DVD is called "Muerte en Los Pantanos" and is subtitled in Spanish (not dubbed..it's stil in English. Good quality. They also have some posters.I was living in Florida when I was little and have some vague memories of the filming, probably because a friend of our family played one of Gypsy Rose Lee's "girls"..just kind of an extra..but we were all very impressed!It's a wonderful film.

WIND OVER THE EVERGLADES

ANOTHER GREAT MOVIE THAT HAS BEEN REQUESTED TO BE RELEASED SINCE 2007. DON'T UNDERSTAND WHY GOOD FILMS TAKES SO LONG TO BE RELEASED ON DVD.

Great movie

I have only seen bits and pieces of this movie (last time it was on TCM). I have been looking for an official copy of this but unfortunately no luck. This is an amazing movie and needs to be made into a DVD!!

Great movie

Great footage of Florida wildlife. Great performances by Burl Ives (as always) and Christopher Plummer. Great presentation of the issue of wildlife conservation vs. the need for plumes in rich women's hats, via wanton murder of innocent wildlife, and the drive for profit for those that procure them. Shame on the person who introduced this film (I believe it was David Edelstien) for panning this great film in his guest appearance introduction of the film in place of Robert Osbourne tonight (10/18/11).

wind across the everglades

One of my top 5 favorite movies. So sad it hasn't be released on DVD. Waiting to see it on TCM

Wind across the Everglades

As archaic as it may sound, this amazing film literally changed the course of my life. As a young boy "of the woods" continually visiting family in very South Florida in the 50's, I saw this movie when it came out. Decades later, I achieved my lifelong dream of being a Federal Game Warden in the Everglades,from which I retired just recently. After many years of chasing poachers, drug smugglers wildlife traffickers & illegal aliens....Il'l never ever forget first walking in the actual little hammock where Cottonmouth (Ives) kept his camp of characters....

Wind Across the Everglades

I saw this movie when it first was released to theaters around 1958, along with Cat on a Hot Tin Roof and The Big Country. In each of the three, Burl Ives performance was, for me, arguably the most memorable part of the movie. Of the three, however, this one was the most impressive. I would love to see it again and to be able to get my friends to watch it. I have yet to find anyone else who remembers seeing the movie or has even heard of it.

A True Classic Movie

Having grown up in south Florida and also having hunted, fished and worked in the Everglades, I can truly say that this film portays an accurate depiction of the Everglades experience. The historic references to the plume hunters and how they decimated the bird rookeries in the name of ladies fashions (hats), and how the Audubon Society stepped it to fight this outrage is a great story. The eclectic cast, including Burl Ives, Christopher Plummer, Peter Falk, Gypsey Rose Lee, Emment Kelly, and Totch Brown (credited as Toch Brown), who was not an actor, but an authentic local Everglades smuggler add realism to the excellent cinematography. There are a few scenes from the movie on UTube, which contain the TCM logo, so this movie has been shown on TCM in the past. Even though I recently bought a DVD copy of this movie on EBay, I would still love to be able to purchase an officially released restored version of the film.

Wind Across the Everglades

I have never seen this movie, but would really like to. This is the only movie where the Pulitzer prize winning author, MacKinlay Kantor plied his acting skills. Kantor wrote "Andersonville" for which he received his award and also wrote "Glory For Me" which was the 7x Acadamy Award winner (name changed to "The Best Years of Our Lives", I believe in 1947.

wind across the everglades

I saw this movie several times many years ago. I've been canoe paddling in the Everglades for the last 25 years, and have a deep appreciation for this part of Florida. After discovering the history of when and how the movie was made at the Depot restaurant in Everglades City, I really wanted to have my own copy. This movie is now part of the history of the area, and should be available to friends and visitors to the Everglades National Park.

An interesting film that's due for release

The first time I saw this movie I thought it was a bit odd, but it's the kind of movie that grows on you. I have a decent copy of it on DVD, but would LOVE to have an official release from the studio for my movie library. Come on Warner Brothers, put this lost gem out for us fans who are still waiting!

I remember ...

I saw this movie with my mother in a movie house in St. Petersburg when it first came out. I was 12 or so. I still remember it to this day.Covering the environment for the Tampa Times later on, I saw the same thing go on as in the movie in the 1970s. I may be wrong, but I think that Chris. Plummer played one of the first Audubon Society officers assigned to bust the bird poachers during the 1920s when they killed birds for their feathers for ladies' hats. Only at the very last of the movie did bad guy Burl Ives repent of his bird killing and see the birds for what they were, beautiful creations --- this after being bitten on the wrist by a cottom mouth snake. Plummer by this time had his arm broken by Ives, and he poled his way out of the Everglades. What a great movie!Dale Wilson

Love this movie

As a second-generation Miamian, I remember seeing this film when first released and loving every minute of it. The cinematography was breathtaking, the performance of Burl Ives mesmerizing. The Everglades never looked more beautiful and mysterious. And it has performances by Gypsy Rose Lee, MacKinlay Kantor, and Peter Fauk as well! Why a film written by the great Budd Schulberg and directed by the masterful Nicholas Ray is not out on DVD is beyond me.

Waiting to see it....

I remember seeing this as a youngster but haven't in a long long time. I would purchase it in a minute if it would come out on DVD.Signed,Hurry

Please release on DVD/BlueRay

I would love to purchase a copy of this wonderful movie when released. Everyone who loves nature and the Everglades should see this movie for its entertainment value and visual content!Please release this movie on DVD

Wind Across the Everglades

An excellent movie. The scenes of the everglades plus the cast make worth locating and made available at the very least as a home movie. Hopefully ,it was not destoyed. Frank Palm Beach, Florida

please vote

This is such a good movie for anyone who loves the outdoors. Burl Ives Is great in it. If you have ever prowled the back waters of the Everglades as I have or just want to know what its like. Please vote for this to be made into A home movie or , at least for T.C.M. to run a copy of it.

A real fan

My husband worked for Cummer Company(owner of the steam engine used in the movie ) and saw the movie when it was released in 1958. He has talked about it and bugged me and our son to find a copy for years. He is a real outdoors man who had a stoke and is paralyzed on the left side.The movie would bring him great joy and he would love to have a copy if there is one available anywhere. Thank you

I am not alone!

Glad to see there are others wishing they could own a copy of this movie. I, too, saw it as a young person and never forgot it. I regularly prowl the net in search....

Wind Across the Everglades

Great Movie

How can this NOT be on home video?

Look at this film: a stellar cast (especially Burl Ives as Cottonmouth), a relevant theme (conservation), spectactular scenery, and awesome cinematography. I saw it at age 9 and I'll never forget the "drinking scene" and the final death scene in the Everglades. So how come almost every B-movie from the 50s is available somewhere somehow and this isn't? Who's in charge of this stuff?

WIND ACROSS THE EVERGLADES

This is a good movies with great actors and should be released to the public.

A GREAT UNDERATED FILM

PATRICK A. KENNEDY

10/28/07

I enjoyed yhis movie very much. I believe that Christopher Plummer and Burl Ives are both excellent, and I rate it one of my favorites showing the trials of early Audubon wardens and the plume trade.

The Best of Three

During a period of about 1 year, I saw Burl Ives give three of the best performances I can recall. The two best known are The Big Country (for which he got an Oscar) & Cat on a Hot Tin Roof. For my money the best of the three, however, was his performance in "Wind Across the Everglades." There are few characters from a movie that have stuck in my memory so vividly as Ives' in this film, which I saw almost 50 years ago.

capitol theater

i first saw this movie at the old capitol theater in madisonville ky my home town in 1959 or 1960 when i was 11 or 12 yrs old i fell in love with this movie i have seen it maybe 3 or 4 times since and would love to have a copy of it the everglades are beautiful burl ives is great as cottonmouth i would also like to know some trivia because the cottonmouth snakes in this movie are real

Collier County

I live in Naples Florida. The Collier County Museum had a copy that I checked out about 20 years ago. I went back about 5 years ago to see if I could see it again and someone had checked it outand never brought it back. What a loss. My uncle is in the movie and he died when I was a child. I was trying to get a copy of the movie.

Burl Ives should get more credit

This movie really is a good film. It has alot of good footadge of the Glades.I have not seen it in over 25 years. I wish they would show it on TCM. I was under the impresion that it was one of the films that was destroid in a fire.If any one knows please send me an e-mail at gunner186@comcast.net.
*We protect your personal infortmation and will not provide it to anyone without your consent. For a complete explanation, please refer to TCM's Privacy Policy. By submitting your contribution, you agree to TCM's Terms of Use.