DVDs from TCM Shop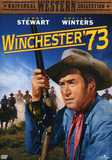 Winchester '73 A man combs the West in search... MORE&nbsp> $11.21 Regularly $14.98 Buy Now
NOTES
The film opens with the following written foreword: "This is a story of the Winchester Rifle Model 1873 'The gun that won the West.' To cowman, outlaw, peace officer or soldier, the Winchester '73 was a treasured possession. An Indian would sell his soul to own one..." According to Hollywood Reporter news items throughout the late 1940s, Fritz Lang planned to direct this film as an independent production released through Universal. In December 1946, the film was placed on Universal's production schedule, and Lang announced he would shoot the film on location at Zion City National Park, UT. According to a June 1947 Hollywood Reporter news item, Lang then decided to film exterior scenes in Valley of Fire, NV.
A 1951 Los Angeles Times news item reported that writer Stuart Lake sued Universal for $400,000 when the studio failed to credit him as writer of the film's original story when that story was published in an unnamed film magazine. After a magistrate ruled that Universal was at fault in the matter, Lake and the studio settled out of court. In 1952, James Stewart was named the winner of the third annual Reno Silver Spurs award as best Western actor of 1951 for his performance in Winchester '73. According to Los Angeles Times, the film was also named best Western film and Anthony Mann was named best Western director.
This was the first of eight films on which Stewart and Mann worked together, the last being the 1955 Columbia film The Man from Laramie. According to modern sources, Stewart made Winchester '73 as part of a two-picture agreement with Universal, in which the actor participated in the film's profits, rather than being paid his regular salary or a flat fee. Because of the box-office success of Winchester '73, some modern sources estimate that Stewart received $500,000. Modern sources also state that Stewart suggested that Anthony Mann replace the departed Fritz Lang as the film's director after the actor saw Mann's work on the 1950 M-G-M film, Devil's Doorway (see entry above). In turn, Mann brought writer Borden Chase onto the project to re-write the existing screenplay by Robert L. Richards, according to modern sources.
A radio version of Winchester '73, with James Stewart and Stephen McNally reprising their film roles, was broadcast on the Lux Radio Theatre on November 12, 1951. The Robert L. Richards/Borden Chase screenplay was the basis for a 1967 television movie by the same name, starring Tom Tryon and John Saxon, and directed by Herschel Daugherty. Dan Duryea, who played outlaw "Waco Johnny Dean" in the 1950 film, played Saxon's sympathetic father in the 1967 television production.