DVDs from TCM Shop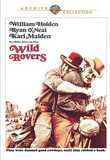 Wild Rovers An aging cowboy joins up with... MORE&nbsp> $15.95 Regularly $17.99 Buy Now
NOTES
According to press notes, interiors were shot at the M-G-M Studios and extensive location shooting took place in Moab and Monument Valley, UT and in Arizona at Nogales, Tucson, Sedona and Flagstaff. A modern source adds the following actors to the cast: Barbara Baldavin, Phyllis Douglas, Michael Haynes, Gloria Hill, Jayne McIntyre and Beatriz Monteil.
As noted in Filmfacts, writer-director Blake Edwards' original cut of Wild Rovers ran for 130 minutes. After a negative reaction at sneak previews, however, M-G-M cut twenty-four minutes of the film, including the scenes in which "Ross Bodine" gives some of the stolen money back to the "Billingses" and a slow-motion sequence in which "Walter Buckman" dies. The studio also added to the end of the film, after "Frank Post's" death, a recurrence of the sequence in which Post dances in the snow while Ross breaks the bronco. The original, longer version was the print viewed. As noted in modern sources, Edwards had considered Wild Rovers his best film, but disapproved of the shorter, released version.
On June 15, 1971, Daily Variety reported that, despite M-G-M's assumption that the film would earn an R rating, it was rated GP. After the film's release, a June 25, 1971 Daily Variety article stated that the studio would withdraw its original advertising campaign, featuring an image of Ryan O'Neal and William Holden riding a horse, with O'Neal's arms around Holden. According to the article, the ads had engendered "insider wisecracks" about a possible homosexual relationship between the characters, and would be replaced by images of the stars standing separately, holding guns.