DVDs from TCM Shop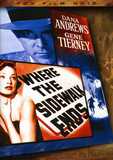 Where the Sidewalk Ends A police detective's... MORE&nbsp> $11.21 Regularly $14.98 Buy Now
NOTES
DVDs from TCM Shop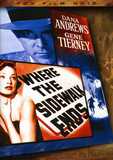 Where the Sidewalk Ends A police detective's... MORE&nbsp> $11.21
Regularly $14.98 buy now
The working title of this film was Night Cry. According to contemporary news items, William L. Stuart's novel was originally purchased in late March 1948 by Frank Rosenberg for production through Colony Pictures, and distribution through United Artists. Howard Duff was signed by Rosenberg to star in the picture, according to a August 10, 1949 Hollywood Reporter news item. According to information in the Twentieth Century-Fox Records of the Legal Department, located at the UCLA Arts-Special Collections Library, writers employed by Rosenberg to work on the screenplay included Karl Kamb, Bernard Gordon and Julian Zimet. The extent of their contributions to the completed picture, if any, has not been determined. The legal records also reveal that Rosenberg sent the script to Ring Lardner, Jr., but Lardner's suggestions were not incorporated into the screenplay. In November 1949, Twentieth Century-Fox purchased from Rosenberg his drafts and the screen rights to Stuart's book.
A December 1949 Hollywood Reporter news item noted that Lee J. Cobb was suspended by the studio for refusing a role in the picture, and in January 1950, Hollywood Reporter announced that Tom Tully had been signed for the part that Cobb refused. Another January 1950 Hollywood Reporter news item stated that Broadway actor Ralph Roberts been cast, but his appearance in the completed film has not been confirmed. According to studio records, Adelaide Klein was originally signed to play "Martha," and portions of the picture were shot on location in New York City. Hollywood Reporter news items state that production was delayed when Dana Andrews' nose was injured in a fight staged for the film. Oleg Cassini, who designed the costumes worn by his then wife, actress Gene Tierney, made his screen acting debut in the film.
Due to screenwriter Ben Hecht's proclaimed anti-British views, in regard to England's political relationship with Palestine, the Cinematograph Exhibitors Association passed a resolution in 1948 stating that none of its members would show a film with which Hecht was associated, according to a November 26, 1950 New York Times article. The article notes that Where the Sidewalk Ends was exhibited in England, however, because Hecht was hired to work the picture before the ban was enacted. Hecht's name was removed from the onscreen credits, however, and the pseudonym "Rex Connor" was inserted.
Stuart's novel was the basis for a Suspense radio broadcast on October 7, 1948, and Andrews reprised his film role on a April 2, 1951 Lux Radio Theatre broadcast of the story, which co-starred Anne Baxter.