DVDs from TCM Shop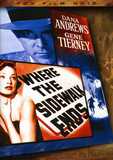 Where the Sidewalk Ends A police detective's... MORE&nbsp> $11.21 Regularly $14.98 Buy Now
Home Video Reviews
Six years after making film history with
Laura
(1944), Dana Andrews and Gene Tierney reunited with director Otto Preminger and cinematographer Joseph LaShelle to make another film noir,
Where the Sidewalk Ends
(1950), which has just been released on DVD in the Fox Film Noir line. Given the similarities in cast and visual look, it's difficult not to compare the two movies. But where
Laura
is romantic,
Where the Sidewalk Ends
is gritty. Where
Laura
is set in uptown Manhattan among high-class sophisticates,
Sidewalk
is set far downtown in a world of cheap hoods and corrupt, aggressive cops. And where
Laura
stresses mystery, Sidewalk stresses anxiety and shades-of-gray morality.
Laura
may be the better film, but Where the Sidewalk Ends is tougher, more hard-boiled, and more "noir." It's set almost entirely at night and asks us to root for a character who has accidentally killed a man and then covered up the murder. His paranoia at being found out becomes our paranoia, too.
The comparison is also apt because Andrews works for the law in both - he's a detective in
Laura
, and a cop in
Sidewalk
. Both characters fall in love with Gene Tierney, but his Mark Dixon, in
Where the Sidewalk End
, is mean and angry inside. Dixon became a cop as a way to make up for his father's criminal ways, but his hatred for criminals and inherited mean streak have made him overly aggressive with the bad guys (a trait that Robert Ryan's tough cop in
On Dangerous Ground
, 1952, would take to even darker psychological depths). Dixon is so prone to beating them up that his superiors demote him and threaten to go further. But this is film noir, so the next thing we know Dixon accidentally kills a murder suspect and, fearing no one will believe him, disposes of the body and points the finger at a local, inhaler-sniffing hoodlum named Scalise (well-played by Gary Merrill). As things play out, Dixon finds himself falling for the dead man's widow, a model played by Gene Tierney.
Tierney certainly looks beautiful and plays well with Andrews (this was their fifth and final movie together), but her part is not nearly as well-defined or interesting as in
Laura
, and overall her impact is not so great. As far as the actors go, it's Andrews's movie all the way - with one exception, that is. Ruth Donnelly, the veteran character actress who had already appeared in over 80 films, steals all her scenes as the owner of a Manhattan diner called Martha's, thanks to some fine acting talent and superb Ben Hecht dialogue.
Otto Preminger's fluid and graceful direction further links
Laura
and
Where the Sidewalk Ends
. One of the least showy of great directors, Preminger's shots were often deceptively complicated because they followed the action so smoothly in long, continuous takes. Film noir historian Eddie Muller points out several good examples on his commentary track. Otherwise, Muller offers interesting information throughout (how many people know that Dana Andrews started his career as a singer?), though he can be annoyingly smart-alecky at times. But he does know his subject and as these things go, it's a good commentary. Further extras include trailers for this and other Fox noirs, and a swell photo gallery. Picture and sound quality are tops.
Look for Gene Tierney's real-life husband, costume designer Oleg Cassini, in a bit role in a modeling scene.
To order
Where the Sidewalk Ends
, click
here
. Explore more Otto Preminger titles
here
.
by Jeremy Arnold