DVDs from TCM Shop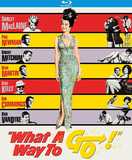 What a Way To Go! A very wealthy widow retells her life with the four... MORE&nbsp> $18.35 Regularly $29.95 Buy Now
Home Video Reviews
What a Way to Go!
may be the most curious, jaw-dropping 1960s collision of Hollywood humanity this side of
Skidoo
(1968). If only I could report it was as interesting as Otto Preminger's more outrageous comedy.
What a hodgepodge of a cast: Shirley MacLaine in a role once meant for Marilyn Monroe, Dean Martin, Paul Newman, Robert Mitchum, Dick Van Dyke, Gene Kelly, Bob Cummings and Margaret Dumont. That's right, tough guy Mitchum and haughty Marx Brothers foil Dumont actually appeared in a movie together. Who'd've thunk it? But, aside from Dino, who's in scenes with Van Dyke and Cummings, none of the men ever interact, as the comedy episodically unfurls through the flashbacks of MacLaine's Louisa May Foster. After an opening in which she tries to give her sizable fortune to the government, she's sent to shrink Cummings, who puts her on the couch and gets her to open up about her many dead husbands, launching the flashbacks.
We see her childhood, when domineering mom Dumont incessantly preached the importance of marrying a rich man, which caused Louisa to rebel by dumping the guy whose family owned the town (Martin) in favor of a Thoreau-reading eccentric (Van Dyke). In a pattern that repeats throughout the movie, Louisa's quest for "the simple life" falls victim to her husbands' changes of heart. The Thoreau reader neglects her to challenge ex-rival Martin's domination of their town's retail business; the beatnik painter (Paul Newman) she then marries becomes obsessed with selling paintings after his first taste of art money; the small-time song-and-dance man (Kelly) she later marries becomes a big star, complete with inflated ego and condescending love for "the little people." Each dies as a consequence of chasing a buck, leaving Louisa more wealthy and more miserable each time. (The exception to the pattern is Mitchum's character, a tycoon who's already rich and who dies from a bizarre farming accident after Louisa convinces him to settle down.)
The actors' roles arrive as definite star turns, the performances delivered with half-winks at times, and
What a Way to Go!
strives for the frothy, slightly campy feel of the Rock Hudson and Doris Day comedies of its era. While that pastel vibe succeeds on a superficial level - Edith Head designed a number of over-the-tops outfits for MacLaine - the movie never gets funny enough to really feel like the parody of American capitalism it wants to be. Each husband's sequence also includes a movie spoof, set up by Louisa telling the shrink life with each was initially like a "wonderful old silent movie" (Van Dyke sequence), "one of those ridiculously romantic French movies" (for the Paris-set Newman sequence), "one of those glamorous movies about love and what you'll wear next" (Mitchum sequence) and "a big gay musical number from one of those Hollywood musicals" (Kelly sequence). There are a few amusing bits in these parodies, like MacLaine sporting a Bardot wig in the French send-up, but they rarely go beyond one obvious gag (silent comedy is wacky!). Most problematic is the lavish, Kelly-choreographed sequence that veers between intentionally bad singing and dancing and intentionally good singing and dancing. Its individual pieces can satisfy; altogether, they make a headscratcher.
What a Way to Go!
acts as if it's more absurd and amusing than it actually is, which is never a becoming quality. Betty Comden and Adolph Green's screenplay seems middling at best, but much of the blame must be leveled at the odd choice of J. Lee Thompson as director. Thompson's lengthy career peaked shortly before
What a Way to Go!
, with the Oscar®-winning
The Guns of Navarone
and the original
Cape Fear
, featuring Mitchum's still-astonishing performance. He was a hot director at the time, and Fox hired him to do a movie for which he proved to be inappropriate. How could Fox have mistaken him for Frank Tashlin?
The
What a Way to Go!
disc includes a pair of notable ballyhoo extras not even mentioned on the disc's packaging. One is a puffy newsreel report about the auditions for the painting chimp in Newman's sequence; the other is an old Fox promo film about the movie's premiere at the 1964 New York World's Fair. The latter shows that, both in
What a Way to Go!
and off-screen, '64 was a bad hair year for MacLaine.
For more information about
What a Way to Go!
, visit
Image Entertainment
. To order
What a Way to Go!
, go to
TCM Shopping
.
by Paul Sherman