DVDs from TCM Shop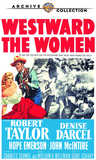 Westward the Women A frontiersman leads a wagon... MORE&nbsp> $14.96 Regularly $19.99 Buy Now
USER REVIEWS
See Detailed Ratings
Acting of Lead Performers

Acting of Supporting Cast

Director

Music Score

Title Sequence

Screenplay

Cinematography

Historical Importance

Would You Recommend?

0 Member Ratings
Rate the acting of the Lead Performers

Rate the acting of the Supporting Cast

Rate the Director

Rating of the Music Score

Rating of the Title Sequence

Screenplay

Creatively uses the camera to tell the story

Importance in Cinema history

Would you recommend for fans of this genre
Submit Ratings
Cancel
Write a Review
Read Reviews
NO REVIEWS AVAILABLE
The title has not been reviewed. Be the first to write a review by clicking here to start.
Great western, strong women.

I've loved this movie since I was a kid, all the characters are interesting and the story is so different from your usual westerns. I could watch this movie every time it airs on TCM.I wish there was a DVD that was in widescreen format, and that could be played anywhere or on anything and not just a dvd player. Some reviews have mentioned a colorized version of this movie, I've never seen it, but, it would be interesting to see in that format at least once. I don't mind the black and white movies, it's what I grew up on.You know a Widescreen format might not be possible, but a dvd with both black and white and colorized version would be nice.

Great story, great talent, one of my favorites

I could watch this movie over and over. Robert Taylor is not just another pretty face in this movie, instead you get to see talent. This is a great story of pioneers, life, death, sacrifice, and dozens of life lessons. Acting is excellent with well developed characters. I will say the beginning of the movie is a little stiff, but getting past that is well worth the watch.

Available on DVD & Shown Frequently on TCM

Didn't read all the reviews but it is available on DVD (play only format). Also seems to be shown several times a year on TCM. However, I prefer to play the colorized version I taped years ago from TNT. Wish TCM would relax a little on the colorized movies. Westerns (like this movie), adventure stories (like the original Mutiny on the Bounty), & musicals (like Yankee Doodle Dandy) look much better in color.Every performance in Westward the Women is superb, however. William Wellman did a superb job. And Robert Taylor's performance is one of his very best.

Why only on Made for View?

I have waited forever for this movie to come out on DVD only to have Warner Brothers bring it out as a made-for-view only. They did not restore or remaster the movie. I know there was a colorized version shown at one time on TV. Why can't they do what they did with Tyrone Power's "The Mark of Zorro" and put both the black and white and colorized version on the DVD. I would like to see captions as well as a remastered version available. There are so many movies that are now only being made available in the made-for view format. I refuse to purchase any movie that I can't take with me and play on my laptop. Please let's start making more of the movies available on regular DVD's that can be played anywhere.

Great

Great movie! Could watch it over and over again!!!

Yes, it is on DVD now - Warner Archive

Yes, Kristy, this movie is now on DVD through the Warner Archive manufactured-on-demand service. See warnerarchive.com or Amazon.com.

play this movie more

i love this movie just dont get to watch it . I would love to get it on dvd if it is on there yet . Is it on dvd yet ?

A TREASURE TO PASS ON

Being outnumbered by brothers 5 to one, this was a first glimpse of women being strong and heroic and courageous that I can remember and it meant a lot to me. I've seen it 50 times at least and introduced it to my daughters, as well. I would LOVE to have this on DVD so we could each have our own copy forever, wherever we are.

good movie

Me and my wife really loved this movie its the best we would love to have it on DVD anytime

Westward the Women

This is one of my favorite movies. Although fiction, it tells a story that belongs to our history. Please release is on DVD -I have waited and waited for it. Would love to own it.

One of the Greatest

This movie is definitely one of the greatest movies of all time. A classic western that I am hoping one day will be released for sale. I will be first in line to purchase it. One would think with over 3000 votes and still counting, that TCM would either show this classic on their TV Broadcast or offer it for purchase. I'm not getting any younger, so I hope that it will be sooner than later. Ha! Thank you TCM for all of the other wonderful classic movies that you show on your TV channel. But, I still await for Westward The Women.

Fun to watch again and again

My sister and I used to love this movie when we were kids and watched it every time it was on Saturday Night at the Movies. I would love to be able to own it on DVD and show it to my husband who has never seen it. This film has it all, love,childbirth,river crossings gone wrong, Indian attacks and more.

Westward the Women 1952

I really like this western and would like to see it come out on DVD, I currently have an old copy on VHS and will watch it from time to time--it really has alot to offer in the way of entertainment

Westward the Women

I have been waiting and watching for this film to appear on DVD. This was a wonderful movie and would like to own it. Please release it so we can watch something that is really a good movie.

Westward the Women

This is an excellent movie that I would love to own. I was so disappointed to learn it is not available on DVD or VHS. Please make this available as soon as possible. I'm sure it will sell. Please show it again soon.

THIS NEEDS TO BE ON DVD

I WAS ABOUT 10 WHEN I FIRST SAW THIS AND HAVE WACTHED IT EVERYTIME ITS ON. MY GRANDKIDS EVEN WATCH IT WITH ME.IF IT EVER PUT ON DVD I AM BUYING ONE FOR ME, MY KIDS AND GRANDKIDS.

Release this movie on DVD

This is a wonderful story and shows women in a wholely realistic light. The life was hard and the women had to be also. Please see about releasing the movie on DVD so my family can watch it whenever they wish. The story is so uplifting.

Put this on DVD!!

This is the best movie I ever watched. My family loves it please put on DVD, so we can watch all the time. Teenagers need more clean movies like this.

Must See Western

This film and "Oxbow Incident" are my favorite Westerns. This movie is more entertaining and realistic thanany of the John Wayne Westerns and should be promoted to its rightfull status of one of the best Westerns ofall time. The Waltz (........Endearing Young Charms) for the dance at the end of the film is so appropriate to the period.

AN OVERLOOKED GEM!

Know my Classic Movies

11/18/11

This film has an excellent cast - Robert Taylor et al. - The story is one that appeals to both men and women - lots of action and realism. It really is an overlooked gem. Please put this movie on DVD as soon as possible so more of the public can experience this terrific movie.

Westward the Women

This was a great movie. This movie needs to be remastered to a DVD.

ONE OF THE BEST MOVIES!

This is a classic movie - one of the best! The cast is stellar and the story is riveting! I try to watch this whenever I see it on TCM (which isn't often!) WHY is this not on DVD?? It's on VHS so why not DVD? Please make it available soon!

Love this movie

I understand there is a colorized version also. Would love to see that.When brought out on DVD, both versions should be on there.Watch it anytime I can. Have the B&W version on VHS but wouldlove to get it on DVD. Can't believe it is not.

Love this movie!

What!!??? Westward The Women isn't on DVD yet? How can this be? I love this movie. Every time I see it scheduled, I make sure I'm able to watch it. This is one you never get tired of watching. Please! Put this on DVD!

Westward the women

Best Western ever. Shows how hard the women really worked back then. needs to be brought to viedo so we can buy it. Wemen going all the way across the country to get a husband and the deaths of some of the women getting there. Also showing there acomplishments. Please release on viedo!!!!!

Westward the Women

am Robert Taylor fan. please show this movie. thank you

Best of its kind

This movie depicted the harsh realities people faced as pioneers settling the West. It showed human nature with a wonderful mix of humor and sadness. Maybe someday it will be released on DVD. I'd love to see it again.

Well done

Truly a great film.

Westward the Women

First saw this movie as a teen; after a hiatus of decades finally saw it again a few months ago on TCM. It's still a great movie. The women aren't fluffy helpless things headed west; they're strong women facing dangerous obstacles and conquering them, risking everything for a new chance at life. Way ahead of its time in many ways when it was produced; wish it was on DVD for girls today to see more often.

westward the women

this is a really good movie

Love this move

This is one of my favorite movies of all time. I'd like to see it on TCM more often - better yet - on DVD!

Westward the Women

Simply put, this movie is wonderful. The cast, location, plot, script, everything. It shows that life is hard but that there is hope

Westward the Women

loved this picture. please play it.

Westward The Women

This is the one of the most enlightening westerns ever. I firmly believe that it should be on DVD to be viewed always. There are not many westerns that show the determination of women during this trying time.

westward the women

one of the best movies ever made show the true spirit of womengreat show

Westward the Women

I have always enjoyed this movie because it shows the spirit of women. I cannot understand why this firm is not made available on DVD. It would make a great addition to TCM selection.

A Wonderful Film

I first saw this film about a year ago, loved it, and wondered why I hadn't seen it before. Perhaps because it features women,mainly, and someone somewhere has said that many men will not watch films about women (unless they're sexy women), whereas women will watch films about men. Whatever the reason, this film is a must see for anyone who loves good acting, good scriptwriting and direction, and great, classic western films.The cast of pioneer women is wonderful. It's hard to find a bad performance in this film, including those of the fewer and less important men who do a fine job, too. The cinematography (the picture was filmed near Kenab, Utah) is wonderful, too.This movie may also be one of the few western film which realistically describes the real dangers and everyday travails experienced by women seeking new lives in the west.I don't know anyone who's seen this movie who doesn't love it!

Westward the Women

I have always loved this movie and cannot believe I missed it last month. This is one I would love to own. It is so unusual that a movie depicts the hardships endured in the settlement of this wonderful country, especially from the viewpoint of women. Please show it again soon and please help us get this on DVD.

WESTWARD THE WOMEN

Please,please have this movie put on DVD. My husband and I love this movie and watch it everytime we can. WE would love to have it on DVD. We are in out late 60's so please hurry up and do it. PLEEEEESE.

Westward the Women

I called TCM 8 months ago and asked for this film; I couldn't believe that you found it and presented it on Nov.17th. Someone actually listened! This is one of the greatest westerns ever filmed. Why isn't it shown more and why do you have to pay a fortune to buy it? Please, please, please show it many more times. This generation needs to see what went into this new land called America. Bravo for TCM for finding it! By the way, I'm a female "Lee".

Westward the Women

I caught this movie last night. I'd never heard of it before, but the premise was intriguing and I decided to watch. It was wonderful! I teach middle school history and thought that this would be a great film to show my students. Even though it was made in the 50s it does not glamorize the trip west and the details and depictions of hardship were on target. I hope this becomes available on DVD.

Westward the Women

Saw this movie with the family one evening in 1968...My brother and I loved the characters (especially Patience ;)...Then..gasp...It was on after 40 years on TCM...I called my brother..so excited. It's a classic. Ive tried to locate the DVD. Now I know why I couldn't find it...not available...please sell this movie to me!Tonight is the second time I've caught it on TCM. It was airing one morning at the exact time that I had to leave for work...very tempted to call in. That's how much of jewel this movie is.

Westward Women

I love the movie, and havent seen it in years. Todays TV shows stink ,too much sex, swearing, where are all the values at? More movies like this should be seen,and on dvd's so I can enjoy a day ,to watch a great classic.

Westward The Women

Terrific Movie! I wish someone would show it again, I haven't seen it on TV in years. Oddly enough, it was released on VHS in B&W and a colorized version (you can get it on EBay if you want to pay a fortune), and the studio released a DVD in French! of all things. It's available on Amazon. I don't want to pay the price they're asking to watch it in French and read the sub-titles. But if it could be re-dubbed into French and released on a DVD, then why not release it in English to begin with? I normally won't pay more than $16.00 for a DVD, but I would pay the $24.95 Amazon is asking for this movie if it were the original English version and a well-produced DVD, with a good video and audio transfer. I'm not asking for a lot of extras, although I saw a documentary on TV a few months ago about the making of this movie. You could throw that in, it was interesting. The story-line itself is a great example of sucking it up and doing what you have to when times are hard and making a new life for yourself when the old one isn't working out, instead of waiting for someone else to come along and hand everything to you.

Westward the Women

This is a terrific Western and cannot believe that this is still not availabe for Home Video. Robert Taylor does a great job with the women in this movie. The strength and courage that is portrayed by all is outstanding. For overall rating, I give this movie ten stars.

Westward the Women

I love Robert Taylor in this movie, and would follow him across the desert. The patience and courage shown by the men and women in this movie was exceptional. Will keep looking for this movie on DVD or VHS.

Favorite western ever and always

Saw this movie as a child and I still love it many years later. Never gets old. Not a typical western, not a typical love story. The movie has many interesting elements to it. Bring it to DVD and in the meantime run it more often!! I could watch it over and over and never tire of it.

westward the women 1952

cant help this i see and check to see if that come out on dvd i will order that 2 or more dvd of that westward the women....love that movie, very very impress how women can be just alike men. barvo women......ily

westwardthewomen

i just love this movie cant wait to it comes on dvd.

Awesome!

This movie has to be one of my favorite classics. I appreciate that they showed a little of what the pioneer woman put up with to survive and still kept their femininity. PLEASE put this on DVD. I want this one in my DVD collection!

Westward the Women

Just a note to say that a "Westward the Women" DVD is indeed available in nice clean transfer from Warners France. You can order it from Amazon France where it is titled "Convoi de Femmes". It is in its original English version (or choose the French dub for a hoot). Of course, it is a PAL-REGION 2 DVD. I think of this movie as a Frank Capra western, as he did write it. Wonderful, heartwarming tale with outstanding performances all around. Hope Emerson was especially good in her role.

Westward The Women

Excellent, powerful movie. This is truly one of the best movies made. Recently, I watched the TMC "making of" about the moving Westward The Woman. Did anyone see this too. It was amazing to see just how much work went into the production of the movie. Thank you TMC for showing the movie and the making of Westward the Women. LOVE IT!

Westward The Women

I was fortunate enough to have discovered this delightful movie this afternoon, just happened to turn the TV on while doing some work in the living room. What an engaging story! The casting was perfect, and the actors were wonderful. I became caught up in this touching film and put my work aside. The realistic portrayal of the hardships these women endured and the respectful treatment of minority characters were strangely refreshing-considering the movie is 60 years old.

Westward The Women

This has got to be one of the best movies ever made....I watched it as a child,,,My son watched it as a child, he was born in 1976 and thought I was out of my mind when I ask him at 10 years old to watch a black & white movie, this was unheard of to him... Yet at almost 34 he still ask every now and again if it is coming on any time soon.. He loved the movie and it was one of his best childhood memories..... The movie is history and is absolutely timeless.............Please show it again soon, and put it out on DVD, so my grandchildren can someday enjoy it too................

Westward the Women

Why this movie hasn't been shown in years is beyond me. It's probably one of the best ever! TCM: air this movie! And don't let anyone cut is up to "fit a time slot". Show the whole thing, please!

Westward the Women

I've loved this movie since I first saw it (probably on TCM) about twelve years ago. It's a different take on the western. It's not a "gunslinger" but it's just as much fun. Prior to this movie, I had no idea that Robert Taylor was such a big star and had such a stellar career. I also liked the multi-cultural approach used in the screenplay to depict the migrant american women. It's a lovely "women's picture". I hope that westward the women will be available on DVD someday soon. If so, I will certainly buy a copy.

Westward the Women

I have always loved this movie. It tells a wonderful story of pioneer Women and the terrible hardships they went through to go West and meet men, to marry. Also love Robert Taylor as he lived in our home state of WY. and owned land there for awhile. I think he and Denise Darcel and all the rest did a wonderful job in this story. I can't wait to finally get it on DVD. I have been trying to get it for several years. Please let me know when it is available. I am 75 years old, and can only wait so long. Thanks.

Westward The Women

This movie shows the determination and grit of the American frontier women. The hardships they indure and the closeness they maintain throughout their endevers. It's a MUST OWN and a MUST SEE.

westward the women

I missed the first 30 mins. of this fine movie , but what I did see of it was just fantastic.Can't wait til it comes on again.I will watch this movie over and over.As soon as it comes out on dvd I will grab it.TCM always has great movies on.Thanks TCM

Westward the Women

I love this movie I cant wait to it come on dvd.Its a must have movie please please put this movie on dvd please.when will it come back on again .I hope so cant wait to see it again. beverly

Westward the Women

I enjoyed this movie very much! I am always looking through my cable guide on the TCM channel for good movies to watch and then I record them on my dvr as I do all the movies I think I may be interested in watching. When I watched Westward the Women, I loved it and was ready to purchase a dvd but was very disappointed to learn it is not for sale! I so very much would love to have a copy of this movie to add to my dvd library! Please do whatever you can to make this movie available on dvd for all of whom loved watching this wonderful movie!! I will keep this movie on my dvr and not delete it. I intend on watching it over & over!! The end of the movie brought me to tearful smiles as the men & women finally met one another and got in line to be married. Bravo! To the cast/crew/director & writter of the story!!

An Amazing Journey

For years, I looked for this movie in the TV listings every week. I'd seen it on TV -- never from the beginning -- and wanted to see if it was as great as I remembered it. It was even better.This movie covers a lot of ground, geographically, and in the lives of the characters. As the women of the wagon train endure ever greater hardship, they toughen and mature. As the wagon master works with them, he realizes they are far more than he thought they were. As we watch the movie, we get to know them so well that their sorrows are our sorrows, and their joys are ours as well.The movie earns our sympathy honestly, and the emotions it puts us through aren't cheap or easy. It's on my short list of favorites, and I watch it whenever I can, always to the end.

Westward the Women

What a Fantastic Show! I loved it! Please show this movie more often and try to get it out on DVD - I would love to add it to my collection! Thanks So Much!

Westward the Women

This great movie aired today on TCM and was wonderful, as usual. I see one other Review that was also done today. I have read all of the Reviews so far and ALL of us agree and have the same viewpoints about this movie. What I find VERY INTERESTING is how fast the Vote for this movie to be put on DVD has increased - in one (1) hour the vote to put this movie on DVD increased by 85 points while it was being aired on TCM, and I am sure it will continue to increase. TCM----Your company has a great deal of influence with the powers that be to get CLASSIC movies put on DVD. Please use your influence to make sure that this movie gets put on DVD. It cannot be that hard, since is was originally on VHS in the past. I know we are in a deep recession, however, the DVD can make money for whoever does the job, and for TCM too. As you can see there are already over 2500 people interested in having it in their collection, including me. Thank you for your help, in advance!!! Please show this movie more often.

westward the women

this is a great movie, an alltime favorite of mine. Westerns seem to always be about the men that tamed the west but this lets everyone know the roll,determination and stamina of the women that help settle the west. Any fan of that era should watch this movie. It should be available on DVD.

One of the best movies ever

This is one of my favorite movies of all time! Absolutely superb. Provides a good view of what the pioneer women actually went through. It really is unbelievable that they haven't released it on DVD yet (except in France). It's actually going to be on TCM next week so hopefully, I can at least record it to VHS (glad I still have a VCR) and maybe, if I get lucky, they will release it on DVD before I wear the tape out.

Westward the Women

I first saw this movie when I was a young girl. Loved it and to this day at age 60 still love this movie. It shows the strength that women have and the will power to overcome just about anything thats their desire. This movie showed true character of women from different walks of life.

Westward The Women

Why has this movie been overlooked. It is one of the best westerns ever made. What makes me sad is that so many bad movies make it to DVD before the good ones.

westward the women onto DVD

this is one of the best hollywood movies ever made. the camera shots are exquisite,the story A-one and the cast superb.

Westward the Women - The best western ever

This movie is the best movie ever about women in the west.

SHOULD BE ON DVD IMMEDIATELY!

This movie is one of the best westerns ever made. The acting is superb - the leads and the supporting cast. This movie shows the pioneer women as they surely must have been - strong and perservering. Denise Darcel does an excellent job in her role, and it's surprising that she never had many more roles in film. This movie should definitely be on DVD.

Westward the Women

This is an exciting, well-directed and well-acted western movie. The difficulties encountered by these women who want a new life in the far west are tremendous and they handle them very well. It is a great western.

Westward the Women (1951)

This is a little known gem of a western, the performances from everyone is excellent. Superb character development, an excellent mix of drama, action and adventure with touches of comedy. It's a moving and inspiring story. Great direction from William Wellman. Well photographed and always interesting.

A 4 star classic!

This is one of those movies that you see woke up and watched with the adults on the late late show and felt awed by. This ranks up there with Once Upon A Time in the West as one I will stop anything to watch and devour. I never knew that Frank Capra contributed to the story, but it makes so much sense. I can still recite certain scenes. The romances they make today, they're so pale compared to this one. When the big woman meets her little husband and he takes her arm solemnly, you don't doubt it's for real. When the rough miner meets the lady with the baby and assures her he'll take care of it, you want to cry. I just wish there was a nice Japanese girl for Ito, he deserves love too!

Westward the Women

I loved this movie and have not been able to find it for purchase. It is an inspiring movie of womens inner strength, beauty, and heart. Hope to get it soon.

Terrific Movie - One of Best of All Times!

Made me cry in multiple scenes...superior tale of hardship, heroism, strength, and determination of women (while retaining their feminine side). Fantastic rendering in terms of women's resiliency, stamina, productivity, and multi-tasking talents...all for the end result of satisfying their biological imperative/finding a husband ... and becoming second fiddle :-)))

A Classic That Shows What Women Are Made Of!

This is a wonderful and funny film(at times) that can remind women what they are made of! We need more films like this to share with our families. Please let me know when it is released on DVD. I will be the first to buy a copy.

PUT MORE OLD MOVIES ON DVD!!!

It's nice that TCM has its "voting" system to see which movies should be put on DVD, but how can people vote on movies they've not seen?? Not only "Daughter's Courageous" but so many more should be put on DVD immediately! Such as "Farmer's Daughter", "White Banners", "Dulcy", "Anthony Adverse", "Bachelor Mother", Rachel & the Stranger", and many more! It is so frustrating not to be able to have these old movies on DVD when there are so many awful ones already on DVD. I wonder how THEY got on DVD? No one voted for them! I hope that TCM will pressure these movie companies to release many more of these great old movies on DVD!

One Great Classic

Great films such as this didn't need computer generated special effects to make them worth watching. There was a quality in the workmanship of these old films, from the writing to the acting, and the shear simplicity that has been lost over time. To any fan of the 1950's western genre, this film is a must! You don't see many actors like Robert Taylor and Hope Emerson these days, not to mention the Stewarts, Tracy's, Hepburn's, the Pecks and the Fonda's!! The work these dedicated artists left behind is more than worth our time to watch over and over again.In my opinion, this film rates right up there with Shane, one of the greatest westerns ever made...It's too bad this one is not as popular. Director Wellman does a masterful job of drawing every last bit of talent from these fine actors as they tell a great story. It's two thumbs UP in my book!!

Available on DVD

I ordered the DVD of this from http://stores.films-classic.com/They had a window next to some of the reviews on the TCM site

Reality Western

My wife is a member of a "Daughters of Pioneers" organization and one of the activities at their meetings is to read actual journals kept by pioneer western women. This movie depicts the women as being every bit equal to their male pioneer counterparts. The real-life pioneer women's journals also show the women had the same expertise and tancity portrayed in the movie... after the women's jouney to California. The movie gives a very realistic potrait of the harsh and "quick or dead" learning conditions of the early days of the western territories.

Unforgettable

I remember seeing this film as a 6 year old at the cinems and have never forgotten it. Just discovered the trailer for it. Would love to see the whole film once again or be able to buy the video.

Underrated

This has got to be one of the greatest and most underrated Westerns ever made. I've loved it ever since finding it late one night on cable. If it happens to come on, I'm watching. What angers me is that you can go to a store and find bins full of the latest garbage, but treasures like this stay hidden in vaults. What's the point of home video when you can't find the great ones?

I loved this movie!

Westward the Women needs to be on Dvd, and widescreen. I hate it that on dvd's of old westerns they crop the film instead of showing how it is meant to be seen, it really makes a difference! I liked how the story rolled along, even through the hard times it kept you going and makes you want to see it again. The movie makes you really think about the real women who did that, and how brave they must have been. Maybe in the future someone will do a remake or a similar storyline, because this is something worth repeating!

One of a kind.

This is one of the best and most realistic movies ever. These actors knew how to act. It shows in their performance. I love this movie. I watch it every time it comes on.

NEEDS TO BE ON DVD

will be watching every time it comes on great movie

great movie

when are you going to put it back . pacific time. will be watchind every time.

WESTWARD THE WOMEN

When will this movie be released on DVD?

Amazing Women

this has to be one of the most profound movies about women in the old west...the hardships they incurred and lengths they went to that made them a part of history....please put it on video....women of all ages could learn a bit about life and dedication even if these women are fictional...bravo for making this film....LOVE IT!!!!!

THIS NEEDS TO BE ON DVD!

I love this movie so so much. Please let's have it on DVD. This movie is absolutely fantasic in all aspects. It would be ashame for us not to enjoy it over and over again.

Bring back the BEST of the WEST.

Great movie!! I perfer the colorized version from Turner. But I would buy any verison of this movie. Barb

ONE OF MY ALL TIME FAVORITES

This movie is just exceptional-the plot is moving and the actors bring each character to life so much that you feel like old friends with each and every one of them during the final scenes. I love this movie!

Wonderfull!!!!

I love watching this movie when ever it is on, because it shows us how strong women can and need to be. Westward the Women is a great pick-me-up when I feel overly used by the world. It reminds me of what my ancestors went through to begin a new life and hopefully a family.

A top ten favorite

While the costumes and props are not as historically accurate as I'd like. Come on, 1873 Peacemakers and rolling block POST -Civil War rifles. The story and dialogue are outstanding and the chemistry between the main characters is something I never get tired of. It's a toss up on what scene I look forward to the most. Whether it's Buck and Ito toasting "good ole Jim Quackenbush" I used to roll on the floor laughing watching Buck crack his "thunder whip" and Ito talk about the melodrama he'd seen. The other scene is when Buck let's the waiting men in the California valley know that going to see the women before they are ready will get them shot "right here." "None of you have been through the hell these women have." "They must be great women!"said the old codger. HOPEFULLY, this one will run again.

Touching and inspirational

This is a lovely movie. Makes you think what our ancestors went through. And makes you wonder why the men get the accolades in our history.

This is a fabulous movie!

This wonderful movie shows the true grit of women in times gone by and the hardships our ancestors endured to make this a great country.It also proves that Robert Taylor was more than just a pretty face! Keep this movie alive and I want to buy it on DVD for my collection! I wish TCM would play this movie as often as they play THE PHILADELPHIA STORY (hint hint)!

Great Movie

I catch this movie every time I can. It's uplifting to know the spirit of our pioneer folks. Makes me proud to be an American.

DON'T LET THIS GREAT MOVIE DIE!

I've enjoyed this movie every time that I've had the opportunity to see it.If I could get it on DVD I would do so in a heartbeat.The strength and determination of women has seldom been demonstrated better or more realistically portrayed on film than in Westward the Women. G

Bring it back

PLEASE make this available on DVD!!!!!

Please make "Westward The Women" available on DVD

This is another classic film from the great 'Wild Bill' Wellman. I first saw this movie as a child and I still enjoy it whenever I am able to see it again on TCM, which isn't often enough. The story of women pioneers is to often neglected in film history, but Wellman does an excellent job of illustrating the hardships suffered by the 'fairer' sex in the journey west during the 19th century. I would love to own a DVD copy of this film should you ever decide to release it.

Bring it back in December

I also have been waiting for this movie to be on, but unfortunately, missed this month. I first saw this movie 20 years ago and can't see it enough. My husband also really enjoys this movie. I bought a VHS off of eBay, but it is not good quality. Would love to see available in DVD.Happy viewing!

Susan favorit movie

Susanne e. Jackson

11/23/07

Good movie, loved it .in joy it every time I see it.

One of my absolute favorites

I HAVE BEEN LOOKING FOR THIS MOVIE TO BE ON AGAIN FOR A VERY LONG TIME...IT IS VERY SELDOM ON...IT IS SUCH A GREAT MOVIE THAT IT SHOULD BE ON FREQUENTLY AS CLASSIC MOVIE OF THE WEST JUST AS SO MANY OF THE OLD WESTERNS ARE.

Love Robert Taylor

I seen this one Many, Many time and I never get tied of it.

One Of My Favorites!!!

I catch this movie whenever I can find it on the tube. It reinforces that fact that it took strong women coming West to make this nation great!

Westward the women

This is a good Robert Taylor movie and should be put on DVD.

Wonderful Movie!!!

I saw this movie many years ago, and just feel in love with it. I cried, laughed, and cheered through the whole movie. I just found out it was coming on in Nov. of this year. I so can't wait!!!

The best movie ever....

I love this movie. I would love for it tobecome available to buy or watch on tv again. My favort part is where Patinceis looking at the picture of the man she choose. The comment was " She did not know which was more handsome the back of the mule or him"

Womens Strength

I saw this movie years ago and would like for my daughter to see it. Westward the Women is a wonderful showing of womens strength, tenasity and determination. There is a true need for the young women of today to see just how strong and able they have the potential to be. I think all women should see it at least once.

Fabulous Western Movie

Fabulous Western Movie

Westward the Women

This movie is one of the best films showing how life was in this time period. All persons involved in this movie did it right for a change.A fabulous movie for all to see.

They don't make 'em like this anymore!

Fantastic movie!When I wasn't crying I was cheering.It made me think that it was dubious as to if women are made with the same grit as the pioneer women who settled North America. ( I get upset if the microwave takes longer than 30 seconds).Great Cast. Great Director. Great Writer. This is now one of my all time favorite movies. Realistic but gentle as it portrays a time in our history.

Westerns

Westward the women...GREAT MOVIE!!!! I had no interest in westerns, until I came across this movie. The acting by all those women made you want to go out west yourself. Hope Emerson was truly a great actress.If anybody ever finds this movie on DVD or VHS,PLEASE share it with us all at "TCM".

Fantastic Western!!

One of the best of its genre. What's great about the movie is that it is more than just a Western. Its also a drama, comedy, and romance. I grew up with this movie, and so have my teenage children.

Great Movie!

My sister and I have watched this movie over and over for the last thirty years. It is one of my favorite western movies out there. I hope it is one day on DVD, I would love to own this one.

One of my all time favorites!

I love Westward The Women. This is one of my favorite films. I've seen this film more times than I can count over the years. I would love to buy a copy on DVD. I would be willing to even buy a copy on VHS. If I could find one.

OUTSTANDING MOVIE

A great, great movie of personal tragedy and heart warming individual stories.

One of my favorites!

I introduced my twin daughters to this movie when they were 8 years old. Now at 29 years old they consider it one of their favorites. Robert Taylor shines in this one with just enough toughness and rough tenderness to make you love him.Is this on DVD yet?

Just a great movie!

A great movie. Would love to own it on DVD so I can watch it any time I want to. Shows the strength of women and what they will go through for what they believe in.

Heartwarming & Heart Breaking - Love it

Over the years I have shared this movie with lots of my friends and they love it.It never fails to tug at your emotions.I believe there is a colorized version of this movie. After watching this you know why our ancestors died young. Plus the hardships that pioneers went through to claim this country. Please play it soon.

A "Must See" Western!

I remember this movie from my childhood. It was and IS one of my all-time favorites. The hardshpis the women endure on the journey, the romance, the comedy (especially-Hope Emerson) and loss truly stands the tests of time. A fantastic movie that I'd love to see and own on DVD as part of my extensive collection!

Great movie!

I never grow tired of viewing this movie and look over the movie selections each week to see if it is being shown.The movie shows the many difficulties encountered by women who traveled by wagon train to the West. An absolutely great movie!

Oh the Memories!

I loved this Movie. I can remember setting and watching this movie with my grandmother. I have only had the pleasure of being able to see this movie twice in my life but have loved it each time I have seen it. Hope it shows on television again soon. It has drama, humor and romance. What more could you ask from entertainment.

Wonderful Movie!

A western where the women are the focus of the story. It tells of their struggles to cross the frontier. A wonderful supporting cast and a love/hate relationship between the male and female leads. I believe it is one of Robert Taylors best movies. I watch it everytime it comes on.

One of My Favorites!

It is wonderful that a film in the 50's could show women holding their own and taking care of themselves under the harshest of situations. I always knew that pioneer women were as strong as they come!

GREAT MOVIE!!!!

This is a great movie. I was amazed while watching it. I couldn't believe that a black and white move was this interesting. I've even got my friends and family hooked.
*We protect your personal infortmation and will not provide it to anyone without your consent. For a complete explanation, please refer to TCM's Privacy Policy. By submitting your contribution, you agree to TCM's Terms of Use.