DVDs from TCM Shop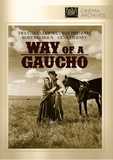 Way of a Gaucho MORE&nbsp> $12.95 Regularly $19.98 Buy Now
NOTES
DVDs from TCM Shop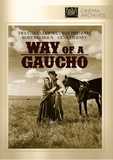 Way of a Gaucho MORE&nbsp> $12.95
Regularly $19.98 buy now
At the end of the opening credits for this film, a written acknowledgment reads: "This picture was filmed in its natural settings in Argentina. Twentieth Century-Fox acknowledges with gratitude the assistance and cooperation of the Argentine Government." According to contemporary news items, Henry King was originally set to direct the film, and Tyrone Power was cast in the leading role. A May 1951 Hollywood Reporter news item noted that King requested a transfer to another picture and was replaced by Jacques Tourneur. A June 1951 Los Angeles Examiner article reported that Power had been placed on suspension by Twentieth Century-Fox for refusing the role; he reportedly did not want to make any more "costume pictures." The article noted that Dale Robertson was tentatively set to replace him. August and September 1951 Hollywood Reporter news items noted that Jean Peters had originally been cast as "Teresa" but had to withdraw from the role due to health reasons. An August 1951 New York Times article incorrectly lists Michael Rennie in the cast instead of Hugh Marlowe.
As noted in the onscreen credits, the film was largely shot on location in Argentina, but some scenes were shot on location in California near Pacific Palisades and Vasquez Rocks. Both Robert Webb and Henry Levin briefly filled in for Tourneur when he was suffering from a back injury. According to information in the Twentieth Century-Fox Records of the Legal Department, located at the UCLA Arts-Special Collections Library, in order to receive official cooperation from the Argentine government, the studio agreed to shoot a short film about "certain Argentine charities supervised by Mrs. [Eva] Peron."
According to Hollywood Reporter news items, a preview of the film was held on September 30, 1951 aboard the ocean liner S.S. Argentina. The liner was docked in New York, and according to Hollywood Reporter, "close to five hundred newspapermen, stars and representives of the city, United Nations and the Argentine government" attended the screening. Modern sources note that Ray Klune served as the film's production manager. Way of a Gaucho marked the first assignment as a producer for noted screenwriter Philip Dunne. A October 10, 1953 Saturday Evening Post article reported that the film was very well received in Latin and South America.