DVDs from TCM Shop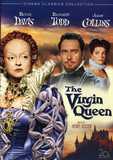 The Virgin Queen Sir Walter Raleigh wins favor... MORE&nbsp> $12.95 Regularly $19.98 Buy Now
NOTES
DVDs from TCM Shop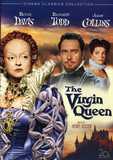 The Virgin Queen Sir Walter Raleigh wins favor... MORE&nbsp> $12.95
Regularly $19.98 buy now
The working titles of this film were Sir Walter Raleigh, Raleigh and the Virgin Queen and The Hawk and the Vulture. According to a May 12, 1955 Hollywood Reporter news item, the picture was to be released in Great Britian as Sir Walter Raleigh. The film is based on the lives of Elizabeth I (1533-1603) and Walter Raleigh (1552?-1618). For more information on Elizabeth I and motion pictures inspired by her life, see the entry below for Young Bess. As portrayed in The Virgin Queen, Raleigh was one of Elizabeth's favorite courtiers, although the story of him spreading his cloak on the muddy ground for her May be apocryphal. The queen knighted Raleigh in 1585 and bestowed many honors on him, and the adventurous Raleigh conceived several colonizing expeditions to America. Tobacco and potatoes were two of the American products introduced by Raleigh to England. In 1592, Raleigh, who was also a well-known poet, was imprisoned in the Tower of London by Queen Elizabeth for having secretly married one of her maids of honor, Bess Throckmorton. [Bess's name in the film is Beth Throgmorton.] Raleigh won his freedom when one of his expeditions returned to England with a valuable cargo. After Elizabeth's death, Raleigh struggled to maintain the favor of her successor, James I, to little avail. Raleigh spent many years imprisoned in the Tower and was finally executed for treason in 1618.
According to modern sources, Twentieth Century-Fox production chief Darryl F. Zanuck was so determined to have Bette Davis star in The Virgin Queen that he delayed production on the picture for three years until she decided to accept the role. Davis, who had been in semi-retirement since the 1953 Twentieth Century-Fox release The Star, had previously starred as Elizabeth I in the 1939 Warner Bros. production The Private Lives of Elizabeth and Essex. The 1939 picture was directed by Michael Curtiz and co-starred Errol Flynn as "Essex" and Vincent Price as "Raleigh" (see AFI Catalog of Feature Films, 1931-40). At Davis' request, Perc Westmore, who did her makeup for the earlier film, was hired to do her makeup for The Virgin Queen. Davis partially shaved her head for the scene in which the queen attempts to shock "Raleigh" by showing him her near baldness. There was a great deal of contemporary publicity about Davis' shaved head, and she appeared at the 1955 Academy Award ceremony wearing an ornate skullcap to disguise her lack of hair. According to a January 17, 1955 Hollywood Reporter news item, Davis was dissatisfied with the script but the problems were "straightened out following a long distance talk" between the star, Zanuck and producer Charles Brackett.
In September and December 1952, Los Angeles Times reported that Leonard Goldstein would produce the film, with Cornel Wilde considered to star. In September 1953, Hollywood Reporter's "Rambling Reporter" column speculated that Burt Lancaster had been cast as Raleigh and Jeffrey Hunter as "Lord Derry." In January 1954, "Rambling Reporter" announced that Richard Burton was the studio's choice to play Raleigh. Hollywood Reporter news items include the following actors in the cast, although their appearance in the completed picture has not been confirmed: George Berkeley, Anthony Dearden, Olaf Hytten, Walter Crain, Frank McGrath, Florence Dublin and Darrin Dublin. Although an January 11, 1955 Hollywood Reporter news item reported that the picture was to be shot partially in London, it was filmed completely in Hollywood. According to studio publicity, director of photography Charles G. Clarke was in Hong Kong working on another film when production on The Virgin Queen began, and so Leon Shamroy filled in for him until his return.
According to Hollywood Reporter news items, the film's premiere was held in Portland, ME, for the benefit of the Children's Theatre of Portland. Davis was a director of the theater, and she and her then-husband, Gary Merrill, held a cocktail party at their home for the press and celebrity guests invited to the premiere. The Virgin Queen was the first film made in Hollywood by Australian actor Rod Taylor, who had previously appeared in the 1955 Distributors Corp. of America production Long John Silver, which was shot entirely in Australia. The film was nominated for an Academy Award in the Costume Design (Color) category.