DVDs from TCM Shop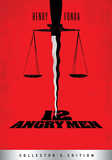 12 Angry Men A jury holdout tries to... MORE&nbsp> $11.21 Regularly $14.98 Buy Now blu-ray
USER REVIEWS
See Detailed Ratings
Acting of Lead Performers

Acting of Supporting Cast

Director

Music Score

Title Sequence

Screenplay

Cinematography

Historical Importance

Would You Recommend?

0 Member Ratings
Rate the acting of the Lead Performers

Rate the acting of the Supporting Cast

Rate the Director

Rating of the Music Score

Rating of the Title Sequence

Screenplay

Creatively uses the camera to tell the story

Importance in Cinema history

Would you recommend for fans of this genre
Submit Ratings
Cancel
Write a Review
Read Reviews
NO REVIEWS AVAILABLE
The title has not been reviewed. Be the first to write a review by clicking here to start.
Dog Day and 12 Angry Men

Why I feel Sidney Lumet deserves plaudits for these two films (Dog Day and 12 Angry). This is only my opinion. But these two films along with GLENGARY GLEN ROSS. Two are directed by Lumet. In those three films. Each major player has a distinct personality, totally unique personality (that does not bleed into another character, but it actually blends as a complete film). That he consistently carries through until the end of the film. A unique identity (so strong and distinct that it places these films in an extraordinary category). That takes superlative actors. Now you have to realize that some actors who people consider to be second rate, are actually noted and highly regarded American Actors, but they are not of the quality of the actors in these films. Now for one director to actually succeed with these types of egos and talents and make the film work takes the talents of a border line "genius". And both of these films are works of genius, that being, in getting those talents to work so well together as an ensemble.

One angry critic.

This may be the worst film by a great director.It seems fitting that spell-check insist director Sidney Lumet's last name is "Lumber", because that's what this film does, it just lumbers along. Pacing isn't its only trouble, it also has a singular lack of comic-relief that only reinforces the film's tone of bathos and false-depth. Funniest of all is the ending: spoiler-alert, it has to do with--hold on to your hat -- near-sidedness! So, it's a "message-movie", and the message is get your eyes checked!

Sidney Lumet

To think one director is responsible for two of the finest ensemble pieces in American Film History. Those being DOG DAY AFTERNOON and 12 ANGRY MEN speaks volumes for the man. I absolutely love Lee J. Cobb in this, heis brilliant, as a matter of fact the level of brilliance among the entire cast is humbling.

12 Angry Men

Great Movie. A jury room of 12 great actors. All my favoritesLoved IT!!!!!!!!!!!!!!!!!

Brilliant Expose of Legal System

Possible spoiler alert-don't read as might give away part of ending. Ggreg's analysis to me hits home what this movie is about, ie flawed justice system about which we are debating to this day. I get the impression from the movie that the defendant had an attorney bordering on the incompetent and that the accused was just lucky to have a juror like the Henry Fonda character on the case. Always thought it was interesting that we do not know whether or not this kid is guilty or not.

12 angry men

Yeah, I know the auteurs dislike it 'cause they think it's TV rather than a movie, but what the hell? Writing this good just can't be ignored. Reginald Rose's screenplay is absolutely brilliant. Not only are the characters of twelve individuals indelibly implanted in your brain within the limited time span of about 100 minutes, but Rose accomplishes this feat without undue speechifying or pontificating about injustice or the failures of the jury system or expositional dialogue. The characters personalities come out in the course of the film and are not "set up" in the first half hour, (as in having the jurors explain to each other what their occupations and backgrounds are) as is the case with mediocre screenplays. As for the acting it is true ensemble greatness. All twelve cast members are excellent, although if you put a gun to my head and forced me to say who was best I'd express a partiality for Lee J Cobb as the toughest nut to crack for acquittal and E.G. Marshall as a juror who is all logic and no emotion other than arrogance. And Sidney Lumet's first film just may be his most fast paced. The hundred minutes whiz by! Not a dull stretch to be seen anywhere. Give it an A. P.S. Jack Klugman was the last of the twelve to pass away. Happened earlier this year.

Missing the point?

I am amused how thin skinned some people can be about a 57 year old movie. It was made when our president was Eisenhower, a conservative, although clearly not nearly as conservative as some walking around now. What this great and classic movie shows is that our judicial it indeed flawed because the people who constructed it are flawed. They bring their own issues to the table rather that calmly relying on the facts, which are also many times insufficient. To deny this is foolish. It makes it clear that true justice is sometimes difficult to achieve and only works when we place our own agendas in our back pocket, and proceed calmly and thoughtfully. It is interesting the the criticisms Minky makes about how conservatives are portrayed reveals his own issues. Never does a character in this film spout about what party or political ideology he subscribes to. Minky makes the the connection himself by how the character relates the the rest of the jury, and the assumptions Minky and the characters make about the defendant. Minky clearly illustrates the power of this fine film, and why it was ahead of it's time and is still relevant today.

Great movie

This is one of the all-time great movies. Great performances by some of the best actors of the day---Fonda, Cobb, et al. It's done in black and white which lends itself to the drama. It's a great exercise in human relations and character development. Don't miss it!

One of the classics!

Great script - Great acting. It doesn't get better than this.

12 Angry Men

Overall-4/5Lead Performers-5/5Supporting Cast-5/5Director-4/5Screenplay-4/5Cinematography-3/5Importance-4/5Recommendation for fans of genre-4/5

Trial Of The American Justice System

This is another example of the left wing Hollywood crowd stating that the American Justice system isn't perfect. We have the liberal hero (Henry Fonda) challenging the conservatives (Lee J. Cobb and Ed Begley) and bigots. In the end though (because the script was written for that purpose) Fonda's character overwhelms the bigots (all conservatives are some how bigots in movie land) and winning. Let's hear the applause, liberal ideals win again but then only in the movies of course.

12 Angry Men

A brilliant, well- acted drama. Fonda is a formidable lead with an all- star cast including Balsam, Cobb & Marshall, each man gives a great performance. Lumet's impressive debut from a television play with a powerful story & claustraphobic setting. A great film manned by Fonda's performance & Lumet's direction. I give it a 4.5/5.

Brilliant!

12 Angry Men is a beautiful and extremely powerful drama! An excellent and very original and neat story works amazing with the fast, sharp and moving script. The performances are superb and Henry Fonda is a fantastic hero. Sidney Lumet's directing is also incredibly original and equally amazing to the screenplay and actors. 12 Angry Men is one of those courtroom dramas that never get bring and are always fast-paced and marvelously entertaining. A 5-star classic and a must-see for any classic movie lover!

12 angry men

An excelllent movie about a juror deliberation.

12 Angry Men (1957)

Confrontation and drama set in the claustrophic setting of a jury room, yet the director never lets the cinematography get stale or boring. Worth watching at least once.

classic

Fonda at his best.

12 Angry Men

Probably one of the best movies made ever. You have a trial of a young boy who supposedly stabbed his father to death. When the jurors go back to deliberate on the case, ALL but one lone man played with a quiet courage by Henry Fonda states not guilty and the rest of the film is about trying to get them to his side. Quite amazing movie if you ask me.

Twlve Angry Men.

Two things:Your are not allowed to take notes while on a jury. At the very end, nobody had an umbrella or rain coat on.

Twelve Angry Men

This is an amazing movie that makes you believe in the justice system in its truest form. The fact that this movie is shot almost entirely in one single room, but you're entranced for every second of it, shows the true mastery at work. Every character in this jury plays a key role that paint portraits of the human soul.

The Ultimate Courtroom Drama.

Frank Harris Horn

7/16/10

Henry Fonda is both the star and producer as Sidney Lumet (in his directorial debut) brings Reginald Rose's powerful TV drama to the silver screen featuring a brilliant all-star cast with Fonda as the lone juror, who holds out for an acquittal during a murder trial, but he's up against some tough opposition from his fellow jurors. The entire jury also consists of Martin Balsam, John Fiedler, Lee J. Cobb, E.G. Marshall, Jack Klugman, Edward Binns, Jack Warden, Joseph Sweeney, Ed Begley, George Voskovec & Robert Webber. A tense well-acted melodrama as it was when it first appeared on the TV series "Playhouse 90".

OUR CONSTITUTION AND COURTS

The brilliance of this movie will be alive eons from now. It says so much on a very small budget (comparatively speaking). Henry Fonda should have received an academy award for his role. Several other actors in the movie could have received the supporting oscar. In the film is a glimpse of our judicial system. This drama plays out as reason and the rhetorician are mightier than the sword (of prejudice, apathy, hate, the generation gap, xenophobia, and sports fanaticism). With the movie recorded in black and white it lends itself to a certain realism with the audience; you almost feel you are in the break area with them during a respite in the deliberations. What a civics lesson connected to the democratic process.

12 Angry Men (1957)

Brilliant classic drama. The performances from the entire cast are outstanding. Excellent direction, it is always interesting. Thought provoking and unforgettable.

Lots of acting talent...

...can't help this preachy, talky and ultimately boring film. About the unfairness of stereotypes, the movie is filled with trite stereotypical characters. Although it would be tempting to call this film dated, I suspect it was a bit of a "trial" to watch, even in 1957. Viewing it once as a curiosity is definitely enough.

Hey Jack!

This is one of those special films, where you could be flipping through the channels, and catch a thirty second glimpse, and in an instant, know it is worth watching. That is what happened to me some twenty years ago, when I first saw it, and I stopped flipping and started watching. Yes, it is hard to believe a tense drama played out in a stifling room could have any "Hollywood Magic", but this one does, maybe in a unique way. The same power Fonda radiated in Oxbow Incident. I would guess everyone involved in these films gave all they had. And it shows. The morals and messages come through without preaching, if you let yourself think. Choose any actor or character and you will get the sense they are just real people. The cinematography relies on monochromatic contrast, and up close and personal face shots to tell the story. Creative use of the camera- goes to eleven! There are plenty of courtroom dramas on film. This one is the gold standard. And Jack Klugman having the honor of choosing his own four star film to share with us, decades later. Is this a wonderful world or what???

Judge not lest you be....

What a "fantastic" movie. Just the fact that 12 men in a little room can mesmerize an audience for almost 90 minutes speaks volumes toward the quality of this production. It runs the gamut of emotions from petty prejudices to hate, to intolerance to broken relationships. All of which meld together to create an atmosphere as torrid and stifling, as a one room "tinderbox" (about to ignite) can get, on such a swelteringly hot, oppressively humid, summer's day. A "must see" movie.
*We protect your personal infortmation and will not provide it to anyone without your consent. For a complete explanation, please refer to TCM's Privacy Policy. By submitting your contribution, you agree to TCM's Terms of Use.