DVDs from TCM Shop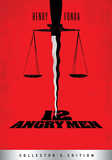 12 Angry Men A jury holdout tries to... MORE&nbsp> $11.21 Regularly $14.98 Buy Now
Quotes
Juror #6


Well, I'm not used to supposin'. I'm just a workin' man. My boss does all the supposin' -- but I'll try one. Supposin' you talk us all out of this and, uh, the kid really did knife his father?

Juror #10


Bright? He's a common ignorant slob. He don't even speak good English.

Juror #11


Doesn't even speak good English.

Juror #10


I don't understand you people! I mean all these picky little points you keep bringing up. They don't mean nothin'. You saw this kid just like I did. You're not gonna tell me you believe that phony story about losing the knife, and that business about being at the movies. Look, you know how these people lie! It's born in them! I mean what the heck?! I don't even have to tell you. They don't know what the truth is! And, lemme tell you, they don't need any real big reason to kill someone, either! No sir!

Juror #10


You know, they get drunk,...oh, they're very big drinkers, all of 'em, and bang: someone's lyin' in the gutter. Oh, nobody's blaming them for it. That's how they are! By nature! You know what I mean? VIOLENT!

Juror #10


Human life don't mean as much to them as it does to us!

Juror #10


Hey! Where are you going?! (Beginning to sound desperate.) Look, these people're lushing it up and fighting all the time and if somebody gets killed, so somebody gets killed! They don't care! Oh, sure, there are some good things about 'em, too. Look, I'm the first one to say that.

Juror #10


I've known a couple who were OK, but that's the exception, y'know what I mean?

Juror #8


It's very hard to keep personal prejudice out of a thing like this. And no matter where you run into it, prejudice obscures the truth. Well, I don't think any real damage has been done here. Because I don't really know what the truth is. No one ever will, I suppose. Nine of us now seem to feel that the defendant is innocent, but we're just gambling on probabilities. We may be wrong. We may be trying to return a guilty man to the community. No one can really know. But we have a reasonable doubt, and this is a safeguard which has enormous value to our system. No jury can declare a man guilty unless it's SURE. We nine can't understand how you three are still so sure. Maybe you can tell us.

Juror #9


Hey, what's your name?

Juror #8


Davis.

Juror #9


Mine's McCardle.

Juror #9


Well, so long.