DVDs from TCM Shop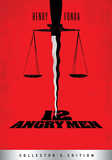 12 Angry Men A jury holdout tries to... MORE&nbsp> $11.21 Regularly $14.98 Buy Now blu-ray
NOTES
Aside from an opening montage inside the courthouse, the Judge's instructions to the jury and the final scene of the film, all of the action takes place within the confines of the Jury Room. Twelve Angry Men was shot entirely in New York City and the opening and closing exteriors depict Foley Square. According to a Hollywood Reporter article dated April 1957, the film was rehearsed and shot in a little over a month, at a cost of $340,000.
The television production of 12 Angry Men, upon which the film was based, starred Robert Cummings and Franchot Tone, and was awarded an Emmy for Best Television Play of the 1954-55 season. Actors Joseph Sweeney and George Voskovec were the only actors from the teleplay to recreate their roles for the feature film. According to a modern source, Reginald Rose had cut twenty minutes from his original play for its television performance and did not add any new material for the film version, which he also wrote. Henry Fonda and Reginald Rose combined the names of their respective companies, Orion and Nova, for the production of this film.
12 Angry Men (written as Twelve Angry Men in some sources) marked Sidney Lumet's directing debut. According to a biography of Fonda, Fonda hired Lumet because he had extensive experience in television and had a reputation for staying on schedule and within a budget. Both Fonda and Rose deferred their salaries for the film. Daily Variety reported that although a year and a half after the film's release the two producers had yet to receive even half of their fees, they had been successful in selling European theatrical rights to producer Lars Schmidt.
Although the film received rave reviews and was nominated for three Academy Awards (Best Picture, Best Director and Best Adapted Screenplay), it did only modest business, grossing a total of $1,000,000, according to a Variety news item dated March 1958. 12 Angry Men won the Writer's Guild of America Award for Best Film and was also exceptionally popular with foreign critics. It won top awards from the British Film Academy, as well as from the Italian and Polish Film Critics Associations and the Berlin Film Festival.
As noted in an August 1956 Hollywood Reporter news item, the State Bar Associations of all of the [then] forty-eight states were given preview showings of the picture prior to its press previews. Subsequent to the film's release, the American Bar Association honored the film for "contributing to greater public understanding and appreciation of the American system of justice." In 2007 12 Angry Men was ranked 87th on AFI's 100 Years...100 Movies-10th Anniversary Edition list of the greatest American films.
A Hollywood Reporter news item, dated May 1966, noted that 12 Angry Men had long been used as an industrial training aid for corporate managers studying the interaction, emotions and prejudices of group decision making. According to his autobiography, Fonda was disappointed with United Artists' distribution strategy and felt that the studio's approach had deprived the film of a chance at financial success. In particular, Fonda noted that United Artists placed 12 Angry Men in theaters too large for a "small" film to fill and, in addition, did not rerelease it after it won numerous awards.
In 1991, Japan's Argo Project, Inc. released a comic reworking of the film, Juninin no Yasashii Nihonjin, or Twelve Gentle Japanese. In this version, eleven of the jurors are initially prepared to acquit, until the lone holdout gradually convinces each of them that the defendant is a cold-blooded killer. A more traditional remake of 12 Angry Men aired on Showtime in 1997, directed by William Friedkin and starring Jack Lemmon as Juror 8.