DVDs from TCM Shop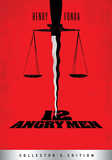 12 Angry Men A jury holdout tries to... MORE&nbsp> $11.21 Regularly $14.98 Buy Now blu-ray
Home Video Reviews
Jury duty can be a fascinating experience, a chance to participate personally in the justice system. Golden Age TV writer Reginald Rose (the author of the precociously pessimistic western
Man of the West
) made his reputation with his live-broadcast drama
12 Angry Men
, directed by Franklin Schaffner. The tense tale of heated deliberations in a jury room was perfectly scaled to the early TV format. Rose was inspired by his own experience on a jury to write a strong liberal statement about the responsibility of citizenship and the true meaning of phrases like "innocent until proven guilty" and "beyond a reasonable doubt."
The movie version of
12 Angry Men
marked the beginning of an important film career in director Sidney Lumet. It also represents the birth of semi-independent New York art filmmaking, America's most successful answer to the European art film. Actor Henry Fonda saw Reginald Rose's play as the perfect star vehicle, a movie that points up social problems but ends on a note of hope and affirmation: the system can work if normal citizens do their job. Sold to United Artists on Fonda's name and the mini-trend of TV dramas being up-scaled to the big screen (Paddy Chayefsky's
Marty
; Rod Serling's
Patterns
),
12 Angry Men
was filmed on a small budget that precluded the hiring of a name director. This frugality gave the ambitious, hard-working TV director Sidney Lumet his big chance. Lumet applied himself to the daunting task of making an interesting show full-length feature twelve men sitting and standing around a table.
The story almost plays out in real time. Sent to the jury room to deliberate on the fate of a boy (John Savoca) accused of killing his father with a knife, eleven of twelve jurors quickly decide on a guilty verdict. The holdout, juror #8 (Henry Fonda) doesn't think this is decent and asks that they discuss the case first. Over the course of the afternoon and early evening Juror 8 raises doubts as to the veracity of the witnesses' stories. He reaches some of his fellow jurors, but has a tough time with Jurors #3 and #10 (Lee J. Cobb & Ed Begley). As it turns out, both men are acting on strong prejudices that have nothing to do with the merits of the defendant's case.
Alfred Hitchcock took on the challenge of shooting an entire film in the confines of a drifting
Lifeboat
but Lumet's job is more difficult. There's nothing particularly interesting or dramatic about the jury-room setting, even if a rainstorm breaks the monotony in the third act. Lumet moves his camera when his characters move, takes his time to establish each man's personality, and carefully organizes his shots so that the angles become tighter and the cuts more frequent as the room temperature, and the juror's tempers, rise. By staying fairly loose and neutral at the beginning, he allows us to size up the dozen jurors. We can see for ourselves which juror is passive and which is aggressive; which take the case to heart and which just want to be finished and go home.
The notions brought out by author Rose aren't very flattering. On one level the jury isn't much better than a mob -- most of these men are quite willing to go along with the perceived majority opinion without really thinking about the case. Only when challenged to actually apply themselves to their appointed task do the sensitive thinkers advance their personal opinions. The defendant is very lucky to have such an ethical fellow as Juror 8 on the jury bench.
Rose's script manages the attitudes and temperaments of the jurors beautifully, using a sort of "business as usual" approach. It is 'under-acting' in that each juror doesn't walk around showing his emotions on his face -- most of the time they mostly look bored or inconvenienced. This allows Rose a strong dramatic contrast for his one-two punch of liberal moralizing (the good kind). One of the obstinate 'hanging jurors' turns out to be motivated by ethnic prejudice. The other has a bad case of '50s New York Writer Dramatic Distemper (NYWDD): a fierce (Freudian?) anger over his relationship with his own son makes him want to punish the young defendant.
12 Angry Men
plays like a house afire to young and old alike, even if some viewers will make unhappy noises over the fact that both of the "villain" jurors are conservative bigots. Interestingly, the movie has a couple of problems that the original teleplay does not. First, making Henry Fonda into Juror #8 naturally lessens any fear we might have that right may not prevail. Never mind that Fonda's heroes in socially conscious Hollywood classics were usually ineffectual losers or inspirational martyrs: Eddie Taylor in
You Only Live Once
, Marco in
Blockade
, Tom Joad in
The Grapes of Wrath
, Gil Carter in
The Ox-Bow Incident
. Juror 8 is calm and self-possessed when opposing his eleven discontented peers. Integrity surrounds him like an aura. We know darn well that he will prevail.
Secondly, in the teleplay we never see the accused. Lumet's movie instead begins with a big close-up of the sad-looking (Puerto Rican?) boy in the first scene. He does not look like a stereotypical kill-crazy juvenile delinquent. Therefore we can identify various jurors' attitudes as rank insensitivity from the very beginning. Nobody seems to care that this helpless-looking kid is facing the execution chamber. When Juror 10 suddenly leaps up and states his prejudice against "those people", we aren't surprised. I have to think that
12 Angry Men
would work better if we had no idea what kind of fellow the accused was, as in the teleplay. Each of us would be inventing his own image of the defendant in our mind.
The film gives the audience a bracing morale boost, while warning us that jury duty is a major responsibility that requires us to be better citizens. In 1957 the cast consisted mostly of unfamiliar names. E.G. Marshall had been in a number of pictures and Ed Begley and Lee J. Cobb were well known character actors. Most of the others were familiar mostly to viewers of live TV (Jack Klugman, George Voskovek, Joseph Sweeney) or crime dramas (Edward Binns). Now of course, they all look like old friends -- a notable victim of Norman Bates (Martin Balsam), a funny card player from
The Odd Couple
(John Fiedler), a budding tough guy (Robert Webber). With its excellent performances and dynamic direction by Sidney Lumet,
12 Angry Men
is indeed a dramatic stand-out.
Criterion's Blu-ray of
12 Angry Men
frames Sidney Lumet's first theatrical feature at an eye-pleasing 1:66. Compositions look good as Lumet slowly tightens the framing, and the tension rises in the jury room. Boris Kaufman's B&W camerawork grows darker as the afternoon shifts from sweltering heat to a summer downpour. We feel the sweat in the room, without the actors' having to overstate their discomfort. Kenyon Hopkins' simple music score is used quite sparingly. It's almost completely unobtrusive, sounding a note of moral gravity and underscoring some of the more violent moments.
Disc producer Kim Hendrickson has scoured archives for appropriate extras and taped new interviews to fill in the gaps. We have the entire original 1954 Franklin Schaffner TV drama for comparison, in a fairly intact kinescope. Its main stars are Bob Cummings, Franchot Tone, Edward Arnold and John Beal. Also present is
Tragedy in a Temporary Town
, another writing-directing team effort by Reginald Rose and Sidney Lumet. It is a liberal TV drama about mob psychology, starring Lloyd Bridges.
Director Lumet appears in an archived interview. Writer Walter Bernstein remembers how Lumet helped keep blacklisted writers working in New York TV. A very good docu-featurette tells the production history of both versions of the play, while Paley Center curator Ron Simon offers a nice overview of the under-appreciated writer Reginald Rose. Cameraman John Bailey speaks in a testimonial interview-essay about the legendary cameraman Boris Kaufman, the genius who shot the great films of
J ean Vigo
. Thane Rosenbaum provides program notes for Criterion's insert booklet.
For more information about
12 Angry Men
, visit
The Criterion Collection
. To order
12 Angry Men
, go to
TCM Shopping
.
by Glenn Erickson