DVDs from TCM Shop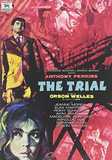 The Trial In this adaptation of... MORE&nbsp> $6.95 Regularly $8.99 Buy Now
Quotes
DVDs from TCM Shop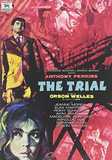 The Trial In this adaptation of... MORE&nbsp> $6.95
Regularly $8.99 buy now
Joseph K.


I'm sorry.

Miss Burstner


You're sorry, you're sorry, you're sorry. You always keep saying that. Who gives a damn?

Joseph K.


I know. I'm s ...

Miss Burstner


What's the big joke?

Joseph K.


I almost said it again. You're right, of course. You're perfectly right.

Uncle Max


All these fancy electronics, they're all right in their place, but not for anything practical.

Bloch


You're supposed to be able to tell from a man's face and from the line of his lips, especially, how his case is going to turn out.

Joseph K.


So?

Bloch


So the people are saying that from the expression on your lips, they could tell that you'll be found guilty, yes, in the very near future.

Hastler


It's true, you know. Accused men are attractive. Not that being accused makes any immediate change in a man's personal appearance. But if you've got the right eye for these things, you can pick out an accused man in the largest crowd. It's just something about them, something attractive.

Hastler


To be in chains is sometimes safer than to be free.