DVDs from TCM Shop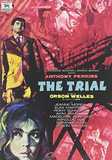 The Trial In this adaptation of... MORE&nbsp> $6.95 Regularly $8.99 Buy Now
Articles
SEE ALL ARTICLES
The Trial (1963)
You wouldn't think that the existential and often ambiguous dream-fiction of Austrian novelist Franz Kafka would translate easily to the screen but that hasn't stopped filmmakers from attempting to visually recreate his troubling tales about modern man. Since the early sixties, there have been more than twenty film adaptations based on his novels and stories and even a few original concoctions, such as Steven Soderbergh's bizarre black comedy, Kafka (1991) and the amusing spoof, Franz Kafka's It's a Wonderful Life (1993), which won an Oscar in the short subjects category. Actor/director Maximilian Schell filmed a version of The Castle in 1968 and there have been movie versions of Metamorphosis, Amerika, and The Penal Colony. Without a doubt, one of the most successful adaptations of a Kafka novel is The Trial (1963) a.k.a. Le Proces, directed by Orson Welles. No less visually stunning than Welles' masterpiece, Citizen Kane (1941), The Trial depicts the nightmarish existence of Joseph K (Anthony Perkins), a clerk who is accused of an unspecified crime, and then begins an elaborate search for justice within a labyrinth of office buildings populated by dehumanized bureaucrats.

The film project began with the father-son producing team of Michel and Alexander Salkind who first worked with Welles on their production of Austerlitz (1960), a historic epic directed by Abel Gance. A few years later, when they offered Welles a part in Taras Bulba (1962), their discussions led to an offer for Welles to direct a literary classic from a list of over a hundred titles. In This is Orson Welles by Peter Bogdanovich (HarperPerennial), Welles said, "They had Kafka's The Trial on the list, and I said I wanted to do The Castle because I liked it better, but they persuaded me to do The Trial. I had to do a book - couldn't make them do an original....They thought The Trial was public domain, and then had to pay for it - but that's another story."

Like most films Welles directed after he fled the studio system in Hollywood, The Trial encountered numerous production problems. Filming was scheduled to begin in Zagreb, Yugoslavia, but was soon abandoned for lack of funds. Welles recalled, "I spent months designing the sets for all the interiors. We were going to shoot the actual big office and the streets of Prague and Zagreb for the last walk with the murderers. And during the time we were in Zagreb, my sets were to be built in the studios. The art director who was to realize my designs had made all the blueprints, everything was ready to go, and, the night before we were to leave for Yugoslavia, Mr. Salkind....said there was no money to build any sets of any kind." But what appeared to be a huge setback for the film turned out to be a lucky break for the director. Welles said that "I was living here (in Paris), at the Hotel Meurisse - it was late at night - wandering around in the sitting room, trying to figure out how to shoot without sets, this story in particular. And the moon is a very important thing for me, and I looked out of the window and saw two full moons. And then I realized that they were the two clock faces of the Gare d'Orsay glowing in the night, and it was really a sign. I went down at four in the morning and got in a taxi and went to the Gare d'Orsay and went in. And from four in the morning until dawn, I wandered around the deserted old railway station and found everything I needed for the picture."

While securing the once famous French train station as the main set was a coup for Welles, there were other production headaches. For a sequence filmed on Mount Vesuvius near Naples, Anthony Perkins and Welles almost tumbled into the crater trying to get a shot. Scheduling restrictions and lack of money also played havoc with Welles' preferred choice of players and when he couldn't find a suitable actor to play Hassler, the defense attorney, he took on the role himself. He also had to loop the dialogue, music, and sound effects for the entire film in post-production.

After a less than favorable opening at the Venice Film Festival in 1962, The Trial has since grown in stature among film scholars over the years and even the director admitted that it "is the best film I ever made." Anthony Perkins, once considered an odd choice as Joseph K, is perfect in the role, conveying the character's paranoia and mounting desperation. In preparation for the part, Perkins was given some artistic motivation by Welles: "You are pinned to the wall with a thumbtack, you are like a sick moth." Throughout the film, Welles stays remarkably faithful to Kafka's novel with a few exceptions, such as the climax that ends with a nuclear explosion instead of a stabbing. Yet, in the end, Welles differs from Kafka in how he views Joseph K: "He is a little bureaucrat. I consider him guilty....He belongs to a guilty society; he collaborates with it."


Producer: Alexander Salkind, Michael Salkind
Director: Orson Welles
Screenplay: Orson Welles, based on the novel by Franz Kafka
Art Direction: Jean Mandaroux
Cinematography: Edmond Richard
Costume Design: Helen Thibault
Film Editing: Orson Welles, Yvonne Martin, Fritz Muller
Original Music: Jean Ledrut
Principal Cast: Anthony Perkins (Joseph K.), Jeanne Moreau (Miss Burstner), Romy Schneider (Leni), Elsa Martinelli (Hilda), Suzanne Flon (Miss Pittl), Akim Tamiroff (Bloch), Michael Lonsdale (priest), Thomas Holtzmann (Bert), Jess Hahn (Second Assistant Inspector), Orson Welles (Albert Hassler).
BW-120m. Letterboxed.

by Jeff Stafford


back to top
---