DVDs from TCM Shop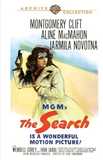 The Search An American soldier in... MORE&nbsp> $16.95 Regularly $19.99 Buy Now
USER REVIEWS
See Detailed Ratings
Acting of Lead Performers

Acting of Supporting Cast

Director

Music Score

Title Sequence

Screenplay

Cinematography

Historical Importance

Would You Recommend?

0 Member Ratings
Rate the acting of the Lead Performers

Rate the acting of the Supporting Cast

Rate the Director

Rating of the Music Score

Rating of the Title Sequence

Screenplay

Creatively uses the camera to tell the story

Importance in Cinema history

Would you recommend for fans of this genre
Submit Ratings
Cancel
Write a Review
Read Reviews
NO REVIEWS AVAILABLE
The title has not been reviewed. Be the first to write a review by clicking here to start.
First Viewing

The Search, is a great movie. This is the first time I've ever seen this Montgomery Clift movie, and it is so well done, the story so moving. Thank you for showing this film.

The Search can be download free

http://www.ulozto.net/xJ6eG3g/the-search-1948-eng-dvdrip-smz-avi

serching

Zigmas Sermuksnis

2/26/14

I am searching for the movie when it was first released ,it was about 110 min long, later it was cut to 105min. I am searching for a copy of the original release, i was refuge in Germany and was shot at the end in our camp i was one ow the children in the camp used along with my sisters,for background. I saw the uncut version of the film on tv in Boston station in mid1950's. If any one knows one to buy contact me at ashmont4zig@yahoo.com

The Search

You won't ever see another movie like The Search. It is exquisite, a gem...sensitive and beautiful...with the WWII war torn cities as background this movie grabs both your attention and heart. The child, the mother...my tears began with the picture of the puppy with his mother...a movie definitely not to be missed.

A mother's love

This was a very touching and heartwarming movie about the bond between mother and child, great movie a must see.

Very moving

A truly incredible film and Clift was never better and he was only 28 when he starred here. The real kudos belong to Jandl who gives, IMO, a much better performance than Jackie Cooper did in "The Kid." This story was told so soon after WWII and it was necessary to tell it. In the aftermath of that horror, somehow the orphaned children were forgotten, particularly those who had been severely traumatized by the concentration camps. I wish our young people would see this film. It takes you out of yourself and deliberately puts you in the shoes of those much more unfortunate. It will break your heart and give your heart reason to soar. What a fine film made extraordinary by the players!

the search

this is a great movie - it's a sensitive story with an historic local or backdrop. clift is superb.

A Wonderfully Touching Film

"The Search" (MGM 1948) is one of the most wonderful films that I've ever seen. Montgomery Clift gives an outstanding performance as American GI Ralph (Steve) Stevenson in post WW2 Germany who meets a young Czech boy named Karel (marvelously played by Ivan Jandl), who is so traumatized by his experiences in a concentration camp that he has forgotten everything he knew, even his own name. Steve befriends Karel and teaches him English by showing him pictures from magazines. Although his father and sister were killed, Karel soon realizes that he does have a mother, and Karel begs Steve to help find her, but at the same time doesn't know that she's looking for him. The final scene when Karel and his mother are at last reunited is one of the most heartwarming film endings ever. "The Search" is presented in almost a documentary style, with narration telling of the thousands of displaced children all over post-war Europe, their inhuman suffering at the hands of the Nazis, and the efforts of the UNRRA to help them. It also points out that children are the most tragic victims of war. Little Ivan Jandl was awarded a special juvenile Oscar for his wonderful perfomance. I have heard that director Fred Zinnemann discovered Ivan singing in a choir in Prague, and that because he spoke no English Ivan had to learn his lines phonetically. As I have read in the other reviews, the fate of Ivan Jandl is still largely unknown. "The Search" - excellent, four stars! I'm buying the DVD when I have the chance.

Wow!

Wow! What a good movie! Enjoyed it thoroughly, twas a sweet and wonderful story. Monty Clift was so young and handsome. I love Montgomery Clift.

A Touching Film

Montgomery Clift gives a splendid performance as an American G.I., Ralph "Steve" Stevenson, in this beautifully crafted post World War II drama directed by Fred Zinnemann. In war torn Europe a young Czechoslovakian boy, Karel Malik, has been transported to the United Nations Relief Rehabilitation Administration (UNRRA) and is about to be sent to a camp for orphaned children. Mrs. Murray (Aline MacMahon) is the UNRAA supervisor who tries to interview and identify him but all he can say is "Ich weiss nicht" (I don't know) when asked any of the questions she has for him. A French boy has befriended Karel and tries to speak for him but all he can tell Mrs. Murray is what he knows about about him which isn't very much at all. While being transferred to another camp the two boys escape from the truck they have been locked into for the journey. The young French boy drowns as they try and cross a river but Karel survives. The only thing left behind on the river's edge is a knitted woolen cap Karel's mother had made for him before the Gestappo took the family away from their home. At The same time Mrs. Hanna Malik, Karel's mother, had been searching throughout Europe for any sign of her little boy, has finally come to the UNRRA camp and speaks with Mrs. Murray. Watch what happens when Clift runs across this war shattered boy in the rubbles of this large city. Empathize as you see Hanna Malik get her hopes up only to have them dashed against the rocks of what seems to be real. Sympathize as she finally gives up hope against ever finding her son and takes a job with UNRRA to help with the children. Hold your breath as "Steve" tries to get permission to take Karel back to the states with him. The cast is stunning in their portrayals. The shame is that this wonderful film is not shown very often and is very hard to own. I can only hope TCM see fits to bring it to your TV screen very soon.

Aline McMahon Splendid

Fred Zinneman is one of my favorite directors and in this film set in Europe after WW2 he cast Montgomery Clift as a Soldier looking for a Child. Wonderfully acted by Mr. Clift and especially so by a great actress often forgotten today Aline McMahon. This is powerful movie, and I highly recommend it and especially for Aline McMahon.

The Search (1948)

This is such an excellent and moving drama. In one of Montgomery Clift's earliest roles, he displays his great gift for acting. He is very well cast. Aline MacMahon delivers a very well thought out performance. The key to the importance of this film is the realistic approach it takes to the subject matter. It is very believably done. Wonderful cinematography.It was nominated for four Academy Awards, screenplay, director Fred Zinnemann and Clift for best actor. It won for motion picture story. Beautifully done.

Heartbreaking and Heartwarming

If you aren't emotionally moved by this film, you should resign from the Human Race.

Unforgetable

There is no way I would forget thhs film. From the realistic acting by the children thru the authentic back-drop of the real war destroyed cities. But for the grace of God, I could have been one of those children. My three year "visit" to Europe has made "The Search" even more vivid, and personal.

A must see film

This movie touched me as no movie has before. It demonstrates the complete opposite ends of human nature. Hatred and compassion. Please make this movie available on DVD or replay in the near future. I have plans to use this film to teach some life lessons to a few people dear to my heart.

Iwill not forget

Search, the movie is very heart warming, my mother was in the camp mentioned in the movie I have learned of many true facts, the base of the story is so over whelming, as her own child never got rescued, my mother was one of the few lucky ones, to survive. To be able to get this movie on DVD is worthy.

The real story of the young actor

There has been a lot of exaggerated nonsenses written about Ivan Jandl and later repeated by TCM presentator as well. Go through the actor's page on imdb.com or ivanjandl.com

Switzerland 1946/7

I was an extra as a genuine refugee child, in this film and met the main actors, in Switzerland.

Berlin in 1945 in My Recollections

A. Cleveland Harrison

6/1/08

I was in the Office of Political Affairs, Office of Military Government (U.S.), among the first detachments of the U.S. Army to enter Berlin in July 1945. I remained in the city and Political Affairs, under Ambassador Robert Murphy, until February 1946. This movie is a bit of reality in the days immediately after the end of WW II that young people should witness. It reveals much about the good spirit and efforts to aid the Germans among some soldiers and civilians in that decimated country. Clift's performance and appeal is extraordinary since it has to be one of his earliest film performances.I was there and told my story in UNSUNG VALOR: A GI'S STORY OF WW II, UPM, 2000.

THE SEARCH

I hope this film will be released on DVD.

The Search

I was able to see this movie even being at 3AM.Please play this movie again during prime timeso others may see this movie. It is incredible!

ANYBODY HAVE A COPY ON VHS OR DVD?

I missed today's showing but I really want to show this movie to my family. Does anybody have a copy or know when it will be shown again? whtknt77@yahoo.com

Show it for the West Coast

The impact of WWII on the children of Europe is unbelievable to today's younger population. To students of child development/early childhood education, it is important to realize that early events have long lasting effects. Society's willingness to save all children must be embraced. Play this movie again, only at a reasonable hour for those of us on the West Coast!

Emotionally packed drama

This touching drama reflects the timelessness of a mother's love and the compassion of strangers to the plight of a child's desperate needs.Having witnessed the scars of surviving Jewish children as a child made this movie even more poignant.

When Shown Again?

When are you going to show this again? I missed the April 26th broadcast and do not see it listed again through May. Meanwhile, while I like it, you show "The 7th Voyage of Sinbad" once a week. Please show "The Search" again.

Next showing

I guess TCM does read the suggested showing comments. In March 2007 I suggested this movie be shown during April, Holocaust rememberance month. It was probably too late for Apr 2007 but is is being shown on Apr 26 at 6AM EST this year. Unfortuately, that's 3AM in CA so I'll finally record to VHS so I can watch after work.David

Fantastic and wonderful

This movie shows the true victims of war and that is the children. This is a movie that should be shown to everyone. Ivan is such a sad boy in the movie and he does an excellent job. I also wish it was available on DVD. I would buy it immediately.

Memorable and outstanding!

I will never forget the movie, or the moving potrayal of Steve and the young orphan. My teenage daughters came home from a band trip the evening it was shown last summer, and missed the beginning, much to their dismay. We all wept tears of joy at the end, and cannot wait for it's release on DVD, or at least another showing.

So good!

I love this film! The story is very touching. Montgomery Clift is awesome & beautiful. I only wish it was available to buy.

Great film!

I really wish this film could be purchased so I could show it to my family and friends. It is wonderful!

Ivan Jandl..beatiful little boy

Dear friends, see new www.ivanjandl.com page! Many Thanks!

Ivan Jandl....beautiful little boy.

I finally saw the whole movie and I absolutely thought it was one of the best I have ever seen. It's a tragic shame that Ivan had such a hard life after this movie. I'm saddened ever time I watch it. Would love too see it come out on DVD. Would buy this one. It is a keeper....Bob

What happened to Ivan Jandl?

I watched this terrific film which I recommend. . It should be more widely shown. The children reminded me of those portrayed in Schindler's List. At the end of the film, Osborne commented that the child actor, Ivan Janl was never in another film. He also said the film was not allowed to be shown in his native country and that Ivan Janl was made to work in a quarry. Is that correct? Please tell me there was a happier ending for this terrific actor. Osborne also said he died at the age of 50.

Superb film !!!

This very moving film, according to Osborne, was nominated for an academy award, as well as a special award to the child. This should be shown as often as possible, particularly during important WWII festivals and anniversaries. Given it's outstanding history, I cannot imagine why it is not more well-known. Please, please make it available !!

Best movie I've seen in long time!

I was weeping so hard my mom came rushing down stairs to see what was wrong.Beatiful story about a lost boy trying to find his mother. Great great movie! Please put this movie to DVD!
*We protect your personal infortmation and will not provide it to anyone without your consent. For a complete explanation, please refer to TCM's Privacy Policy. By submitting your contribution, you agree to TCM's Terms of Use.