DVDs from TCM Shop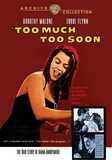 Too Much, Too Soon The daughter of an iconic... MORE&nbsp> $14.95 Regularly $17.99 Buy Now
NOTES
DVDs from TCM Shop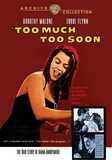 Too Much, Too Soon The daughter of an iconic... MORE&nbsp> $14.95
Regularly $17.99 buy now
The title credit reads: "Too Much, Too Soon: The Daring Story of Diana Barrymore". During a scene on his boat, Errol Flynn, as "John Barrymore," performs a monologue from William Shakespeare's Henry V. Too Much, Too Soon was based on the autobiography of the same name by Diana Barrymore (1921-1960), daughter of John Barrymore (1882-1942) and Blanche Marie Oelrichs, who wrote poetry under the name Michael Strange (1890-1950). The many actors in the celebrated Barrymore family have included Georgiana Drew; her children Ethel, Lionel and John; John's children Diana and John, Jr.; and John, Jr.'s daughter Drew. In addition to their fame as actors, some of the family members have struggled publicly with alcohol and drug addictions. Edna Ferber and George S. Kaufman purportedly based The Royal Family, their 1927 play about a madcap theatrical family, on the Barrymores. That play was later made into a 1931 Paramount film entitled The Royal Family of Broadway (see AFI Catalog of Feature Films, 1931-40).
As noted by many reviewers, Too Much, Too Soon digressed sharply from its source. In the book, Barrymore discussed her father's many marriages; her own multiple suicide attempts and arrests; and her varied stage and film roles, many of which garnered positive reviews. Unlike in the film, Diana became estranged from her father after he asked her to hire a call girl for him, but maintained a relationship with her aunt, Ethel. Although in the film Diana works for Imperial Pictures, in real life she was under contract to producer Walter Wanger, and was suspended from his studio for refusing to co-star in a Sherlock Holmes picture. Her first husband, called "Vincent Bryant" in the film, was actor Bramwell Fletcher. Diana made her film debut in the 1942 Universal feature Eagle Squadron, and died in 1960 of an apparent suicide, two years after the release of Too Much, Too Soon.
Flynn had been close friends with John Barrymore, and stated in his autobiography that he took great pains to portray the great actor's "inner self" rather than impersonate him. However, to approximate the features of the man known as "The Great Profile," Flynn agreed to wear a nose prosthetic. Too Much, Too Soon marked the first time in five years that Flynn had worked for Warner Bros., the studio that held his contract during the peak of his stardom. Like Barrymore, Flynn was an alcoholic and was suffering from the disease during the production of the film. Studio chief Jack Warner wrote in his autobiography that Flynn was playing the part he lived, but praised his performance, as did most of the reviewers.
According to Hollywood Reporter news items, location shooting occurred at Seal Beach and at Union Station in Los Angeles. November 1957 Hollywood Reporter news items add the following members to the cast: Yvonne Peattie, Coulter Irwin, Shirley Mitchell, Joanna Barnes, Maila Nurmi, Nicky Blair, Malcolm Atterbury, Frank Scannell, Mary Hokanson, Ruth Lee, Lester Dorr, Frederic Vallani and John Bonitz. Their appearance in the final film has not been confirmed.