DVDs from TCM Shop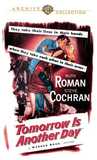 Tomorrow Is Another Day A man who spent his formative... MORE&nbsp> $14.95 Regularly $17.99 Buy Now
Articles
SEE ALL ARTICLES
Tomorrow Is Another Day (1951)
The fugitive couple on the run is a classic film noir trope, a situation steeped in romance and desperation and dreams and doom, from Fritz Lang's tormented lovers in the proto-noir You Only Live Once (1937) to the innocence trampled in They Live by Night (1948) to the l'amour fou detonated in Gun Crazy (1950).

Tomorrow Is Another Day is a low-key take on the situation starring Steve Cochran as Bill Clark, a 34-year-old man who leaves prison after serving more than half his life behind bars, and Ruth Roman as Cay, a hard-shell dame at a dime-a-dance joint mixed up with a corrupt cop. A bad bounce of fate sends both of them on the road, two strangers tossed together on the run from a murder rap as. The story could have easily slipped into the clich of the innocent corrupted by the predatory femme fatale, but there's much more to both characters in this unassuming thriller directed by Felix Feist.

Ex-con and social naf Bill is a lamb in an urban culture of wolves ("I guess I'm the patsy this time," he mumbles, resigned to getting the short end of every situation) and Cay has been hardened by years of getting knocked around and making a living off her looks. Both are slow to trust, but once they start, it softens both of their shells and inspires both of them to tough out a hard life of manual labor rather than turn back to their previous lives. For a film in the bleak culture of noir, it's one of the more hopeful portraits of love among the damned.

Steve Cochran had brief success as a second-tier leading man in such films as Private Hell 36 (1954, opposite Ida Lupino) and Carnival Story (1954, in support of Anne Baxter) but more often played supporting roles, and he made something of a specialty of cold-blooded thugs in White Heat (1949) or Highway 301 (1950). Bill Clark is a departure for him, a sympathetic, vulnerable man who falls back on aggression and anger like a survival skill. The character went away on a murder rap as a hot-headed kid at the age of 16 and emerges as an adult in a culture he doesn't understand. His boyish face and dark good looks are perfect for the role and he plays Bill like a teenager in a man's body, emotionally immature, uncertain of how to act or behave, nervous and careful and feeling left out among the streetwise citizens.

Ruth Roman played the good girl in Alfred Hitchcock's Strangers on a Train (1951) but she's better known playing tough, predatory characters in crime dramas (The Window, 1949) and westerns (The Far Country, 1954, Great Day in the Morning, 1956). That's how she makes her entrance in Tomorrow Is Another Day: stealing a prospective patsy from a fellow dancer. The nave Bill is simply another mark to her, but as the film evolves from getaway thriller to road movie, she lets her human side show through. "I was going to be a dancer," she confesses in a moment of candor. "Started on my toes, ended up in my heels."

Director Felix Feist remains largely unknown even to most film buffs, but thanks to a handful of tough, lean, low-budget film noirs (notably The Devil Thumbs a Ride, 1947, and The Threat, 1949) and the cult science fiction film Donovan's Brain (1953), his reputation is slowly getting more respect. Though he worked almost entirely on the low-budget end of the business, Feist consistently created vivid, multi-faceted characters and found ways to turn limited sets into evocative spaces. In this film, as the couple flees New York, they take refuge in an automobile on a bulk carrier, hiding out of sight while the world goes past the car windows in a second-hand road trip. Even here, the romance of the road movie is a borrowed experience. Feist never considered himself an artist, according to the director's son. "I think he saw himself as a narrator, a story teller, and his job was to do the best he could with whatever he was given."

Like so many films of the era, the film rises to an emotional pitch of desperation unleashed and then abruptly takes a U-turn into a contrived dnouement that feels tacked on to satisfy Hollywood's demands for pro-law and order lip service and an uncomplicated happy ending. Feist, true to his nature, does his best with what he's given. After everything we've experienced, it's hard to take all the preachy speeches about trusting the system. Feist doesn't believe it anymore than we do, but he does believe in his characters.

Producer: Henry Blanke
Director: Felix Feist
Screenplay: Guy Endore (screenplay and story); Art Cohn (screenplay)
Cinematography: Robert Burks
Art Direction: Charles H. Clarke
Music: Daniele Amfitheatrof
Film Editing: Alan Crosland Jr.
Cast: Ruth Roman (Catherine 'Cay' Higgins), Steve Cochran (Bill Clark/Mike Lewis), Lurene Tuttle (Mrs. Dawson), Ray Tealn (Mr. Dawson), Morris Ankrum (Hugh Wagner), John Kellogg (Dan Monroe), Lee Patrick (Janet Higgins), Hugh Sanders (Detective Lt. George Conover), Stuart Randall (Frank Higgins), Robert Hyatt (Johnny Dawson (as Bobby Hyatt)
BW-92m.

by Sean Axmaker

Sources:
IMDb

"Felix Fiest," Jake Hinson, article in "Film Noir: The Directors." Limelight, 2012.
"Film Noir Guide," Michael F. Keaney. McFarland and Co., 2003.
"The Film Noir Encyclopedia," ed. Alain Silver, Elizabeth Ward, James Ursini, Robert Porfiro. Overlook Duckworthy, 2010.

back to top
---