DVDs from TCM Shop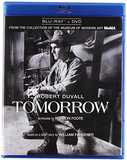 Tomorrow A lonely farmer cares for an abandoned mother and her... MORE&nbsp> $27.95 Regularly $29.98 Buy Now
Home Video Reviews
A small independent movie with some heavyweights behind it,
Tomorrow
(1971) has finally made it to DVD thanks to Home Vision Entertainment. Now for the price of a rental or purchase, people throughout the U.S. can see this favorite of the art festival circuit.
Actor Robert Duvall has long had a connection with writer Horton Foote, becoming friends with him and his family after appearing in a stage production of one of Foote's works, then cast as the mysterious Boo Radley in Foote's screen adaptation of Harper Lee's
To Kill A Mockingbird
(1962). Later both Duvall and Foote would win Academy Awards for
Tender Mercies
(1983) and it was after that movie's success that their 1971 movie
Tomorrow
was re-released. Containing a Duvall performance as powerful as the one that got him an Oscar, and often sited by the actor as his favorite film performance, this previously rarely seen movie finally began to develop a small but avid cult following.
Adapted by Foote from a 1940 short story by William Faulkner,
Tomorrow
is the story of a dirt-poor Mississippi farmer (Duvall) who happens upon a runaway pregnant woman who has been "played out" by life. The soft-spoken, unemotional farmer takes her into the barren sawmill where he has taken a job as caretaker and slowly begins to fall in love with her.
Those used to today's fast-moving movies will probably find the very leisure pacing of this movie's opening third off-putting. However, the slowness of the beginning allows the viewer to acquaint himself with a man who only lives to survive, which makes his quiet, deadpan declarations of emotion go off like rifle shots. When Duvall's farmer matter-of-factly asks the woman to marry him, the unassuming tone of his voice will makes one want to run the DVD back. Did he just say that?
This stealthy approach pays off toward the end as we begin to share in this man's joy and pain. Robert Duvall, who made this movie between playing the hypocritical religious fanatic Frank Burns in
M*A*S*H
(1970) and the consigliore who serves up a horse's head in
The Godfather
(1972), would seem an unlikely candidate to play the lead in a romance. However,
Tomorrow
is not only a love story, but also one of the most powerful and affecting ones ever made.
Home Video Entertainment has done a marvelous job of presenting this film on DVD. The print of this black-and-white movie is sharp despite its age and obvious low-budget limitations. In addition there is a 2003 interview with Robert Duvall and Horton Foote discussing their long collaboration and the making of
Tomorrow
, plus a trailer and a sizeable booklet with not only liner notes but the entire text of Faulkner's original short story accompanied by the original illustrations from its first publication in
The Saturday Evening Post
. A movie that has long been considered a small treasure can now be savored by anyone who appreciates a great, if simple, story beautifully told.
For more information about
Tomorrow
, visit
Home Vision Entertainment
. To order
Tomorrow
, go to
TCM Shopping
.
by Brian Cady