DVDs from TCM Shop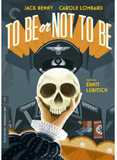 To Be or Not to Be A troupe of squabbling actors... MORE&nbsp> $19.47 Regularly $29.95 Buy Now blu-ray
USER REVIEWS
See Detailed Ratings
Acting of Lead Performers

Acting of Supporting Cast

Director

Music Score

Title Sequence

Screenplay

Cinematography

Historical Importance

Would You Recommend?

0 Member Ratings
Rate the acting of the Lead Performers

Rate the acting of the Supporting Cast

Rate the Director

Rating of the Music Score

Rating of the Title Sequence

Screenplay

Creatively uses the camera to tell the story

Importance in Cinema history

Would you recommend for fans of this genre
Submit Ratings
Cancel
Write a Review
Read Reviews
NO REVIEWS AVAILABLE
The title has not been reviewed. Be the first to write a review by clicking here to start.
Brilliant

Seen for the first time in 2018, and realizing that it came out during World War II, I found it quite fascinating. I know some of the other reviewers have personal reasons to dislike it, but from today's vantage point, it was just brilliant in my opinion. Making fun of the Nazis Is not such a sensitive topic these days. Benny and Lombard unbelievably talented and funny. I enjoyed it immensely.

It's good but not great

In a sense, this is the Hogan's Heroes of WW2 era movies. I agree with the previous post that the movie defangs the Nazis. Just as in Wigan's Heroes, the Nazis in To Be Or Not To Be are morons. When this film premiered, Poland had been ripped asunder and the Warsaw Ghetto had been created. There was nothing moronic about the Nazi conquerers. They were deadly serious. Having said this, making fools of the Nazis was a way to boost US morale and mockery is a powerful weapon. Charlie Chaplin mocked Hitler in The Great Dictator as did The Three Stooges in You Nazty Spy with great success. There is good substance to this film and Jack Benny and Carole Lombard are a joy to watch. Perhaps it is too harsh to judge this film for not being more hard hitting. That acting troupe does strike a blow at the Nazis and it is evident they know exactly how evil their occupiers really are. In any event, the film is entertaining and there ar some very funny moments. It is worth watching.

A Good Film - But...

Very well done, acting, directing, editing. However, I find it ethically unpalatable. The Nazis are mocked, ridiculed. Lubitsch has them talking of torture and executions, but he never shows it. He never even introduces victims of torture or murder. He knew it would have destroyed the tone of his film. So the Nazis have no air of evil.The Nazis are mainly represented by Sig Ruman, a great character actor. In fact, he was too good. Lubitsch made him a fool, an idiot, a buffoon. The problem is that Ruman is a sympathetic character - we don't dislike him, we don't fear him. The Nazis, the Gestapo, were cruel, vicious, ruthless, repellent. Lubitsch defangs them in this comedy. Anyone Jack Benny can defeat can't be a serious menace, a threat to civilization.Had Lubitsch set the story in some fictive medieval kingdom, it would have allowed you to laugh whole-heartedly. I wish I could enjoy the fine performances of Benny and Lombard more.

A Great Lady

Carole Lombard is great in any movie. I love them all. She was a great woman, who contributed and died in the fight against fascism. The world lost too soon a great person. Her radiance comes out in any role that she plays.

A matter of timing??

Compare this 1942 film with the modern with Mel Brooks and Anne Bancroft, and many polar opposites in opinion are evident. I liked the first film best. This film is perhaps Benny's best film, one of the few times he plays a part where his standard satire style fits into an anti Nazi film during the war itself. Nothing like ridicule to bring down a pompous enemy at the height of its success. Carol Lombard, a patriot who died young during a bond tour, ended a career that may have made her one of the best actresses of all time. Bancroft on the other hand, lived to a ripe age, and did The Graduate and this film which demonstrates her versatile talent. I liked her best in Fatso, but on a head to head with Lombard, she comes in second. For those who seem to ignore the place film takes in the arsenal of war weapons, this film is a reminder that it can be a powerful weapon. If misused, if I think it has in the current age, it can help our enemies.

To Be

It's easy to have mixed feelings about this movie, considering the subject matter. But I don't think that Lubitsch trivialized the war and its terrible sufferings. It's a wonderful film and Carole Lombard is particularly radiant and effective in her role. She was a great beauty and a superb comic.

To Be Or Not To Be

Emery von Sztankoczy

11/16/13

What a fabulous satire. Carol Lombard is spectacular as she always was. No great beauty has ever handle comedy in quite the same off the shoulder manner. Jack Benny gives one of his best performances. Robert Stack in his youth is charming and very handsome indeed. The character performances are inspired. The absurdity and evil nature of Nazism and indeed totalitarianism of any sort, left or right are exposed for their inherent falsity. This film has that Lubitsch touch which can parody evil thus revealing it's horror far more effectively than if handled with a heavy hand.

Insensitive Crap

This came out during WWII and should have never done so, Ernst was an uncaring fool for putting this out when he did, my grandfather was a POW in WWII and I'm sure he would not have found watching this very amusing especially since we are of polish decent. There was no healing time between this movie and WWII to give people a chance to calm down to be able to actually enjoy something like this, and because it was put out when it was I recommend that people do now watch this garbage

A gem!

Love, love, love this film - it's ensemble acting at its finest. Jack Benny and Carole Lombard are in top form, and the entire cast is deft and effervescent in this madcap story about an acting troupe that saves a pilot escaped from Nazi captivity. Kudos also to Felix Bressart for a touching performance, reminiscent of another, from "The Shop Around the Corner"--he only speaks a few lines, but they're central to the plot. I won't give away the final scene, but I guarantee a big, hearty laugh. This is a must-have for any Lubitsch film collector.

The Lubitsch touch

Remember that this film was released in 1942! It's not only hilarious but poignant...Lubitsch, Benny, Lombard, were thumbing their collective noses at the Nazis with humor (a device that Charlie Chaplin also used to great effect). A feeling of menace suffuses this film throughout. But leave it to Lubitsch to leaven it with sex and drollery. This was remade by Mel Brooks and his crew, in high-camp style. I'm no snob; the remake is also very good...but by then we knew how the war ended. The original is among my half-dozen favorite films of all time.

Hilarious

Very very funny. The plot has more curves than a scenic railroad (to borrow a line from The Bandwagon). Every time you think you know what's going to happen next, you're wrong. Jack Benny is in fine form here. And the fact that this movie was made at the height of WWII adds to its historical interest. Don't miss this one. And thanks, TCM, for running it - you'd never see this movie anywhere else.

A True Political Comedy Classic for the Ages

I have always loved this film since I first saw it at a prominent film festival in NYC in the 1970's. This 5 star ***** film and its stars get better with the passing years and deserves to be in the ranks of the great political film satires such as Charlie Chaplins the Great Dictator. I am lucky to own this film on DVD but the lack of TV Broadcasting Rights in Canada due to the fact that director / producer Mel Brooks brought the rights to this film in the late seventies and later did a remake ( early 80's) that he directed and starring himself, co-starring Anne Bancroft, Gene Wilder,and Madeline Kahn. Unfortunely it was not a box-office success, but because of this film remake it is just is not available on Canadian TV and this is a shame. The film boasts Jack Bennys best comic performance ( its really to bad that film directors did not make good use of his comic talents) and the always dependable Carol Lomabard adds her conserable class to the proceedings. Highly recommendable and amazing accurate from an historical political and sense of parody.Marilyn Elizabeth Young / Vancouver, Canada

A hilarous Classic

Billy Ray Hughes

10/27/08

One of those movies to watch every year or so for the sheer pleasure.

To Be or Not To Be

I had seen and really liked this film some time ago. I decided to watch it with friends when it was showing recently. WE we interrupted and did not get to finish seeing the film. My friends hope it will be shown again soon so that they can finish seeing it.

To Be or Not to be Redone

When I viewed this film (for the first time) earlier today, it occurred to me that I've really missed a cinematic gem for far too long. I'm so glad I finally took the time to sit down and enjoy it. I don't think this type of film would be made today (and it should be). It would be easy to substitute Saddam for Hitler and to contemporize the political backdrop. I felt that some of the scenes moved rather slowly...I like leisure pacing in film, but I know that modern audiences probably wouldn't pay attention or be so patient. For example, when Jack Benny's character has to keep coming up with dialogue in order to fool the Nazi in the theatre, and he kept repeating the concentration camp line. That was funny the first and second time, but to keep replaying it for another laugh without moving the plot forward was kind of a strain for the average viewer. I really enjoyed the sequence at the end when they impersonated Hitler at the theatre, and I thought those scenes moved too fast. It was like the film spent an inordinate amount of time setting up the premise, then the payoff was too fast. As for the cast, they were superb. Robert Stack was very interesting in this film and almost steals it from the leads. I think what made this film resonate was that director Lubitsch had something to say about Germany and Europe at the time, and as a result, he put extraordinary care into the process of making the film and using art as counter-propaganda (which in itself is a form of propaganda for the 'right' side). I was particularly impressed with the outdoor action sequences mid-way through the film, and I wasn't bothered by stretches of story in which Lombard and Benny did not appear, such as when Stack was trying to send a message back to Lombard and was giving a note to the professor. As for the ending, I think it would've been better if Stack's character was now on stage saying 'to be or not to be,' and Benny was sneaking off to be with his wife!

To Be or Not To Be

I am so disappointed that To Be or Not to Be with Jack Benny, Carole Lombard, and Robert Stack is not airing in Canada. i stayed up all night to watch it, and some other movie is playing instead, so I went online to check your schedule only to find it is playing in the US but not in Canada. I saw this play in the 70s and I thought then that it was the funniest play I had ever seen, and have always wanted to see it again. Please air it in Canada as well as in the USA!!!Kat

What's Up?

Can anyone clarify why Canada can't see the Jack Benny Carole Lombard, To Be or Not To Be?

Why not airing in Canada?

I'm very disappointed that this film isn't airing in Canada, and I hope that TCM clears the rights/pays the extra costs/does whatever needs to be done in order to get it shown here as well as in the US. I see it's scheduled to air again on Feb. 17th '06, and I'll be keeping my fingers crossed.
*We protect your personal infortmation and will not provide it to anyone without your consent. For a complete explanation, please refer to TCM's Privacy Policy. By submitting your contribution, you agree to TCM's Terms of Use.