DVDs from TCM Shop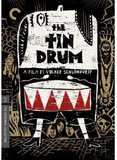 The Tin Drum A young boy hammers on his... MORE&nbsp> $22.95 Regularly $29.95 Buy Now blu-ray
Home Video Reviews
In one of the more peculiar anti-war gestures in film history, young and hyper-intelligent Oskar Matzerah (David Bennett) decides at the tender age of three that his fellow human beings in Germany during the rise of the Third Reich are too passive, selfish, and generally dysfunctional to merit his participation. Thanks to a fortuitous trip down a flight of stairs, Oskar succeeds in stunting his growth and, using his beloved, striped tin drum as a symbol of his protest, watches in horror as the middle and upper classes slide into horrific evil. Even stranger, Oskar develops a piercing shriek able to shatter glass. In what amounts of a warped version of
Candide
, he maneuvers through an increasingly bizarre series of events and characters including a troupe of midgets, a fumbling teen sexual encounter, and a grotesque eel-fishing scene that scarred many viewers for life.
Hugely popular and critically respected upon its release,
The Tin Drum
earned a stack of awards including the 1979 Academy Award® for Best Foreign Film. Still riding on the success of his earlier
The Lost Honor of Katharina Blum
, director Volker Schlondorff became one of the top directors in the new canon of German directors along with Fassbinder, Wenders, Herzog, et al. However, his unorthodox career path may account for
The Tin Drum
's subsequent decline in status for a decade or so as a neglected art house curiosity, sought after by die hard videophiles but rarely screened on cable after a flurry of initial appearances on HBO.
Of course, all that changed in 1997 when a fundamentalist group in Oklahoma City spearheaded an effort through the police to prosecute the film as child pornography, with copies illegally seized from video stores shelves and oblivious rental customers persecuted for their viewing choices. (Considering the film's subject matter, the irony couldn't be thicker.) As with the earlier search-and-seizure scandal involving Pasolini's
Salo
in Cincinnati (another Criterion title, incidentally), the media stir brought the film back to public attention and caused a huge spike in video sales and rentals. As a result,
The Tin Drum
is guaranteed as a major film for discussion both for its free speech significance and, thankfully, its status as an excellent film in its own right.
While Schlondorff typically avoids any overt moralizing or smacked-on-the-head symbolism, this particular film is a bit different as it explores realistic territory with a startling surrealist edge, paving the way for popular magical realist writers of today. The film's influence can be traced all the way to films as disparate as
Amelie
and
Forrest Gump
, though neither can touch this adaptation of Günter Grass' delirious novel (originally titled
Die blechtrommel
). Special kudos to young Bennet, who conveys Oskar's transition (or lack thereof) from young child to post-adolescence with startling clarity; his disturbing, child-like quality anchors the film's more outre flights of fancy and keeps the potentially objectionable sexual content from descending into the tasteless.
Previously available from Image (licensed through Kino),
The Tin Drum
has been upgraded to Criterion status with an array of special features. The improved 16:9 transfer looks terrific, and the subtitles have also been tweaked to improve and clarify the translation. The remastered Dolby Digital audio sounds clearer, but don't expect an aural powerhouse; in a nice touch, Maurice Jarre's restrained, lyrical score is isolated on its own audio track. Schlondorff appears in a number of bonus features, including an informative if sometimes dry audio commentary, a handful of oddball deleted scenes with running Schlondorff commentary, and a featurette entitled "Volker Schlondorff Remembers" in which his reminiscences are accompanied by a healthy selection of behind-the-scenes ephemera including production photos and storyboards. Other video supplements are focused more on the film's 1979 promotion, including footage with Schlondorff and Bennett during and following the Cannes Film Festival (where it won the Palme d'Or), chats with co-screenwriter Jean-Claude Carriere and the always great actor Mario Adorf, and snippets of Schlondorff and Grass (who also co-wrote the screenplay) during shooting. Other extras include an unused ending penned for the original script, a 1987 German audio recording of Grass reading excerpts from the source novel, a gallery of production sketches and artwork, the theatrical trailer, and of course, a wonderful Gary D. Rhodes documentary,
Banned in Oklahoma,
in which various participants (including a Kino exec) cover the scandal in admirable depth. Perhaps we're now overdue for some overzealous monitors of social behavior to go after Louis Malle's
Murmur of the Heart
so we can get a nice special edition of that title as well.
For more information about
The Tin Drum
, visit
Criterion Collection
. To order
The Tin Drum
, go to
TCM Shopping
.
by Jeff Stafford