DVDs from TCM Shop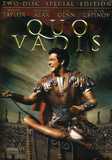 Quo Vadis A Roman commander falls for a... MORE&nbsp> $15.96 Regularly $20.98 Buy Now blu-ray
NOTES
Following the opening credits, voice-over narration by actor Walter Pidgeon introduces the setting of the story, with action that opens on the Appian Way in 64 A.D., outside Rome, a "corrupt state on the cusp of destruction." The narration also describes "a miracle" that happened thirty years previously, following the death of Christ. The film's (and original novel's) title is spoken in the scene in which "Peter" has a vision of Christ and utters the words Quo vadis, Domine?, which comes from the Gospel of St John.XVI.5 and is traditionally translated from Latin as "Whither goest Thou, Lord?" Within the film, there is a brief flashback sequence in which Peter describes his first meeting with Christ and subsequent time as an apostle. The picture closes with voice-over narration reciting a passage from St. John.XIV.6 "I am the way, the truth, the life."
Although some sources refer to the film as Quo Vadis?, like Henryk Sienkiewicz's 1895 novel, the M-G-M film does not include a question mark in the title. Sienkiewicz's novel was first published in his native Poland, and within a few years became an international best seller, translated into many languages. According to some modern sources, the first English translation, made in 1896, was an American best seller for more than twenty-five years. Sienkiewicz won the Nobel Prize for literature in 1905, due primarily to Quo Vadis?
Although the novel and film's love story and its characters are fictional, many of the political and religious characters were actual historical figures. The emperor Nero, who reigned from 37-66 A.D., has been regarded negatively throughout history, primarily because of his instigation of what is known as the first Christian persecution. He presided over Rome during the great fire of 64 and, over the centuries, various historical sources have blamed him for having the fire deliberately set.
Nero's death precipitated a chaotic time in Roman history. Following Nero's death, three emperors came to the throne in rapid succession, Otho, Galba and Vitellius, resulting in a period known historically as the year of the four emperors. Some incidents within the film, including the death of St. Paul outside Rome, the flowering of St. Peter's staff and his crucifixion upside down, are taken from passages in the New Testament of the Bible or Christian religious tradition.
The 1951 film had been planned for many years prior to the start of principal photography. The following information has been gleaned from contemporary news items, feature articles in newspapers and magazines, studio press releases and modern sources as noted:
Although modern sources indicate that M-G-M had been negotiating for the rights to film Sienkiewicz's novel since 1925, the earliest news item located about the production appeared in late 1935. At that time, a Hollywood Reporter news item mentioned that "television rights" were holding up M-G-M's production of Quo Vadis, which other news items stated was to star Wallace Beery as "Nero." An undated, but contemporary Hollywood Reporter news stated that Marlene Dietrich was being sought for the role of Nero's wife "Poppaea." According to a Los Angeles Herald Express news item, Howard Estabrook wrote the first draft of the screenplay in 1939. Other Los Angeles Herald Express news items noted that the film was to star Robert Taylor and cost "a couple million bucks" to produce.
In 1942, it was announced that the film was to be the first M-G-M production of Arthur Hornblow, Jr. and that Walter Reisch was working on a treatment. Other news items indicated that Hornblow had offered the role of Nero to Orson Welles because Broadway star Alfred Lunt was unavailable for the project. That same year, S. N. Behrman was also reported as working on a script, and M-G-M press releases related in Hollywood Reporter stated that the production would have an "unprecedented scope," with 176 speaking parts and 30,000 extras.
In early 1943, HR news items predicted that Quo Vadis would be ready to shoot in three months or more, that Margarita de Guirola was cast in the film (probably as "Lygia"), and that M-G-M was seeking a six foot-six to seven foot actor to portray "Ursus." In March 1943, HR reported that Mervyn LeRoy would direct the picture, if he finished Madame Curie in time (see AFI Catalog of Feature Films, 1941-50).
Various news items at the time mentioned that Walter Pidgeon was favored for the role of "Petronius," Lana Turner had tested for Lygia and Thomas Mitchell was sought for "Paul of Tarsus." In May 1943, it was reported that Ernst Lubitsch was "negotiating to direct." At around the same time, it was reported that M-G-M was seeking Charles Laughton, who had portrayed Nero in Paramount's 1932 Sign of the Cross (see AFI Catalog of Feature Films, 1931-40) to recreate his role but that Laughton would only agree to do the film if Robert Z. Leonard directed.
Other news items in spring 1943 items stated that the film was to begin principal photography by early summer. In June 1943, it was reported that the film might be shot in Mexico because of the "authentic atmosphere" and low production costs of building lavish sets and hiring thousands of extras. Manart Kippen and Katherine Balfour were tested at that time for unspecified roles, and the film, which would take about a year to shoot, would start, with Leonard as the director, in four to six months. William Cannon was then announced as the unit production manager, and Eugene Bearman was named costume designer.
Possibly because of strong anti-fascist sentiments prevalent during World War II, Hornblow announced that the film would be about Nero "both as epitaph and warning to any autocrats who might come along in the future." By mid-summer 1943, news items indicated that the film would be postponed for the fall 1943 schedule due to the large budget and scale of the production, but by September 1943, the production was postponed indefinitely, possibly due to finances as well as shortages and logistical problems due to wartime restrictions.
Interest in the production revived after World War II. In 1948, a Hollywood Reporter news item stated that Sam Wood was set to direct the picture. By 1949, however, various news items reported that John Huston was to direct, with Gregory Peck as the lead and British actor Robert Morley as Nero. Ben Goetz, head of M-G-M's British studios outside London, was announced as a primary coordinator of the production, which would be utilizing over $2,500,000 in frozen funds for its production base in Rome, Italy.
A Daily Variety news item on May 9, 1949 noted that Famous Artists agency head Charles K. Feldman had acquired the rights to Fabiola, a French-Italian co-production, directed by Allesandro Blasetti and starring Michele Morgan and Henry Vidal and that Feldman planned to rush the film into theaters before filming began on the similarly themed Quo Vadis. On May 21, 1949, a Hollywood Citizen-News article reported that the $5,000,000 budgeted M-G-M production, which was have to begun shooting in Rome on 1 Jul, was to be shelved "for at least a year." The article went on to say that Peck, who was to co-star with Elizabeth Taylor, had a serious eye infection that prevented him from working. However, the Hollywood Citizen-News article stated that "one studio source" speculated Quo Vadis was being cancelled because of Feldman's acquisition of Fabiola. A Los Angeles Times article on May 22, 1949, (possibly written prior to the previous day's Hollywood Citizen-News article) indicated that the production was still on, with Leo Genn as Petronius and Peter Ustinov cast as Nero.
A Huston biography stated the production was delayed because of Peck's eye infection. The biography further stated that Huston later claimed he was coerced into accepting the directing assignment for Quo Vadis by M-G-M studio head Louis B. Mayer. He additionally said that M-G-M executives were concerned about the escalating costs of Quo Vadis and wanted to cancel the production around this time, but Hornblow convinced them to continue. After Peck's eye problems, Hornblow resigned from the project and Huston followed suit a short time later. Hornblow and Huston's departures, as well as Peck's, were noted in an December 8, 1949 Hollywood Reporter news item. The biography further proffered that the director had wanted Ava Gardner for the female lead and his father, Walter Huston, for Peter.
Following the departure of Hornblow, Huston and Peck, numerous trade paper news items and M-G-M press releases documented the film's final months of pre-production: John Lee Mahin was hired to write a screenplay in late December 1949, which, in March 1950 was announced as a $7,000,000-budgeted picture. Mahin shares screenplay credit with Behrman and Sonya Levien. In April 1950, according to an American Cinematographer article by director of photography Robert Surtees, M-G-M production chief Dore Schary gave the final signal that the production could go ahead. April 1950 trade paper news items announced that Robert Taylor was once again cast in the lead, with Deborah Kerr as Lygia, joining Ustinov and Genn in the film's four major roles, and that the film would be shot in Rome.
The American Cinematographer articles, New York Times and the film's pressbook noted that M-G-M executive E. J. Mannix, production manager Henry Henigson, art director William A. Horning and other crew members traveled to Rome many months before the actual start of filming. Cinecitt, the film studio built outside Rome during the mid-1930s, was in general disrepair after years of use as a barracks for German soldiers during the war and a refugee camp after. To make it ready for Quo Vadis, M-G-M had to finance extensive repairs and reconstruction of the studio.
Principal photography began at Cinecitt Studios on May 22, 1950, more than a dozen years after it was first put on M-G-M's schedule. Despite the lengthy planning stages and vast scale of the production, several news items affirmed that principal photography, which was completed on November 1, 1950, ended ahead of schedule. Surtees' American Cinematographer articles attributed the success of the production to the American crew members imported to work with the Italian crew, as well as the organization of Horning and Henigson. Hugh Gray, whose onscreen credit reads "lyrics compositions and technical advisor," is credited by several sources as being both a contributing writer and an instrumental part of the overall production team.
In the summer and fall of 1950, actors mentioned in Hollywood Reporter as being cast in Quo Vadis but whose appearance in the released film has not been verified include John Douglas and Blanche Zohar. Walter Lazzaro was mentioned as being cast as Christ in "an effect sequence," most likely Peter's vision, but Robin Hughes is credited with the role in the CBCS. [As in other films of the era, Christ was not shown full-face, but merely suggested or shown from behind or in long shot.]
According to the pressbook and news items, as many as 30,000 extras were used in the film, the large portion of them for two key sequences, the burning of Rome and the Colosseum scenes. In modern interviews, actress Sophia Loren stated that she and her mother were among the thousands of extras appearing in the film's famous scenes set in the Roman Colosseum. The burning of Rome took a crew of twenty men to coordinate thousands of gallons of inflammable liquid that had to be mixed and piped to various sets as the dramatic action required. The sequence required three months of preparation and twenty-four nights to shoot. The film's pressbook, reviews and articles about the film recounted numerous statistics of the vast numbers of costumes, sets and other properties used for the film. A Hollywood Reporter news item in July 1950 stated that the production's simultaneous use of four color cameras was thought to be a first. A October 14, 1951 New York Times article added that use of the four cameras provided "maximum mobility" and guarded against "the high costs of re-takes involving thousands of extras."
According to Surtees' articles and other contemporary sources, the film's dailies were sent to London where two prints were processed. One print would then be sent back to Rome, with the other print sent to M-G-M's Culver City studio. An December 11, 1950 article in Hollywood Reporter reported that film editor Ralph E. Winters had just returned from Rome with 580,000 feet of the film that needed to be edited for the final release.
The first preview of the film was held on June 30, 1951 in Berkeley, CA, with a second "sneak" held the following night in San Francisco. According to a New York Times article on the film, audience members at both previews were asked if they preferred to have the picture shown with an intermission or have it run straight through. The article stated that both audiences, one of which was given an intermission, the other not, voted overwhelmingly to have an intermission at one screening and not to have one at the other. When the film had its premiere and road show engagements, an intermission was included.
Most reviews of the picture praised it. Trade reviews predicted huge financial as well as critical success: the Hollywood Reporter reviewer stated "Quo Vadis is going to sell more tickets than any motion picture in the industry's history. And well it should." The Daily Variety critic commented, "That it will ring up top grosses and strong repeat business for years to come is a certainty;...More importantly, however, it is a film that realizes the potentialities of the medium, reflecting top credit on all concerned." Although film critic Bosley Crowther of New York Times also predicted the financial success of Quo Vadis, he was less enthusiastic about its aesthetic merits, calling it "a perfection of spectacle and of hippodrome display...a staggering combination of cinema brilliance and sheer banality, of visual excitement and verbal boredom, of historical pretentiousness and sex."
Although there were several "premieres" and road show engagements for Quo Vadis from late 1951 through early 1952, studio records and release charts indicate that the film did not have a wide national release until December 25, 1953. According to a Hollywood Reporter news item, the film had "nearly 100" commercial tie-ins, the largest number for a single motion picture to that time. Interest in the picture was so great that a Los Angeles Examiner ad on November 29, 1951 announced that there would be a special 10:00 a.m. showing of the film that morning at the United Artists Theatre on Wilshire Blvd. that would "not effect the Invitation Premiere" at the 4 Star Theatre that night.
Publicity for the film included a one-reel Technicolor short on "the making of..." and an enormous outpouring of stories and full-color ad inserts in major newspapers. A commemorative book, according to a Hollywood Reporter article, "one of the most elegant ever," was sold in theater lobbies where the film was being road shown. The top ticket price for the film's first run was to be $2.40. According to a pre-release article in Hollywood Reporter, all Loew's theaters had been instructed to prevent ticket scalping by having someone at each theater monitor sales of blocks of tickets for clubs and groups. A 16 November Hollywood Reporter news item stated that in its first week of release at the Capital Theatre in New York (which, along with the Astor Theatre was the only venue currently showing the film in the city), the film had set a box-office record, and slightly more than doubled the take from the first week of 1939's box-office smash Gone with the Wind (see AFI Catalog of Feature Films, 1931-40).
Quo Vadis was nominated for eight Academy Awards, although it did not win any. The nominations included Best Picture; Best Supporting Actor for both Genn and Ustinov; Best Art Direction-Set Decoration (Color) for Horning, Cedric Gibbons, Edward Carfagno and Hugh Hunt; Best Cinematography (Color) for Robert Surtees and William V. Skall; Best Costume Design (Color) for Herschel McCoy; Best Film Editing for Ralph E. Winters and Best Scoring (Drama or Comedy) for Miklos Rozsa.
According to a March 31, 1954 Hollywood Reporter news item, Quo Vadis had recouped its production costs, reputed by various sources to have been between $6,000,000 and $7,000,000, the most for any film made to that time. The articles stated that total rentals for the U.S. and Canada alone came to $10,450,000, with $7,315,000 going toward production costs. According to an April 11, 1956 Daily Variety news item, the film was just concluding its final booking after running continuously since its late 1951 premieres.
Although not the first of the "Biblical epics" that were prominent during the 1950s, Quo Vadis, which was released a year after Cecil B. DeMille's Samson and Delilah (see AFI Catalog of Feature Films, 1941-50), is credited by film historians as a major influence on the genre, and the film that set the standard for epic Roman or Biblical films shot abroad and featuring a "cast of thousands."
Quo Vadis was adapted to the screen in a twenty minute French version in 1902, but its most important film adaptation prior to the 1951 version was the 1912 Italian Quo Vadis?, directed by Enrico Guazzoni and often called the first film epic and the longest film ever made to that time. The film was an enormous worldwide success and opened to critical acclaim in the United States in 1913. Another Italian version of the story was made in 1925, starring German-born silent film star Emil Jennings as Nero.