DVDs from TCM Shop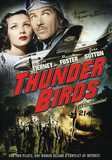 Thunder Birds A veteran flyer and the... MORE&nbsp> $11.21 Regularly $14.98 Buy Now
Home Video Reviews
There are two major stars in
Thunder Birds
(1942): Gene Tierney and Technicolor. The two go together so well it's as if the Technicolor process was invented just to photograph her. Does it really matter that the story is fairly routine? That's not to say
Thunder Birds
is a bad movie. It's entertaining and enjoyable, with a can-do "we're all in this together" spirit that's pleasingly nostalgic even for those of us who weren't around during WWII.
Preston Foster plays a former combat flyer who takes a job training new Army Air Force recruits at Thunderbird Field in Arizona, partly because he's too old to serve in combat again and partly because his former flame, Gene Tierney, lives on a nearby ranch. One of his cadets (John Sutton) is the son of an old buddy of Foster's who died in WWI, and Foster takes the young British man under his wing, trying to cure him of his fear of heights and tendency to get airsick. The problem is that Sutton meets and falls for Gene Tierney (and who can blame him?) as Sutton tries to rekindle his own romance with her. Punctuating this conflict are several flying sequences, scenes at the ranch, in a town, and inside the training camp. They all go down especially well in Technicolor.
Gene Tierney was 21 when she made this picture (her ninth), and she gets not one but two fun entrances - the first when she's swimming in a water tower and is buzzed by Preston Foster in an airplane (it blows her towel down to the ground), and the second in a clothing store when John Sutton and buddy see only her legs peeking through a dress rack. Tierney brings, aside from her stunning beauty, much charm and naturalness to her part.
Elsewhere in the cast is veteran supporting player George Barbier as Tierney's grandfather (he would die of a heart attack just three years later) and the ever-stalwart Dame May Whitty as Sutton's grandmother. She plays her one sequence with great no-nonsense oomph. As Foster says after listening to Sutton describe her: "What a dame!"
With a working title of
A Tommy in the U.S.A.
,
Thunder Birds
was meant by Fox studio chief Darryl F. Zanuck to be a follow-up to
A Yank in the R.A.F.
(1941). It ended up being one of two movies (along with
Buffalo Bill
, 1944) that William Wellman agreed to direct for Zanuck in exchange for permission to direct a picture Wellman
really
wanted to make:
The Ox-Bow Incident
(1943). But even though Wellman's heart wasn't exactly in
Thunder Birds
, it's still rendered with professionalism and good craftsmanship.
At one point it was announced that Dana Andrews would play the lead in
Thunder Birds
. Andrews and Tierney had already appeared together in
Tobacco Road
(1941) and
Belle Starr
(1941) and would soon make the enduring classic
Laura
(1944). Ultimately they would pair up for five films including one directed by Wellman,
The Iron Curtain
(1948).
Fox Home Entertainment's DVD has few frills - just a trailer (which is in pretty good shape technically) and clips of two newsreels which show Tierney christening an airplane and making her handprints outside Grauman's Chinese Theater. But really, who needs extras for a little 78-minute vault title like
Thunder Birds
? It's enough that the picture quality is so astoundingly crisp, clear and vibrant.
For the record, this film's on-screen title reads
Thunder Birds [Soldiers of the Air]
.
For more information about
Thunder Birds
, visit
Fox Home Entertainment
. To order
Thunder Birds
, go to
TCM Shopping
.
by Jeremy Arnold