DVDs from TCM Shop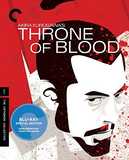 Throne of Blood Spurred by his wife and a... MORE&nbsp> $21.95 Regularly $29.95 Buy Now blu-ray
Home Video Reviews
Akira Kurosawa's
Throne of Blood
(Kumonosu-jo)
is a direct adaptation of Shakespeare's
MacBeth
transposed to a feudal Japanese setting. Already considered somewhat foreign in his style, Kurosawa explored his interest in Western literature with his Fyodor Dostoevsky adaptation
The Idiot
(1951) and his take on Maxim Gorky's play
The Lower Depths
(1957). For this version Shogunate castles replace Scottish ruins, and a mysterious forest demon takes the place of MacBeth's blind witches. Rather than merely shift locales and costumes, Kurosawa extends the Bard's critique of feudal ambition, demonstrating that the thirst for power recognizes no cultural boundaries. The highly cinematic film is considered one of the best, if not
the
best, movie adaptation of Shakespeare.
Loyal vassals Taketori Washizu (Toshiro Mifune) and Yoshiteru Miki (Akira Kubo) valiantly put down a brazen invasion. En route to report to their feudal Lord, they pause in the Spider Forest, where an evil Spirit says that both will be rewarded with castles. Taketori will ascend to power, the Spirit predicts, but his successor will be Miki's son. The first part of the prediction comes true, whereupon Lady Asaji Washizu (Isuzu Yamada) becomes obsessed with fulfilling her husband's destiny to rule. She bombards Taketori with paranoid notions, and eventually convinces him that the only way to avoid assassination is to murder their Lord. More murders follow. A loyal retainer (Takashi Shimura) flees with the surviving sons of the Lord and Miki. Taketori's own fighting force questions his innocence in these matters. It is said that an army is on its way to destroy him, but the usurper is not shaken: the Forest Spirit insisted that he could not be vanquished in battle.
Sometimes called the Noh version of
MacBeth
,
Throne of Blood
gives Shakespeare's characters a highly stylized theatrical manner, including devices like the Noh chorus. The players are frequently isolated in large gloomy rooms, and when they talk they rarely make eye contact. Kurosawa's highly cinematic adaptation stages familiar scenes in unusual ways, leading to a spectacularly violent climax.
Stage productions frequently interpret the MacBeth character as a patsy victimized and manipulated by a scheming wife. Here the evil is shared by both sexes. Taketori Washizu is ambitious and ruthless from the get-go. Lady Asaji's provocative warnings and demands serve to inflame his fears. When her perceived enemies continue to do nothing offensive, Lady Asaji interprets their silence as proof of a conspiracy. The obsessed woman is constantly thinking up new arguments in favor of murder. The theme of madness is pretty much unchanged. Taketori is beset by accusatory hallucinations from the start, while Lady Asaji goes insane only later, after their schemes fall apart.
The adaptation is fascinating from a political / cultural point of view. To justify unprovoked regicide, the Washizus argue that their Lord took his throne by murder as well and therefore deserves to be killed. Their cynicism masks a fear of the entire system, in which force routinely trumps the law, and any noble office holder is at risk from 'ambitious' underlings. They naturally project their own guilt onto their imagined enemies. Secondly, in Shakespeare's original, MacBeth's cronies and officers sneak away after dark, to switch allegiance to the other side. But the samurai code of honor forbids sworn retainers from deserting their lords, no matter what their crimes may be. Taketori Washizu's soldiers instead wait until his guilt is irrefutable, and then turn on him, savagely. It's a toss-up as to which martial code is more honorable.
Kurosawa's handling of the fantastic content provides a needed stylistic contrast with the grim plotting in Taketori's foggy, dank castle. The mysterious encounter in the Spider Forest cuts from a downpour to a glowing hut inhabited by a pale witch-like demon. Later on, the slow-motion visual of trees moving in the fog is an impressive 'special effect' that creates the illusion of an army of approaching giants. The famous conclusion is still startling. Kurosawa reportedly used a squad of expert marksmen to shower Toshiro Mifune with arrows. We see no telltale strings as scores of missiles
thwack!
into the hardwood walls of Taketori's castle, cutting off his escape. It's an audacious stunt, the samurai equivalent of James Cagney performing while a marksman fires real machine gun bullets in
The Public Enemy
. When Washizu is finally hit -- first with one and then with dozens of arrows -- the film conveys the sensation of being pierced like a dartboard.
A moody study of the fear, greed and ambition that lie behind so much of human evil, Kurosawa's
Throne of Blood
finds expressive visuals to animate Shakespeare's timeless characters. Although transplanted to the other side of the world, the show is remarkably faithful to its literary original.
The Criterion Collection's Blu-ray + DVD of
Throne of Blood
is a fine upgrade from their DVD release of ten years ago. This was one of Kurosawa's last standard-format films before he joined the entire Japanese film industry's conversion to the anamorphic 'scope screen shape. The transfer on view is a new 2K restoration, and the monaural soundtrack is uncompressed.
The extras of the first disc have been carried over. Congenial film programmer Michael Jeck provides the full-length audio commentary. An original trailer is present. Translators Linda Hoaglund and Kurosawa expert Donald Richie provide alternate sets of English subtitles. In the insert pamphlet, each offers an explanation of their strategy for translating the film's difficult poetic dialogue. Film historian Stephen Prince's text essay explains Japanese feudal politics in the fifteenth century, and offers more observations about the stylistics of Noh Theater.
The extra new to this release is an episode of the excellent Japanese television show
It Is Wonderful to Create
(2003), which takes a comprehensive look at the film's creation. The extra contents are duplicated on both the Blu-ray and DVD discs in this Dual-Format release.
By Glenn Erickson
Toshiro Mifune and Akira Kurosawa were one of the most famous actor-director combos in film history with a string of 16 films together that are frequently acclaimed as masterpieces. Just think of titles like
Seven Samurai
,
Yojimbo
,
Hidden Fortress
,
Sanjuro
(all of which are available in a Criterion boxed DVD set called
Four Samurai Classics
). They even inspired a dual biography, Stuart Galbraith's recent
The Emperor and the Wolf
. Now you can find another of their greats on DVD:
Throne of Blood
(1957), a moody, fog-drenched adaptation of Shakespeare's
Macbeth
set in feudal Japan. Writing about Kurosawa, critic Jonathan Rosenbaum stated that this is "unquestionably one of his finest works--charged with energy, imagination, and, in keeping with the subject, sheer horror."
The story is much the same you may remember from school-time readings of
Macbeth
or even the Welles film adaptation which Kurosawa tried to not duplicate. However, it's streamlined by clipping many of the long speeches and minor characters (even excluding Macduff, hardly a trivial omission). A samurai (Mifune) is warned of future events by a supernatural encounter and then spurred to seize power by his ambitious wife (Isuzu Yamada, who starred in several Kenji Mizoguchi films including
Sisters of Gion
and
Osaka Elegy
). This includes the murder of his leader, an action that leaves Mifune stricken with guilt and faced with potentially vengeful enemies.
The Criterion DVD features their usual high-quality transfer but is loaded with extras. There are actually two sets of subtitles to choose. One by Linda Hoaglund is a more naturalistic one for general viewers while those by historian Donald Richie attempt to follow the Japanese meaning and cultural references more closely; they explain their approaches in an essay on the disc. There's also a full-length audio commentary by Michael Jeck who also did the honors on
Seven Samurai
. Rounding out the set is a trailer and a new essay by Stephen Prince (who wrote a book on Kurosawa).
For more information about
Throne of Blood
, visit
Criterion Films
. To order
Throne of Blood
, go to
TCM Shopping
.
by Lang Thompson