DVDs from TCM Shop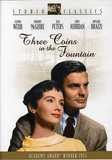 Three Coins in the Fountain Three American roommates... MORE&nbsp> $11.21 Regularly $14.98 Buy Now
Articles
SEE ALL ARTICLES
Three Coins in the Fountain (1954)
"You've Never Lived Until You've Loved in Rome!" promised the tagline for Three Coins in the Fountain (1954). It was one of many films that were shot in Italy after World War II, when Italy became trendy. Actresses like Sophia Loren, Anna Magnani and Alida Valli were popular, as were Italian songs, especially sung by Dean Martin. Like Summertime (1955), revolved around American women who go to Italy and find romance, but unlike Summertime the romances were more successful.

Directed by Jean Negulesco, Three Coins in the Fountain was based on the novel Coins in the Fountain by John Seconardi, with the screenplay adapted by John Patrick. The stars were some of 20th Century-Fox's biggest in 1954: Jean Peters, Dorothy McGuire, Rossano Brazzi (who had also starred in Summertime), Louis Jourdan, Maggie McNamara and Clifton Webb, who had been a star at Fox since his breakout role in Laura (1944). Webb played a waspish author whose secretary of 15 years, McGuire, is secretly in love with him. McNamara and Peters play American women working for the US government in Italy who meet and fall in love with translator Brazzi and playboy prince Louis Jourdan. Along the way are misunderstandings, a potentially terminal illness, forbidden love and all the other things that still make for a women's picture.

The film got its title from the legend that throwing a coin into the Trevi Fountain will ensure that you will return to Rome. Three Coins in the Fountain was actually filmed in Technicolor and Cinemascope on location at various spots around Italy, like the Trevi Fountain in Rome, the Dolomite Mountains and Venice, with interiors done at Cinecitta Film Studios in Rome. Director Negulesco and producer Sol Siegel were advised by Fox executives not to shoot in these formats in Italy, which they felt would not be able to support them, technically. Rather than give up, they simply brought Fox's entire Technicolor/Cinemascope crew to Italy, with successful results.

The film was nominated for three Academy Awards and won two: the title track, written by Sammy Cahn and Jule Styne, which was a hit for Frank Sinatra, and Best Cinematography (Color) for Milton Krasner. It lost the Best Picture nomination to On the Waterfront at the 27th Academy Awards ceremony.

For Jean Peters, who had been involved with Howard Hughes off and on for years, the film gave her the opportunity to meet her future husband, oilman Stuart Cramer III, when they had a mix-up with their luggage at the Rome airport. The marriage only lasted a year and Peters returned to Hughes, who she married in 1957. Louis Jourdan might not have been given the chance to flex his acting muscles in Three Coins in the Fountain, but his work in this film led to him winning the part of Gaston in Gigi (1958), arguably his best role.

Three Coins in the Fountain was beautifully shot, but essentially a soap opera, a fact that did not escape New York Times critic Bosley Crowther, who wrote, "There's no point in probing the techniques of all these predatory dames, especially those of Miss McNamara, who is a bit of an absolute fraud. John Patrick, who wrote the screenplay from a novel by John H. Secondari, was more concerned with humor than he was with veracity. And so the jokes are limpid, the plot is entirely contrived and the logic is minus zero. The whole thing is as slick as Cellophane."

by Lorraine LoBianco

SOURCES:
Crowther, Bosley "Three Coins in the Fountain'; Eternal City Glows in Film at the Roxy CinemaScope and Stars Offset Light Story" The New York Times 21 May 54
The Internet Movie Database
monsieurlouisjourdan.net
Mosby, Aline "Jean Peters Won't Stay in Movie Colony" Greensburg Daily Tribune 3 Nov 54.


back to top
---