DVDs from TCM Shop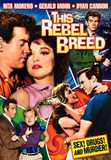 This Rebel Breed MORE&nbsp> $5.95 Regularly $6.98 Buy Now
Home Video Reviews
Leave it to Something Weird Video to come up with a catchy marketing hook for its latest DVD release, a tawdry pair of drive-in flicks -
The Black Rebels
(1960) and
Murder in Mississippi
(1965) - billed as a "Sinful South double feature." Don't look for these on Turner South anytime soon....or Turner Classic Movies for that matter. In fact, the more recognizable of the two titles -
The Black Rebels
- has nothing to do with the south unless the SWV folks mean Southern California. Set in a Los Angeles high school (the palm trees and ethnic mix of students is a dead giveaway), this exploitation drama aimed at teenage audiences of the early sixties mixes up rival gangs, racial tensions, undercover cops and drug dealers in a scenario that flip flops from one genre to another. Is it a juvenile delinquency melodrama or a sexploitation film or a message movie pleading for racial tolerance? It's all that and more, though the film is far more interesting for the surprising number of well-known actors and familiar faces on display than its schizophrenic juggling of daring topics.
The Black Rebels
opens a la
Dragnet
with voiceover narration by a certain Lt. Brooks, Juvenile Division, who warns us "The story you are about to see is not pleasant..." We are then introduced to two rookies who are being planted in a local high school where they will try to infiltrate separate gangs. Frank (Mark Damon) who is part-Mexican and part-Black - though his makeup makes him look like a Malibu Ken doll - quickly finds he is unwanted by any gang. Don (Doug Hume), however, manages to pass himself off as a hoodlum with a prison record and eventually becomes a henchman for Buck (Richard Rust), the high school drug pusher and resident sadist. The other plot development and one which ignites all of the racial tension in the film involves the secret romance between Lola (Rita Moreno), a Mexican girl, and Jimmy (Don Eitner), a member of Buck's high white gang. When the truth is discovered, Jimmy is confronted and accidentally killed by Buck, who then frames Lola's brother for the murder. But the true culprit is unmasked in a house-smashing rumble between all of the gangs before the cops arrive and stop the madness.
One thing that needs some clarification is the title
The Black Rebels
. It was the re-release title of this film which first opened in 1960 as
This Rebel Breed
; it was directed by Richard L. Bare who worked regularly in television on such series as
Green Acres, Petticoat Junction
and
The Twilight Zone
. Additional footage was then shot by the producer William Rowland - soft core sex scenes with mostly topless female nudity - and inserted into the film as a subplot involving Don, one of the undercover cops. The new scenes stand out like sore thumbs with fleshy, out of shape bodies groping each other while Don, forever stumbling into the wrong room, interrupts them periodically. Though
The Black Rebels
enjoyed a new lease on life on drive-in circuits, it also showed up in some regions under such titles as
Lola's Mistake
and
Three Shades of Love
.
Rita Moreno, who is top billed, was just a year away from her Oscar®-winning performance as Best Supporting Actress in
West Side Story
(1961). She had already been playing minor roles in numerous prestige films before this, including
Singin' in the Rain
(1952) and
The King and I
(1956), so her appearance in a low-budget B movie like
The Black Rebels
is a bit of a mystery. Perhaps it was the opportunity to accept a starring role or maybe she found the subject matter appealing; it is, after all, a precursor to
West Side Story
with its Romeo and Juliet-like star-crossed lovers and battling street gangs.
It's also a surprise to see the future Mrs. Cary Grant, Dyan Cannon (spelled Diane in the credits), as 'Wiggles," the wild for kicks girlfriend of the chief badass. Ms. Cannon is quite the little minx here, cavorting by the jukebox or taunting the cops, but nothing prepares you for the final revelation about her character which is completely unbelievable but also sets in motion the violent finale. Other distinguished actors in the supporting cast include Al Freeman, Jr., one of the great unheralded black actors of the sixties, Gerald Mohr as the Sgt. Friday-like investigating cop, character actor Jay Novello in the thankless role of Lola's sad sack father, and B-movie heart throb Mark Damon, no relation to Matt, who gave up acting for executive producing (his most recent achievements are
Monster
(2003) which won Charlize Theron an Oscar® and
The Upside of Anger
, 2005).
The co-feature to
The Black Rebels
is an abomination entitled
Murder in Mississippi
which is ineptly directed, poorly acted and painfully sincere at times in its attempt to add relevance to a sleazy storyline. Rushed into grindhouses only a year after the tragic deaths of three Civil Rights workers (James Chaney, Michael Schwerner, and Andrew Goodman) in Mississippi, the film not only exploits the worst aspects of that front page news story but also tosses in a sexploitation subplot with prostitution, female nudity and attempted rape. The story, set in the fictitious town of Lovingsboro, Mississippi, depicts what happens when a group of Civil Rights workers attempt to register Black voters in the area. The local sheriff and his officers try to scare them off but end up killing one of them in the process. This creates a new problem. What to do with Carol and Tyrone, the two volunteers who witnessed the murder? As you can imagine, nothing good lies in store for either of them but Carol's ordeal lasts longer. She is held captive in a shack and abused while her sleazy brother from Hollywood shows up with the ransom money for her captors and immediately gets down and dirty with a black hooker. Luther, the one character who helps Carol escape, is castrated for his trouble. And it should be noted that most of the black male characters in
Murder in Mississippi
come to a bad end with no justice served on their behalf. The cynical approach to the material could be interpreted as the filmmakers' angry response to the real case in which the suspected killers escaped sentencing - but that would be giving screenwriter Herbert S. Altman and director Joseph P. Mawra too much credit. This is indefensible trash but what would you expect from the director of
Olga's House of Shame
(1964)?
As usual, Something Weird has loaded the DVD with a pile of extras you really didn't want or need such as
The Negro Farmer
, a 1937 U.S. Department of Agriculture short subject, or audio only advertisements for drive-in fare like
Machismo
(1971) and
Little Miss Innocence
(1973). The trailers on display at least share a thematic connection to the double bill with such notorious titles as
My Baby is Black
(1961) and
Free, White and 21
(1963). The real oddity here is a preview for
The Color of Her Skin
, a relatively obscure melodrama better known as
Night of the Quarter Moon
(1959) with Julie London in tan makeup "passing for white" and a supporting cast including Nat King Cole, John Drew Barrymore, Dean Jones, Agnes Moorehead, Jackie Coogan and Anna Kashfi (Marlon Brando's ex)!!!
For more information about
Black Rebels/Murder in Mississippi
, visit
Image Entertainment
. To order
Black Rebels/Murder in Mississippi
, go to
TCM Shopping
.
by Jeff Stafford