DVDs from TCM Shop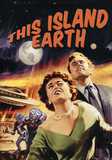 This Island Earth Dr. Meacham is chosen along... MORE&nbsp> $11.21 Regularly $14.98 Buy Now
Quotes
Dr. Ruth Adams


It's only Neutron. We call him that because he's so positive.

Dr. Cal Meacham


You boys like to call this the pushbutton age. It isn't, not yet. Not until we can team up atomic energy with electronics. Then we'll have the horses as well as the cart.

Joe Wilson


Half an hour late. That's my boss -- the only guy in the world who can travel by jet and still be late.

Joe Wilson


Cal, I -- I know everybody's seeing flying saucers and screwy lights up in the sky. Well, you can put me in the booby hatch too, because, so help me, I saw this ship turn a bright green up there.

Dr. Cal Meacham


Are you sure, Joe?

Joe Wilson


Positive.

Dr. Cal Meacham


Did you hear anything?

Joe Wilson


Yes. A high-frequency howl, very high, all the time your ship was...

Dr. Cal Meacham


This isn't paper, it's some kind of metal!

Dr. Cal Meacham


"Iterociter incorporating planetary generator. Iterociter with voltarator. With astroscope."

Joe Wilson


Here's something my wife could use in the house. An "iterociter incorporating an electron sorter."

Dr. Cal Meacham


Oh, she'd probably gain 20 pounds while it did all the work for her. You know, Joe, according to this, there's no limit to what it can do. Laying a 4-lane highway at the rate of a mile a minute would be a cinch.

Joe Wilson


Cal... maybe we've been working too hard.