DVDs from TCM Shop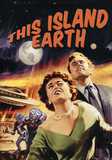 This Island Earth Dr. Meacham is chosen along... MORE&nbsp> $11.21 Regularly $14.98 Buy Now
NOTES
According to modern sources, Joseph Newman bought the rights to Raymond F. Jones's book This Island Earth in 1953 and, upon becoming the president of Sabre Productions, transferred the right to the company. In December 1953, Variety reported that Sabre had sold the script to Universal, with Newman attached as director. The film's ending differs from the book's in that in the book the American scientists are enslaved to build arms for Metaluna, and "Cal Meacham" is forced to convince an interplanetary peacekeeping coalition that the Earthlings, as intelligent beings, should be freed.
According to a November 1954 Popular Science article, special effects cinematographer David S. Horsley watched films of atomic blasts and consulted with Mt. Wilson, CA, astronomers before creating his effects. The article also states that the Metaluna-Zahgon war, which took up only 16 minutes of screen time, took 26 days to shoot. According to modern sources, the filmmakers used miniatures to create the planet of Metaluna. Studio press materials note that Newman shot the Metalunan scenes with a muted color palette instead of Technicolor, to differentiate it from Earth.
Modern sources add the following information about the production: "The Mutant" was played by both Eddie Parker and Regis Parton; makeup assistants included Jack Kevan, Robert Hickman and Chris Mueller; and Jack Arnold directed some of the film's final scenes. Upon its release, the film was highly praised by critics, and is recognized as one of the more morally complex and structurally sound science-fiction films of the 1950s. In 1996, the Comedy Central television program "Mystery Science Theatre 3000" produced a film entitled MST3K: The Movie, in which actors dressed as robots screened This Island Earth, satirizing its dated effects.