DVDs from TCM Shop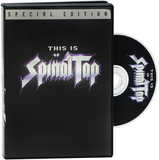 This Is Spinal Tap A filmmaker documents the... MORE&nbsp> $8.95 Regularly $14.98 Buy Now blu-ray
Articles
SEE ALL ARTICLES
This Is Spinal Tap (1984)
SYNOPSIS

Spinal Tap is a loud--very loud--British hard rock band whose time has past but they don't quite know it yet. Setting off on a "comeback" tour of the United States, with a new album due for release, the quartet is followed by Marty DiBergi, a filmmaker out to capture the realities of a hard-working rock band on the road. He gets all he hoped for, and more--internal squabbles, struggles with management and record companies, interfering girlfriends, bungled tour dates, miserably bad stagecraft, overbearing fans, and some bizarre interviews with the band members. The group sets out with a lot of hope and energy, deals with multiple disappointments and disasters (such as drummers who spontaneously combust), breaks up, and comes back together again, always convinced of their importance and greatness in a time when no one seems to care any more.

Director: Rob Reiner
Producer: Karen Murphy
Screenplay: Christopher Guest, Michael McKean, Harry Shearer, Rob Reiner
Cinematography: Peter Smokler
Editing: Ken Beyda, Kim Secrist
Production Design: Bryan Jones
Original Music: Christopher Guest, Michael McKean, Rob Reiner, Harry Shearer
Cast: Rob Reiner (Marty DiBergi), Michael McKean (David St. Hubbins), Christopher Guest (Nigel Tufnel), Harry Shearer (Derek Smalls), June Chadwick (Jeanine).
C-83m. Letterboxed. Closed Captioning.

Why THIS IS SPINAL TAP is Essential

Although not a tremendous box office success at the time of its release in 1984, This Is Spinal Tap has become an enduringly popular comedy, a cult movie with a large following of fans who can recite much of the dialogue and even entire scenes, and a landmark in the emergence of a new genre that has come to be known as the mockumentary. Christopher Guest, one of the creators and stars of this picture, has made the form entirely his own, turning out funny, insightful, even poignant movies about dog show competitors, small-town community theater performers, has-been folk singers, and B movie actors in the decades since Spinal Tap first sang the praises of Stonehenge. For a funny little satire that nobody took to be a milestone in 1984, the film has had a far-reaching influence; the style it virtually created is now commonplace in movies of all genres and has even become a popular form for television comedy.

The fictional documentary was not entirely new when this movie was made. A documentary-like approach was used frequently in the late 1940s and 1950s for crime dramas and police procedurals to achieve a certain authenticity of detail. The Legend of Boggy Creek (1972) was a very low-budget attempt to create a horror story by using a documentary format to relate a tale of a mysterious Arkansas swamp creature. The most relevant antecedents to This Is Spinal Tap were films like A Hard Day's Night (1964), which purported to follow an actual band - the Beatles - through their lives and performances, and The Rutles: All You Need Is Cash (1978), a spoof of the Beatles lives and careers. But the zany styles of the two--almost surreal in the first case, over-the-top satirical in the second--were clearly never meant to recreate reality in any way.

The true progenitor of This Is Spinal Tap is actually the rock documentary, movies like Don't Look Back (1967) about Bob Dylan's 1965 tour of England, Gimme Shelter (1970) about the ill-fated Rolling Stones Altamont concert, and The Last Waltz (1978), a film of the final concert given by The Band with a number of guest musicians. These were actual records of' tours, concerts, and backstage lives, although many critics say even these have heavy elements of fiction (especially the Dylan piece), as well as the manipulation and fact-bending that any documentary might display. The real reason This Is Spinal Tap works so well, why it is so funny and at the same time stirs feelings of pity and embarrassment, is that its creators were determined to make it as realistic as possible. The fact that many audiences thought they were seeing a film about a real band is a testament to how well that aim was achieved.

Anyone who has ever seen a "factual" film about rock musicians, or even brief interviews and band profiles, will recognize the elements here: backstage squabbles, power struggles, and petty jealousies; pretentious comments about the music and an over-inflated sense of importance; on-stage catastrophes and bungled personal appearance events; the hyper-adolescent sexuality of a bunch of overgrown boys on the loose; and the tendency toward hagiography on the part of those who produce-direct these types of documentaries. In the words of This Is Spinal Tap's fictional director Marty DiBergi (Rob Reiner, who also happened to be the film's real director), the movie seeks to capture the "sights, sounds and smells of a hard-working rock band on the road," and that's exactly what it offers audiences, albeit in a skewed and satirical version. The remarkable thing is that Guest, Reiner, and co-creators Michael McKean and Harry Shearer achieved such a hilarious send-up of both the genre and the rock milieu with very little exaggeration. Maybe just a tad, of course, the equivalent of cranking an amp beyond its maximum of ten to the previously unheard of eleven...and that's one louder, isn't it?

by Rob Nixon
back to top
---
This Is Spinal Tap (1984)
This Is Spinal Tap was only a moderate financial success when it first came out in theaters in March 1984. Director Rob Reiner said the initial lukewarm reaction was due to the perception on the part of many audience members that this was a real band they had never heard of. It wasn't until the video release a short time later that the picture gained fans and a devoted cult following in the years since.

Poseable Derek, Nigel, and David action figures were marketed in 2000. Over the years, the This Is Spinal Tap cult has given rise to a number of related products, including a Spinal Tap zine, t-shirts, posters, sheet music, and a "cultography" by Ethan De Seife. There are also many web sites dedicated to the film and the band.

Spinal Tap has appeared in a number of "sequels" over the years, including a television special, A Spinal Tap Reunion: The 25th Anniversary London Sell-Out (1992), many comedy shorts and music videos, late night talk show appearances, comedy festivals, even news shows.

Spinal Tap appeared as characters on the long-running animated TV series The Simpsons. Harry Shearer, who plays Tap bassist Derek Smalls, voices the characters of Mr. Burns, Ned Flanders, Principal Skinner, and many others on the show.

The DVD release of the movie takes the mockumentary trope several steps further by including fake behind-the-scenes documentaries and having the customary audio commentary coming from the actors still in character as the band members. Anyone seeking to know what really happened while the movie was being made is instead taken back into the world of the movie for fictional "insights" into the film's background. The commentary comically reveals the band's distaste for the movie and just about everyone involved with it.

The band actually toured and released albums after the success of This Is Spinal Tap.

Many people have made guesses about who the characters are supposed to be based on. Nigel Tufnel, according to one rumor, is a take-off on English rock musician Jeff Beck. The relationship between David and Nigel has overtones of Lennon-McCartney, especially in their rift over David's girlfriend's influence in management and creative decisions, which some have compared to Yoko Ono's relationship to the Beatles (or at least the legend, however off base, that grew around it). Finally, the lurid cover art of the band's "Smell the Glove" album is said to have been inspired by the 1978 LP "Lovehunter" by the heavy metal band Whitesnake. Bands ranging from the Rolling Stones to Foghat to Journey have been named as inspirations for Tap, but the writers of this film insist the characters and story are simply amalgams of many people and a wide variety of legends and stories that have come out of the rock era.

Rob Reiner's appearance on film and as narrator in the character of documentary director Marty DiBergi is a nod to Martin Scorsese, who inserted himself into the documentary he directed about The Band's last concert, The Last Waltz (1978). "The Scorsese model was there," Harry Shearer said. "It was something we were aware of, and we were certainly taking it into account." That earlier movie can be seen as an inspiration for the style and satire of This Is Spinal Tap, along with such music documentaries as Don't Look Back (1967) and Gimme Shelter (1970).

The movie bears other similarities to The Last Waltz. In both films, the band members are introduced by superimposing their names over their images during an on stage performance. Like the members of The Band, the members of Spinal Tap recount the various name changes the group has gone through.

The scene in which bassist Derek Smalls is trapped inside a pod is said to have come from an incident in which Screamin' Jay Hawkins was trapped inside a prop coffin on stage at the Apollo Theater in 1956 during a performance of "I Put a Spell on You."

Many musicians claim to have had very similar experiences as the group in This Is Spinal Tap, among them Led Zeppelin's Jimmy Page and Robert Plant, Twisted Sister's Dee Snider, and Ozzy Osbourne, all of whom claim to have gotten lost in backstage mazes just as Spinal Tap does. Others who have noted similarities between their experiences and situations in the movie are Lars Ulrich, whose band, Metallica, claimed their "black album" was an homage to Spinal Tap's ill-fated "Smell the Glove" LP. Eddie Van Halen says he was laughed at by others when he failed to see the humor in the movie. "Everything in that movie had happened to me," he said.

Other connections to real-life musicians and groups abound. R.E.M.'s Mike Mills once noted how his band also played a gig on an Air Force base, as had the group Uriah Heep. Harry Shearer said he used the story about Heep's experience in the film.

The success of This Is Spinal Tap led to a series of critically acclaimed mockumentaries by Christopher Guest, with equal blends of lampooning and affectionate observation. Guest has taken on small-town community theaters in Waiting for Guffman (1996), dog show competitors in Best in Show (2000), the folk music scene of the 1960s in A Mighty Wind (2003), and B-movie actors and film awards in For Your Consideration (2006).

The fake documentary has since become a popular and recognizable form in movies and television. Some horror movies have been based on what purports to be real found footage, such as The Blair Witch Project (1999) and Paranormal Activity (2007). In comedy, the form is most often seen on television, where it was pioneered on the British series The Office and its subsequent American counterpart, and can now be seen on such shows as Modern Family and Parks and Recreation. The format on these latter shows, however, almost jettisons the notion of a film crew working to make a recognizable documentary in favor of merely providing a means for direct address to the camera and, by extension, the viewing audience. One of the best uses of the style in recent years has been the HBO Lisa Kudrow series The Comeback, in which the documentary crew is very much a part of the action.

The film is one of the most quoted of all, with lines like "there's a fine line between stupid and clever" and "this goes up to 11" repeated frequently by devoted fans and casual viewers alike.

Talking about his own film School of Rock (2003), Jack Black noted that the key is to both make fun of something like rock music and embrace it at the same time, much as he did with his own band, Tenacious D. "That's what Spinal Tap did, and that's why it's so great," Black said.

Marty DiBergi's Coral Sea navy cap appears briefly in the opening sequence of Reiner's film The Princess Bride (1987), just off to the side of Fred Savage's character as he sits up in bed.

A popular music venue in Milwaukee, Shank Hall, is named after the fictitious Milwaukee bar at which the band appears midway on their tour.

"You're not going to make us into Spinal Tap, are you?" - Members of the band Depeche Mode to filmmaker D.A. Pennebaker

by Rob Nixon
back to top
---
This Is Spinal Tap (1984)
In the scene in This Is Spinal Tap where Nigel and David listen to one of their old songs on the radio, the announcer's voice is Harry Shearer.

There was supposedly a scene explaining the cold sores we see on the band's mouth, the result of each of them having slept with the promiscuous female lead singer of an opening act band they hire. The band, and the herpes explanation, was cut from the final release.

According to Rob Reiner, his character's name, Marty DiBergi, is a take-off on bits of the names of several directors: Martin Scorsese, Brian DiPalma, Steven Spielberg, and either Fellini or Antonioni.

Reiner, Guest, Shearer, and McKean tried to get the entire cast's names credited as writers since the dialogue was improvised by all of them. The Writers Guild voted unanimously to allow only their four names as credited writers.

This Is Spinal Tap was Rob Reiner's first feature film directing credit in his career. He has gone on to make a number of hit movies, including Stand by Me (1986), When Harry Met Sally (1989), and A Few Good Men (1992), which was nominated for a Best Picture Academy Award. He is the son of comedy legend Carl Reiner and the ex-husband of actor-director Penny Marshall.

Although people rarely realize it now, the "correct" spelling of the band's name contains an entirely non-functional umlaut over the "n" of Spinal. An umlaut serves no purpose over a consonant, but its use ties back to the Teutonic pretensions of many heavy metal bands.

Christopher Guest created his character Nigel Tufnel before the genesis of Spinal Tap. He used the name as guitarist on Michael McKean's album "Lenny and the Squigtones" and again in a sketch on the comedy program The TV Show in 1978.

Some real-life musicians appear in This Is Spinal Tap. Danny Kortchmar (Ronnie Pudding) is a long-time session guitarist who has played with Carole King, James Taylor, Warren Zevon, Harry Nilsson, and others and produced recordings for Neil Young, Bon Jovi, Billy Joel, and the Spin Doctors. Russ Kunkel (doomed drummer Eric "Stumpy Joe" Childs) is also a well-known session musician. A drummer and producer, Kunkel has worked with the Bee Gees, Herb Alpert, Tracy Chapman, Neil Diamond, Bob Dylan, Joni Mitchell, Steve Winwood, and many others. Kunkel and Kortchmar, along with bassist Leland Sklar and keyboardist Craig Doerge, worked together on so many studio recordings for famous musicians they became known as The Section. Kortchmar once played with a band called Jo Mama. There is a character in the movie called Joe "Mama" Besser. Joe Besser was the comic actor who was briefly a member of the Three Stooges in the late 1950s.

According to one story, Christopher Guest's future wife Jamie Lee Curtis saw a photo of him as Nigel of Spinal Tap on the cover of Rolling Stone and was so intrigued she gave her phone number to Guest's agent.

Christopher Guest was born in New York City, but his father was a British peer. Upon the father's death, Guest became the fifth Baron Haden-Guest of Saling, Essex. He was, however, deemed ineligible to serve in the British House of Lords, and his children with Jamie Lee Curtis are not in line for the title because they are adopted.

Guest's British roots gave him a deep connection with that country's humor, which he has described as "silliness framed in intelligence." His longtime favorite film comedian is Peter Sellers.

Tony Hendra (Ian Faith, the band's manager) said in his autobiography that he attempted suicide shortly before making this movie and that the great time he had filming it brought him out of his depression. Hendra was the founding editor of the influential humor magazine National Lampoon.

Guest, McKean, and Shearer have all been cast members on Saturday Night Live, as have Billy Crystal and Dana Carvey, who appear as mime waiters in the record company party scene. Shearer was also a writer on the series earlier in its run.

"We do love that, the musicians who have said, 'Man, I can't watch Spinal Tap, it's too much like my life.' That's the highest compliment of all. It beats all the Oscar® nominations we never got." - Harry Shearer

Selected Song Lyrics from Spinal Tap Songs
Stonehenge where a man's a man and the children dance to the pipes of pan.

Big bottom, big bottom/Talk about mud flaps, my girl's got 'em/Big bottom drive me out of my mind/How can I leave this behind?

Spinal Tap Album names:
Intravenus de Milo, The Gospel According to Spinal Tap, Shark Sandwich, Smell the Glove

Memorable Quotes from THIS IS SPINAL TAP

MARTY DIBERGI (Rob Reiner): They've earned a distinguished place in rock history as one of England's loudest bands.

MARTY: I wanted to capture the sights, the sounds, the smells of a hard-working rock band on the road.

NIGEL TUFNEL (Christopher Guest): It's very special. If you can see, the numbers go up to 11. Right across the board, 11, 11, 11, 11.
MARTY: Most amps go up to 10.
NIGEL: Exactly.
MARTY: Does that mean it's louder? Is it any louder?
NIGEL: Well, it's one louder, isn't it?

NIGEL: There's a fine line between stupid and clever.

DAVID ST. HUBBINS (Michael McKean): Dozens of people spontaneously combust each year. It's just not really widely reported.

MARTY: David St. Hubbins. I must admit I've never heard anybody with that name.
DAVID: It's an unusual name, well, he was an unusual saint, he's not a very well known saint.
MARTY: Oh, there actually is, uh... there was a Saint Hubbins?
DAVID: That's right, yes.
MARTY: What was he the saint of?
DAVID: He was the patron saint of quality footwear.

NIGEL (on what he would do if he weren't a rock star): Well, I suppose I could, uh, work in a shop of some kind, or, or do, uh, freelance, uh, selling of some sort of, uh, product. You know.
MARTY: A salesman?
NIGEL: A salesman, like maybe in a, uh, haberdasher, or maybe like a, uh, um, a chapeau shop or something. You know, like, "Would you...what size do you wear, sir?" And then you answer me.
MARTY: Uh, seven and a quarter.
NIGEL: "I think we have that." See, something like that I could do.
MARTY: Yeah. You think you'd be happy doing something like--
NIGEL: "No; we're all out. Do you wear black?" See, that sort of thing I think I could probably...muster up.
MARTY: Do you think you'd be happy doing that?
NIGEL: Well, I don't know. Wh-wh-what're the hours?

IAN FAITH (Tony Hendra): Certainly, in the topsy-turvy world of heavy rock, having a good solid piece of wood in your hand is often useful.

MARTY (referring to the piece Nigel is playing on piano): It's very pretty.
NIGEL: Yeah, I've been fooling about with it for a few months now. It's very delicate.
MARTY: It's a bit of a departure from the kind of thing you normally play.
NIGEL: Yeah well, it's part of a trilogy, really, a musical trilogy I'm doing in D minor which I always find is really the saddest of all keys, really. I don't know why but it makes people weep instantly.
MARTY: It's very pretty.
NIGEL: You know, just simple lines intertwining, you know, very much like...I'm really influenced by Mozart and Bach, and it's sort of in between those, really. It's like a Mach piece, really. It's sort of--
MARTY: What do you call this?
NIGEL: Well, this piece is called "Lick My Love Pump".

ARTIE FUFKIN (Paul Shaffer): Do me a favor. Just kick my ass, okay? Kick this ass for a man, that's all. Kick my ass. Enjoy. Come on. I'm not asking, I'm telling with this. Kick my ass.

DEREK SMALLS (Harry Shearer): We're lucky.
DAVID: Yeah.
DEREK: I mean, people should be envying us, you know.
DAVID: I envy us.
DEREK: Yeah.
DAVID: I do.
DEREK: Me too.

NIGEL: In ancient times, hundreds of years before the dawn of history, lived an ancient race of people. The Druids. No one knows who they were or what they were doing. But their legacy remains hewn into the living rock of Stonehenge.

DAVID: I do not for one think that the band was down. I think the problem may have been that there was a Stonehenge monument on stage that was in danger of being crushed by a dwarf, all right? That tended to understate the hugeness of the object.
IAN: I really think you're making much too big a thing out of it.
DEREK: Making a big thing out of it might have been a good idea.

AIR FORCE OFFICER (Fred Willard): May I start by saying how thrilled we are to have you here. We are such fans of your music and all of your records. I'm not speaking of yours personally, but the whole genre of the rock and roll.

DAVID (asked by a reporter if this is the end of Spinal Tap): Well, I don't really think that the end can be assessed as of itself as being the end because what does the end feel like? It's like saying when you try to extrapolate the end of the universe, you say, if the universe is indeed infinite, then how...what does that mean? How far is all the way, and then if it stops, what's stopping it, and what's behind what's stopping it? So, what's the end, you know, is my question to you.

Compiled by Rob Nixon
back to top
---
This Is Spinal Tap (1984)
Harry Shearer, Rob Reiner, Christopher Guest, and Michael McKean all knew each other for several years and had worked together in various configurations. McKean and Shearer were part of a comedy team, The Credibility Gap, in the late 60s-early 70s. McKean later was cast as Lenny in the hit TV sitcom Laverne and Shirley, starring Reiner's then-wife Penny Marshall. As that character, he released an album of music under the band name "Lenny and the Squigtones" in 1979, featuring Christopher Guest on guitar. Guest also appeared in one episode of the sitcom All in the Family, which featured Rob Reiner.

The idea for This Is Spinal Tap had its genesis about four years before principal photography even began. Shearer said the initial impulse "was our mutual shared frustration when we saw all of these rock 'n' roll movies, and they kept getting it wrong. People were supposedly playing guitars with their fingers in impossible positions, given what we were hearing. Forty million people in this country have taken guitar lessons, so why would you insult the audience quite that gratuitously if you don't have to?" The four decided they wanted to make a music movie that was not only funny but realistic.

The filmmakers weren't sure at first if the focus would be on the band or on "some backstage Rosencrantz and Guildenstern angle of a band" (Shearer) but ultimately decided the band itself was more interesting and funnier.

There were several rock documentaries that offered fertile ground for parody, including D.A. Pennebaker's Don't Look Back (1967), which offered much fodder for lampooning the pretensions of rock musicians in its profile of Bob Dylan, and The Last Waltz (1978), in which Martin Scorsese put himself in his documentary of the Band's last concert much as fictional director Marty DiBergi (Rob Reiner) would do in This Is Spinal Tap.

For financing, the quartet first went to British TV mogul Sir Lew Grade, then the head of the production company ITC, which made its transition from television to movies with blockbuster pictures like Raise the Titanic (1980). Marble Arch, the American branch of Grade's media empire, put up $60,000 for the four to develop a script based on their concept.

The four sat in a hotel room for about four days trying to compose a script until they realized that it was not going to work as a sales tool for getting the full financing needed to get the movie made. According to Shearer, they thought no one would be able to understand it on the page. They decided to produce a demo reel instead that would show their intended use of the documentary style to poke fun at both the fictitious band and the filmmakers who slavishly follow them around, hanging on every word and action.

The group shot the demo over the course of four days, and Reiner edited it. But Marble Arch showed no interest and dropped out.

Efforts to interest Hollywood studios were dismal. Most executives could not understand why anyone would make a movie about a band no one had heard of, and some suggested they turn it into a more traditional comedy with broader, more easily grasped jokes.

They finally got the support they needed from Norman Lear, the television producer who had brought Reiner into the public eye by casting him as the son-in-law in All in the Family. With his tremendous small screen success, Lear had purchased Avco-Embassy and put that company behind the project. The production was given a budget of $2 million.

To shoot This Is Spinal Tap, the filmmakers brought in Peter Smokler, who had worked on the rock documentaries Gimme Shelter (1970), Celebration at Big Sur (1971), and Jimi Plays Berkeley (1971). Smokler brought all the techniques he knew from those earlier movies, such as hand-held camera and grainy cinema-verit footage. He was also well in tune with the intended pseudo-documentary style, having been the cinematographer on the little seen film Punishment Park (1971), which purported to be a real record of an endurance exercise involving soldiers and counterculture dissidents.

Actress June Chadwick says she was brought into the development process when it became clear the script needed an extra storyline and the writers decided to give David a meddling girlfriend to introduce conflict between band leaders David and Nigel (although she insists she is not meant to be either Yoko Ono or Anita Pallenberg). Newly arrived in Hollywood from England, she was auditioned by doing improvisations with the cast.

by Rob Nixon
back to top
---
This Is Spinal Tap (1984)
Harry Shearer, Michael McKean, and Christopher Guest actually played their own instruments and did their own singing in This Is Spinal Tap, which lends a great deal more authenticity to their performances. They also wrote all the music.

Although he had worked on several real rock documentaries and shot the pseudo-documentary Punishment Park (1971), cinematographer Peter Smokler was not entirely comfortable working on this picture and often sought reassurance from director Rob Reiner that his work was valuable. "Trust me, this is funny," Reiner would say.

British actress June Chadwick, who portrays David's meddling girlfriend Jeanine, was impressed with the English accents used in the film by Shearer, McKean, and Guest.

Chadwick was thrown a bit by the fact that the script was built around a basic story and situations but no dialogue, most of which was improvised. She was told her character was into horoscopes and yoga. Never having studied yoga, she took some lessons and bought books to learn about it. She came up with the yoga pose of sticking the tongue out, which was meant to cure David's sore throat. Chadwick also said she worked from the premise that Jeanine really cared about the band, so she was really hurt when, after the film's first screening, people told her they thought Jeanine was "such a bitch."

Although scenes were improvised, there were times when Reiner called for rehearsal, to focus on what the center of attention would be in a scene and to help Smokler know what and who he should highlight in shooting it. For instance, rehearsals were called for the scene in the diner in which Jeanine presents her sketches of the new look for the band as signs of the zodiac.

Although Fred Willard had known Reiner for several years, it was Shearer and McKean who insisted he be hired to play the clueless Air Force officer. Willard did not want to do it at first: "I'm tired of playing jackasses." He was won over by watching the demo reel.

Although it is about the band's national tour, This Is Spinal Tap was shot entirely in Southern California.

During production, Michael McKean, Harry Shearer, and Christopher Guest first appeared in character as guests on New York's The Joe Franklin Show, a long-running celebrity talk show. Others on the show appeared to believe this was a real band. Footage from that appearance is edited into the movie.

The film's dialogue was almost entirely improvised, and many scenes and plot points were created on the fly, resulting in more than 100 hours of footage to sift through. Reiner supposedly showed a four-and-a-half-hour director's cut to his fellow filmmakers, and legend has it that a bootleg copy of it still exists. McKean said the long version was "amazing" but that they all saw a lot of material that had to go. "The removal of things gave us jokes we didn't know we had," he said.

The principal photography of This Is Spinal Tap took place over five weeks in 1983. Editing took more than nine months.

by Rob Nixon

SOURCES:
Best in Show: The Films of Christopher Guest and Company by John Kenneth Muir (Applause, 2004).
back to top
---
This Is Spinal Tap (1984)
Although he didn't invent the bogus documentary, Christopher Guest as good as branded the so-called "mockumentary" with a succession of wry behind-the-scenes satires that began with This Is Spinal Tap (1984). While that film was signed by actor/writer Rob Reiner making his directorial debut, Spinal Tap is more of a piece with Guest's subsequent career than Reiner's.

The project began as a one-off sketch written for the failed ABC pilot The T.V. Show in the summer of 1979. At that time, Guest, his former NYU classmate Michael McKean (a star of the hit sitcom Laverne and Shirley) and Harry Shearer (a former child actor and the original Eddie Haskell in the Leave It to Beaver pilot) wrote themselves into a fleet-footed spoof of rock and roll excess titled "Rock and Roll Nightmare." While the pilot stiffed, that one bit stuck in the minds of all involved and a production team was formed to secure financing for a feature film. Five years later, This Is Spinal Tap was a surprise success with both critics and moviegoers, before either had developed a taste for mockumentary. In the Chicago Sun Times, Roger Ebert praised Reiner et al for the way their film "simply, slyly destroys one level of rock pomposity after another" while New York Times critic Janet Maslin praised "a witty, mischievous satire...so wickedly close to the subject that it is very nearly indistinguishable from the real thing."

In fact, there were those who sat through This Is Spinal Tap from end to end and walked away believing it to be a genuine piece of documentary filmmaking; one fan allegedly buttonholed Rob Reiner to lament how unfortunate it was that he hadn't chosen a more accomplished band to follow. The film's straight-faced sense of topical satire has its roots in the faux news segments of the radio comedy troupe The Credibility Gap (so named for the notorious disconnect discerned by journalists between statements released by the Johnson administration pertaining to the Vietnam War and provable fact). The brainchild of KRLA news director Lew Irwin, the Credibility Gap was staffed initially by radio professionals who, as they moved on, were replaced by comedians among them Michael McKean and Harry Shearer (who helped the Gap transition from KRLA, with whom they had lost favor by 1970, to the Pasadena station KPPC, where he worked as an FM disk jockey). When McKean and Gap member David Lander moved on to costar in Laverne and Shirley, Shearer cast about as a writer-for-hire, teaming with Carl Gottlieb and Rob Reiner on a stillborn historical satire timed for the American Bicentennial and helping to write Albert Brooks' Real Life (1979), which lampooned the groundbreaking 1973 documentary series (and reality TV progenitor) An American Family.

A not inconsiderable addition to the Tap team was former National Lampoon editor Tony Hendra, who had produced the Off-Broadway Woodstock spoof Lemmings (which provided early paychecks for Chevy Chase and John Belushi), co-founded the baldly bogus Not the New York Times during the city-wide newspaper strike of 1978 and went on to parody such sacred tomes as The National Enquirer, Playboy and The Bible.

As roommates at NYU in the 1960s, Christopher Guest and Michael McKean wrote songs together while McKean and Shearer were pelted with oranges when The Credibility Gap opened for folk singer Richie Havens. Clearly, the material for a merciless expos (albeit with the names changed to protect innocent and guilty alike) of the sad and pathetic side of the American rock-and-roll dream had been percolating for quite some time when This Is Spinal Tap became a go project. While Guest and Shearer were nobody's idea of famous celebrities in 1984, McKean added some much-need star wattage to the project, as did the casting of a host of well-situated industry friends, including Billy Crystal (then of the hit ABC sitcom Soap), Howard Hesseman (late of CBS's popular WKRP in Cincinnati), Paul Shaffer (near the beginning of a long run as bandleader for late night talk show host David Letterman) and Paul Benedict (a legitimate stage and film actor who was at the time enjoying a lucrative costarring gig on the All in the Family spin-off The Jeffersons). Of far more interest (and entertainment value) than as a time capsule of the mid-80s comedy scene, This Is Spinal Tap does capture a host of budding comedians at or near the start of long and fruitful careers, among them Fred Willard, Fran Drescher (whose claxon-voiced Bobbi Flekman is a pencil sketch for The Nanny, still a decade off), Ed Begley, Jr. and Anjelica Huston, cast in a bit as the designer of the film's infamous nine inch scale model of Stonehenge.

As a director, Christopher Guest has strayed occasionally from the put-on path blazed by This Is Spinal Tap, with those sidebars including the Hollywood-basher The Big Picture (1989), the cable TV remake of Attack of the 50 Foot Woman (1993) and the seemingly (for him) incongruous frontier spoof Almost Heroes (1998), but the mockumentary remains his mtier. Waiting for Guffman (1996) poked fun at small town theatrics, Best in Show (2000) at the eccentricities of dog show contestants, A Mighty Wind (2003) at aging American folk musicians in the iPod age and For Your Consideration (2006) at the destructive ambition that ankles the cast of an independent film due to Oscar® buzz.

Working with more or less the same repertory of actors (Shearer, McKean, Ed Begley, Jr., Fred Willard, Jane Lynch, Parker Posey, John Michael Higgins), Guest has achieved a sense of cinematic continuity usually reserved for such "serious" filmmakers as Robert Altman and John Cassavetes, although a comparison to the charming, efficient comedies crafted by England's Ealing Studios would not be out of place. Guest's extracurricular plans to take Waiting for Guffman to Broadway have fueled rumors that he may be done with the mockumentary. With Guest mum on the subject, it bears remembering that the deadpan satirist is a master in nothing so much as keeping his audiences waiting for that other shoe to drop.

Producer: Karen Murphy
Director: Rob Reiner
Screenplay: Christopher Guest, Michael McKean, Harry Shearer, Rob Reiner
Cinematography: Peter Smokler
Music: Christopher Guest, Michael McKean, Rob Reiner, Harry Shearer
Film Editing: Kent Beyda, Kim Secrist
Cast: Rob Reiner (Marty DiBergi), David Kaff (Viv Savage), Tony Hendra (Ian Faith), Michael McKean (David St. Hubbins), Christopher Guest (Nigel Tufnel), Harry Shearer (Derek Smalls), Bruno Kirby (Tommy Pischedda), Ed Begley, Jr. (John 'Stumpy' Pepys),Danny Kortchmar (Ronnie Pudding), Fran Drescher (Bobbi Flekman), Dana Carvey (Mime Waiter), Sandy Helberg (Angelo DiMentibelio), Billy Crystal (Morty the Mime).
C-82m. Letterboxed

by Richard Harland Smith

Sources:

Rob Reiner biography by Tonya Horek, Contemporary North American Film Directors: A Wallflower Critical Guide, 2nd edition, 2002
Christopher Guest biography by Douglas Hildebrand, Contemporary North American Film Directors: A Wallflower Critical Guide, 2nd edition, 2002
Harry Shearer interview by Kenneth Plume, www.IGN.com, 2000
Harry Shearer, Michael McKean, David Lander interview by Robert Lloyd, LA Weekly, 1999
back to top
---
This Is Spinal Tap (1984)
Awards & Honors

This Is Spinal Tap did not receive any awards, but the 2000 DVD Special Edition release did win Best Audio Commentary at the DVD Exclusive Awards. It was also nominated for menu design and overall supplemental material.

In 2002, This Is Spinal Tap was deemed "culturally, historically, or aesthetically significant" and selected for preservation in the Library of Congress National Film Registry.

Number 48 on the list of 500 Greatest Movies of All Time, Empire magazine, 2008

Best comedy film of all time, Time Out London, 2011

One of the 50 Greatest Comedies of All Time - Premiere magazine, 2006

Ranked #1 on Entertainment Weekly's Top 50 Cult Movies of All Time

Number 29 on the American Film Institute list of 100 best comedy films of all time

The Critics' Corner: THIS IS SPINAL TAP

"This Is Spinal Tap is one of the funniest, most intelligent, most original films of the year. The satire has a deft, wicked touch. Spinal Tap is not that much worse than, not that much different from, some successful rock bands." - Roger Ebert, Chicago Sun-Times, March 1984. Ebert listed the film as one of his Ten Best for the year.

"A satire of the documentary form itself, complete with perfectly faded clips from old TV shows of the band in its mod and flower-child incarnations." - David Ansen, Newsweek, 1984

"In a style reminiscent of Martin Scorsese's The Last Waltz [1978], Reiner does take-offs on practically every rock clich there is, with often hilarious results." - Ira Hellman, People, 1984

"The most appealing thing about This Is Spinal Tap, aside from the obvious enthusiasm of all concerned, is the accompanying lack of condescension. Mr. Guest, in particular, does a wonderful job of capturing his character's sincere idiocy. Mr. McKean is also appealing as the group's most gullible member. ... And Mr. Shearer is quietly funny as the nondescript Tap member, the one who sees Nigel and David as 'fire' and 'ice' and thinks his own role is 'to be in the middle of that, like lukewarm water.'" - Janet Maslin, New York Times, March 2, 1984

"For all its japes and jokes, the movie is really about exhaustion of the spirit: sitting in a bleak hotel suite at 4 a.m. with the bad taste of last night in the mouth and the feeling that tomorrow will not be a better day." - Richard Corliss, Time, March 5, 1984

"You almost can't blame its legions of faithful followers for memorizing huge chunks of it, and for turning many of its jokes (especially that bit about the amp) into permanent fixtures of rock 'n' roll vernacular. How else do you grab hold of This Is Spinal Tap, a parody that's so close to its target, so spot-on and elusive at the same time, that it almost--almost--isn't even funny? How is it that a heavy-metal spoof can be as light as a soap bubble?" - Stephanie Zacharek, Salon, September 8, 2000

"Reiner's [sic] brilliantly inventive script and smart visuals avoid all the obvious pitfalls, making this one of the funniest ever films about the music business." - Nigel Floyd, Time Out, 2000

by Rob Nixon
back to top
---