DVDs from TCM Shop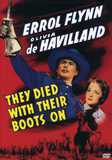 They Died with Their Boots On Romanticized biography of... MORE&nbsp> $15.79 Regularly $19.98 Buy Now
USER REVIEWS
See Detailed Ratings
Acting of Lead Performers

Acting of Supporting Cast

Director

Music Score

Title Sequence

Screenplay

Cinematography

Historical Importance

Would You Recommend?

0 Member Ratings
Rate the acting of the Lead Performers

Rate the acting of the Supporting Cast

Rate the Director

Rating of the Music Score

Rating of the Title Sequence

Screenplay

Creatively uses the camera to tell the story

Importance in Cinema history

Would you recommend for fans of this genre
Submit Ratings
Cancel
Write a Review
Read Reviews
NO REVIEWS AVAILABLE
The title has not been reviewed. Be the first to write a review by clicking here to start.
Questioning History

Now that we're seeing the exposure of the Deep State within our govt, it's no longer a leap of faith to think that a cover-up occurred to protect greedy investment insiders.

Something Remembered

I was about 9 years old and on a Sunday afternoon, I walked into the then called parlor and my father was watching a picture and I saw Errol Flynn (of which I did not know his name at the time) mount his horse and lead the mounted cavalry, it was on WNEW channel 5 and I sat on the floor and proceeded to ask about the picture, of which he explained the basics of the film.With a few poorly filmed scenes in/of the combat it was a very good film, NO actor then and now could bring the life and heroics of CUSTER like Errol Flynn. He was dashing, handsome, romancing, and physical as well. A person that gets little mention even in his parts taken in films was Anthony Quinn who played a great CRAZY HORSE and I think helped his career early on. The music of the film written by no other than MAX STEINER was absolutely great and helped create a legend in CUSTER. Steiner was a brilliant musical writer possibly the best.To this day I think it was one of the great films of the time and era, it is in fact under rated as I view it.We all can say that CUSTER was a controversial person, we may possibly never really know all the facts that are both pro and con regarding this issue. Crazy Horse was the Native American field general, Sitting Bull was more like a great politician regarding the tribes. What happened after the Massacre of the 7TH was not part of the picture. Many get on their HIGH HORSE decrying the film. We should just enjoy it for the time it was made !!!!

Comparing two movies

Actually denscul, Flynn did not play Custer in Sante Fe Trail, Reagan did.

this used to be a good movie

At the time this movie was made, the portrayal of Custer is exactly the way everyone believed him to be. This was due, in part, because for fifty or more years following the Little Bighorn disaster, Custer's widow travelled the nation unveiling Custer statues, giving speeches and writing magazine articles all in an effort to secure his memory as a national hero. Times have changed. A massive grass fire at the battlefield park in the 1980s revealed long hidden secrets about what actually happened on June 25, 1876 and it was anything but an heroic last stand. It was a catastrophe caused by an egotistical, insubordinate general. The movie is a good period piece but it's also historical nonsense. Errol Flynn is ok as Custer but he could not accurately portray the man without revealing Custer's pathological hatred of Native Americans, his proclivity to attack native villages when the men were away in hunting parties and the women and children were alone and his desperate need for a huge military "victory" to improve his presidential election chances. What really happened at the Little Bighorn was a disaster for Custer's hapless men and for the Plains tribes. The true horror of that day and what actually happened to Custer, himself, is too gruesome to recount here.

They Died With Their Boots On

Reply to Kevin Sellers. Did the Indians Really Win? Does Anyone Ever Really win in a tragic mess like this one. Ive just read two new books about Gen. Custer. Seems theirs always something new coming to light. Some new historical facts, that shed new light on The Little Big Horn battle. One particular book details a macabre, bizzare almost comical atmosphere taking place. Soldiers running around on foot trying to figure out whats going on and where to go, Who to follow. Lost in the dark, after the big battle. Indians, Native Americans trying to figure out, Who these crazy and in some cases Very Drunk soldiers are and what are they doing. Gen. Custer seen riding back and forth approx. four miles between Major Renos cowardly Retreat position and Custers own immediate command. It just gets more and more bizzare as time goes by. P.S. I enjoy trading opinions with you Kevin. We agree to disagree.

THEY DIED WITH THERE BOOTS ON

Charlie Grapewin, California Joe was a favorite scout for Gen. Custer, was Not killed at the Little Big Horn. He was also close friends with Elizabeth Libbie Custer. California sent word to Libbie After the battle, stating he had information regarding cowardice on the part of Major Marcus Reno, as well as other damning evidence, regarding a conspiracy on the part of senior military officers, that led to the defeat at The Little Big Horn. California was shot in the back, one night at Fort Lincoln, before he had a chance to meet with Libbie. Charlie is, never the less, great in the role of California Joe.

One Outstanding Scene

Charlie Grapewin who I thought was too broad in his portrayal in the film "The Petrified Forest". Was perfect in his last scene with Errol Flynn and his talents also brought out Flynn's talents. I felt it was the best scene in the film and also the crescendo of the entire piece. Otherwise I felt this was basically an Errol Flynn movie. If you love Flynn's talents and his physical beauty, you'll love this film. The score is noteworthy it actually is the best part of the entire film. It gave an average piece credibility (it was very nice for the film) This may be a great movie for others but I found it spotty, I wouldn't say I was glad to see it, I'd say I'm not unhappy I spent the time watching it. Three stars.

reply to previous reviewer

I appreciate your thoughtful comments. Why couldn't Raoul Walsh and Co. have made a more thoughtful movie instead of swallowing the Custer myth hook, line and Washita? Ticked me off, which is why I wrote what I did.

They Died With There Boots On

Reply to Kevin Sellers, respectfully. Tragically, as is so often the case there were No winners. Gen. Custers 7th. Cavalry, under his immediate command, about 50 percent of his regiment were killed. The Indians under Sitting Bull, Crazy Horse and the other leaders and there people starving, were hounded all the way to Canada. Crazy Horse was murdered, while in so called protective U.S. Army custody. President Grants Administration was wrecked on charges of corruption, greed and gross misuse of his power of office. His brother Orville Grant was one of the leaders of the infamous Indian Ring, mainly responsible for the entire tragedy, by selling brand new Winchester repeating rifles whisky and bad trade goods to the Indians in order to start a war, as well as cheating U.S. Soldiers at trading posts.Custer testified before a congressional hearing, and was in so many words, told to keep out of politics or face a court martial and dismissal from the army. There is much more to, They Died with There Boots On, if you look carefully.

happy anniversary, crazy horse

On this, the 140th anniversary of Little Big Horn, I'd like to take this opportunity to salute the winners of that epic battle, the Sioux Indians. Way to go, guys!

they died with their boots on

Not sure if the title of this film is correct. Custer and the victims of his stupidity and arrogance may have had their footgear on at the moment they shuffled off this mortal coil, but the Sioux soon stripped the bodies of boots, as well as all other items of clothing. Sic transit glory.

Love it when---

This is a really good film but my favorite is when Custer accidently makes Brig. General. It has been said the real Custer actually received more stars as the war went on---I don't know. Still my favorite scene is when he gets is one star.

Historically Inaccurate,Flynn was Custer.

Many reviews have noted the historical flaws. And as a film, this was not particularly a good film. There have been numerous versions of the "Last Stand". The one thing outstanding thing that separates this from others is Flynn as Custer. He also played Custer in Santa Fe Trail with DeHavilallad and Ron Reagan. This film was also historically inaccurate, but was a better film as far as the plot went. In real life, Custer's life, like so many Brevet Generals life ended when the Civil War ended. To many Generals, not enough positions. What I don't understand about Hollywood, is they have a perfect plot waiting to be made, about Custer's actual life. His real love affair with Libby, his political connections, his "Potomac Fever". He had an exceptional dramatic character. Unfortunately, he carried a lot of men to their death seeking redemption, and crack at becoming President. It would be a difficult film to make. Everyone knows that Flynn died with his boots on at the Little Big Horn.

Flynn is terrific!

While I really like Flynn in this role, I dislike his character being portrayed as some sort of hero for leading his men, including his only two brothers, to their certain deaths. Custer graduated LAST in his class at West Point and he hated all the studying when he only really wanted to go to war. There is no doubt he was a great cavalryman but he wasn't much of a man in real life. His wife, ably and beautifully portrayed by Olivia de Haviland, was a woman of great virtue who went with her husband to most of his postings. De Haviland showed, just on her face, the love that Mrs. Custer felt for her husband during their marriage. Custer was a deeply flawed man who was in love with the excitement of war. No less than President U. S. Grant found his actions at Little Big Horn beyond the pale and "entire unnecessary." I wish they had shown this egotistical and disastrous side of Custer in this film!

they died with there boots on

custer was a character, at west point,young and having a good time, he accelled in some subjects and failed in others not so different from the rest of us. during the civil war he was one the most outstanding officers in the union army. 1st. bullrun he stopped the confederate advance on washington. at gettysburg his michigan brigade stopped gen. jeb stuarts cavalry corp. from flanking the union army from behind. the union army would have been beaten, end of battle possably end of the war, possably even the union itself. at the bellknapp investigation custer spoke out against graft and corruption in the president grant administration. soldiers and indians all being cheated out of wages and promised treaty goods. at the little big horn custers seventh cavalry was the only cavalry unit that showed up. gen. terry, gibbon and gen crook with 3000 soldiers never showed.they died with there boots, was made at a time( world war 2) when america did NOT need a scandal regarding political policies. warner bros. probably didnt want law suites from family descendents of corrupt polititions who made there fortunes on blood money,so they threw in some fictional names. the facts( real facts) are there. errol flynn and cast did a fantastic job. my personal favorite line is (where IS the regiment going ? errol flynn as custer (with a memorable wild look in his eyes) to hell sharpe or to glory, depends on ones point of view.

The last kiss was the best one!

Errol Flynn said, more than once, that he kept his mouth shut during all his kissing scenes (an unfortunate experience with an early overeager leading lady) -- but I think the two must've had some sort of presentiment about this being their last picture together, because Libby & George's final embrace is Flynn's most romantic on film. That farewell gets me every time, as surely as does Spencer Tracy's throwaway line to Kate Hepburn in *their* last film together (Guess Who's Coming to Dinner?).And this may not have been Custer's true story, but I *wish* it was. One of his best performances.

FLYNN'S BEST PERFORMANCE!

this film is not only one of flynn's four best Westerns, next to DODGE CITY, VIRGINIA CITY, and SANTA FE TRAIL, but it's truly his best performance. Flynn plays the legendary General Custer with conviction, and the same can be said for lovely Olivia DeHavilland as Custer's wife Libby, this being her last time as Flynn's co-star, and what a touching last time it was! but despite the fact that Flynn was Australian, and his Custer's moustache was his usual pencil thin without being as droopy as Custer really had it, i think Flynn, like Robin Hood, is the best and most well known Custer on screen. the film is wonderful, with Max Steiner's music thundering Gallantry and incorporating the 7th Cavalry theme, "Garry Owen", thrilling Battle scenes that sweep across the screen that surpass any of today's action movies in classy direction, and just about everything else about the film is great. one of my favorite Westerns and one of my favorite Flynn flicks!

They Died with their Boots On

Great movie. I never get tired watching it. Veryentertaining.But Custer was done an injustice when the movieportrayed his promotion to general as an administrativesnafu. He was, arguably, the best cavalryman in the CivilWar outside of J.E.B. Stuart. Sheridan, in fact, told Custer's wifethat he could think of no one who did more for the Union Army'scause than her husband.

Portrait of a Fallen War Hero.

Errol Flynn and Olivia de Havilland make their last film appearance together as they star in Raoul Walsh's thrilling, action-packed Western epic as Flynn portrays the gallant war hero, George Armstrong Custer (1839-76), who rises in the ranks from a West Point graduate to a war hero, who leads his 7th Cavalry regiment in an ill-fated battle against the Sioux at the Battle of the Little Big Horn on June 25, 1876. Flynn is flamboyant as Custer as both he and Olivia are poignant in their swan song performance together especially in their farewell scene. Max Steiner's exciting musical score is superb. Fine vignettes amidst episodic buildup to exciting "Last Stand" climax. Also starring Sydney Greenstreet, Gene Lockhart, Anthony Quinn, Hattie McDaniel, Arthur Kennedy, Charley Grapewin, John Litel, Walter Hampden, Regis Toomey, Joseph Sawyer, Frank Wilcox, Joseph Crehan, Walter Brooke, Selmer Jackson, Addison Richards, Minor Watson & Frank Ferguson.

They Died With Their Boots On

A touching cinematic experience, which brings Olivia de Havilland and errol Flynn full circle as this was their 8th and final film together. If you are looking for historical accuracy, this is not the film for you. This is great movie with superb acting, with all the added elements of romance, drama, action pathos, and more. it is worth watching just for Olivia and Errol's sublime chemistry alone. Though they allegedly had no off screen romance, there is something very personal and profound going on between the two especially in their final scene together. it is more than just a movie script. It is astonishing to view it and brings a tear to the eye no matter how many times I see it. It is a must for any classic movie fans.

They Died With Their Boots On ... 1941

Simply fantastic picture ... Errol Flynn at his very best! The chemistry of Olivia de Haviland; Sydney Greenstreet; Arthur Kennedy; and Gene Lockhart add sumptuously to the delightful flavor of this classic. Why Alan Hale didn't make it into this film remains a mystery to me?Right in there with THE ADVENTURES OF ROBIN HOOD; THE SEA HAWK; OBJECTIVE BURMA; DIVE BOMBER; and last but hardly least ... DESPERATE JOURNEY.BTW ... pray tell WHY???? isn't DESPERATE JOURNEY on DVD????

They Died with Their Boots On (1941)

The best of the Olivia de Havilland and Errol Flynn pairings, after the Adventures of Robin Hood of course. Great supporting cast, rousing, fun, romantic, action...it has it all. Flynn is, of course dashing and great. A classic.

Classic

May not be historicaly accurate but Errol Flynn at his best. Great action great cast .seen it hundred times.

They Died with Their Boots On

Many movies of Ledgend and Myth often go with the myth. Seems profeesional soliders get a few stars. They often were targets on there backs for politicans and everyone under a rock.

ONE OF HIS BEST

This is an enjoyable movie.It has a lot of great scenes and the action is second to none.It is one of Errol Flynns best efforts.
*We protect your personal infortmation and will not provide it to anyone without your consent. For a complete explanation, please refer to TCM's Privacy Policy. By submitting your contribution, you agree to TCM's Terms of Use.