DVDs from TCM Shop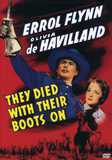 They Died with Their Boots On Romanticized biography of... MORE&nbsp> $15.79 Regularly $19.98 Buy Now
NOTES
Screenwriter Wally Klein's surname is spelled Kline in the onscreen credits. Biographical sources give the following information about George Armstrong Custer: Custer had a distinguished career during the U.S. Civil War, ending as the army's youngest major-general, and was known for his relentless pursuit of General Robert E. Lee. In 1865 Custer was court-martialed and suspended without pay for one year for harsh treatment of his troops. He was reinstated to counter the increased hostility of the Plains Indians, and in 1875 he took command of Ft. Abraham Lincoln in the Dakota Territory. In 1874, Custer led an expedition to confirm the rumored existence of gold in the Black Hills region of South Dakota. The character of Romulus Taipe was invented for the film. When the Sioux did not comply with a government order directing all Indians to move onto reservations by January 31, 1876, war broke out. Custer, under the command of General Alfred Terry, led his soldiers to total defeat at the Battle of Little Big Horn. Not a single soldier of the 250 men under his command survived. Custer was buried with military honors at West Point on October 10, 1877. Following his death, his widow wrote and lectured about his life and championed his deeds. Controversy over Custer's conduct at Little Big Horn continues to this day.
Papers included in the Warner Bros. Collection at the USC Cinema-Television Library add the following information about the production: Joan Fontaine, Olivia De Havilland's sister, turned down the role of "Libby" and Priscilla Lane, Elisabeth Fraser and Nancy Coleman were all tested for the part. Michael Curtiz was the studio's original choice to direct. Writer Lenore Coffee was hired to strengthen the romantic scenes between Errol Flynn and De Havilland. A number of people were injured during the battle scenes; Jack Budlong, a twenty-eight-year-old stuntman, died after falling from his horse on to his sword, and untrained rider George Murphy was killed when he fell from his horse while drunk. Scenes were shot on location at Busch Gardens in Pasadena, the Warner Ranch in Calabasas, CA, Iverson Ranch in Chatsworth, CA and at nearby Lasky Mesa. Second unit director B. Reeves Eason directed much of the Battle of Little Big Horn footage. He had previously co-directed (with Michael Curtiz) the final battle scene in Warner Bros.' 1936 film The Charge of the Light Brigade (see AFI Catalog of Feature Films, 1931-40; F3.0655). An Hollywood Reporter news item reports that a shortage of Native Americans in Hollywood led Warner Bros. to import Sioux from a reservation in the Dakotas. The USC files note that sixteen Dakota Indians worked in the film. The film was completed twenty-six days behind schedule. In his autobiography Raoul Walsh states "I tried to show [the Indian] as an individual who only turned vindictive when his rights as defined by treaty were violated by white men." This was the eighth and last film in which De Havilland and Flynn starred together. Some modern sources state that Eleanor Parker played a bit role in this film, but her name does not appear on the CBCS.
Among the other films about Custer are the 1909 Selig Polyscope film On the Little Big Horn or Custer's Last Fight, starring Paul McCormick, Jr.; the 1916 Vitagraph film Britton of the Seventh, directed by Lionel Belmore and starring Darwin Karr and Charles Kent (see AFI Catalog of Feature Films, 1911-20; F1.0488); Custer's Last Fight, a 1925 re-issue of a Thomas Ince film, and the 1926 Universal film The Flaming Frontier, directed by Edward Sedgwick and starring Hoot Gibson and Anne Cornwall (see AFI Catalog of Feature Films, 1921-30; F2.1119 and F2.1798); the 1936 Weiss Productions film Custer's Last Stand, directed by Elmer Clifton and starring Rex Lease (see AFI Catalog of Feature Films, 1931-40; F3.0906); the 1968 U.S.-Spanish co-production Custer of the West, directed by Robert Siodmak and starring Robert Shaw, Mary Ure and Robert Ryan; and the 1991 ABC Television film Son of the Morning Star, directed by Mike Robe and starring Gary Cole, Rosanna Arquette and Dean Stockwell.