DVDs from TCM Shop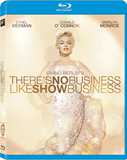 There's No Business Like Show... A blonde beauty upsets a show business family. MORE&nbsp> $11.95 Regularly $19.99 Buy Now
NOTES
The film's opening title cards read: "Darryl F. Zanuck presents A CinemaScope Production Irving Berlin's There's No Business Like Show Business.." At the end of the opening credits, a written prologue reads: "Back in 1919, Vaudeville was a very big part of Show Business. Our story is about The Donohues, a very little part of vaudeville." Voice-over narration by Ethel Merman and Dan Daily, as their characters "Molly" and "Terry," is heard intermittently throughout the picture. In May 1951, Hollywood Reporter announced that Berlin intended to sign a three-picture deal with Twentieth Century-Fox, for which he would supply the original stories and complete scores. According to February 1952 Hollywood Reporter news items, Fox paid $500,000 for the use of Berlin's songs and the composer's participation in the production, although in March 1953, Hollywood Reporter noted that Berlin had "called off all negotiations" for the three-picture contract, which "was close to the signing stage," because he wanted "complete autonomy" for his future projects.
Although some Hollywood Reporter news items stated that Berlin had written five new songs for the picture, only two new songs-"A Man Chases a Girl Until She Catches Him" and "A Sailor's Not a Sailor 'Till a Sailor's Been Tattooed"-were in the completed picture. The film's other songs were written by Berlin over the course of more than fifty years, with some written specifically for Broadway shows and earlier Fox films. Some contemporary and modern sources list "If You Believe" as a new song written by Berlin for the film, but according to studio publicity, he had written it twenty-five years previously. The song had never been presented onscreen before, however, and had been performed only in churches. Studio publicity also reported that Berlin would present the following spoken introduction to the film: "Show Business isn't just scenery, lights, greasepaint and glitter, it's heart. Because, if your show hasn't got a heart, you haven't got a show. That's what I tried to convey when I wrote the song `There's No Business Like Show Business.'" Although an August 1953 Hollywood Reporter news item announced that Berlin was filming the introduction, it does not appear in the completed picture.
Studio publicity announced that the Berlin song "Anything You Can Do, I Can Do Better" was to be in the picture, and although modern sources note that the production number, sung by Merman and Dailey, and danced by Donald O'Connor and Mitzi Gaynor, was filmed, it was cut before the picture's release. Modern sources also note that the songs "But I Ain't Got a Man" and "I Can Make You Laugh" were considered for inclusion but were deleted before final release. The film's title song comes from Berlin's hit Broadway musical Annie Get Your Gun (New York, 16 May 1946), which starred Merman. "Anything You Can Do, I Can Do Better" also came from Annie Get Your Gun.
The following information comes from Hollywood Reporter news items: Lamar Trotti was originally assigned to produce the picture as well as write its screenplay, but after his death in 1952, Sol C. Siegel was named the producer, and Henry and Phoebe Ephron completed the screenplay. Production on the picture was delayed from June 1953 until rehearsals began in March 1954 due to the illness of director Walter Lang. According to a February 1952 Variety article, Betty Grable was originally set to star in the picture, with Berlin seeking Fred Astaire as her co-star. Numerous performers were considered for, or tested for, roles in the picture, including Gil Lamb, Van Johnson, Don Crichton, Sheree North and Lila King, although they do no appear in the completed picture. Hollywood Reporter news items include the following actors and dancers in the cast, but their appearance in the released film has not been confirmed: Eleanor Moore, Buddy Spence, Joanne Jordan, Jean Acker, Dorothy Phillips, Stuart Hall, Lillian Ten Eyck, Betty Rome, Marjorie Jackson, Jean Gale, Cosmo Sardo, Harlan Hoagland, Margot Charlin, Peggy Jean Gordon, Virginia Lee, Betty Scott, Bob McCord, Jerry Lane, Marie Ardell, Joyce de Brott, Fay Antaky, Louise Carle, Charna Haven, Nolan Leary, Vi Petrie, Matt Mattox, Buzz Miller, Wilson Morelli, Frank Radcliff and Jack Tygett. Studio publicity reported that almost 750 dancers were used in the production.
According to modern sources, Berlin saw a photograph of Marilyn Monroe and specifically requested her for the part of "Vicky." Monroe, who had been suspended by Fox for refusing to appear in the proposed musical Pink Tights (which was never made), did not want to be cast in another musical, but studio chief Darryl F. Zanuck promised Monroe that if she appeared in There's No Business Like Show Business, she could have the lead in The Seven Year Itch. Modern sources also note that due to contractual problems, Dolores Gray sang Monroe's song for the soundtrack album of There's No Business Like Show Business.
The picture marked the last Fox film for Sol C. Siegel, who had been under a long-term contract to the studio. Mitzi Gaynor was also released from her contract with the studio during production. A April 16, 1954 Hollywood Reporter news item announced that Gaynor's release came at her own request, so that she could pursue a nightclub and Broadway career, but in a modern interview, Gaynor stated that she was fired by the studio. In 1958, however, she returned to the studio to star in South Pacific. Although There's No Business Like Show Business was a box-office success and received Academy Award nominations for Best Costume Design (Color), Best Music (Scoring of a Musical Picture) and Best Writing (Motion Picture Story), Berlin never wrote another score for a film. Modern sources add Gene Lester (Pub stills) and Red Crawford (Assistant Camera) to the crew and note that Hal Schaefer, who is credited onscreen with vocal arrangements, worked as Monroe's music coach.