DVDs from TCM Shop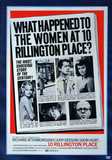 10 Rillington Place A serial killer frames a... MORE&nbsp> $17.95 Regularly $20.95 Buy Now
NOTES
DVDs from TCM Shop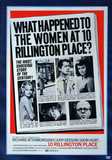 10 Rillington Place A serial killer frames a... MORE&nbsp> $17.95
Regularly $20.95 buy now
The opening credits are preceded by the written statement: "This is a true story. Whenever possible the dialogue has been based on official documents." The film ends with the still image of Richard Attenborough's face, as "John Reginald Christie," with the following titles superimposed over it: "Christie confessed his crimes and was hanged at Pentonville Prison. Twelve years later Timothy John Evans was pardoned, his body exhumed and reburied in consecrated ground." As noted onscreen, the film was shot at Rillington Place and at the Lee International Studios and Shepperton Studios in London. In addition, press notes state that many scenes were shot on location in the Notting Hill neighborhood of London. The New York Times review mistakenly lists the film's running time as 139 minutes and Los Angeles Times as 119 minutes.
As noted in historical sources, Christie (1898-1953) was abused as a child and later in life reportedly suffered from sexual dysfunction and experienced sexual pleasure from raping women and then strangling them. The film closely mirrors real-life events. After already having murdered several women, in 1949 Christie took on Timothy John Evans and his wife Beryl as tenants at his home at 10 Rillington Place, London. Soon after, Beryl gave birth to their daughter Geraldine. Christie raped and murdered Beryl under the pretense of helping her abort her second pregnancy, then blamed the murder on Evans, who was sentenced to hang on March 9, 1950. After Evans was executed, Christie killed four more women, including his wife. After he left 10 Rillington Place, the bodies of his victims were discovered buried throughout the property, and Christie was found guilty of killing his wife. He was hanged in 1953.
Some facts from the real-life case, and details from the best-selling novel based on Christie's life, were not included in the film. Some reviews pointed out that Evans' limited mental capabilities were not depicted, nor was the fact that the trial disallowed evidence that Beryl had been raped after her death as well as the workmen's testimony that the bodies were not hidden in the washhouse while they were there working. In addition, the film suggests that Evans was convicted of several murders while, in fact, he was convicted only of Geraldine's murder.
Although Christie never confessed to the killings of Beryl or Geraldine, and no definitive evidence exists to his guilt, the public presumed him culpable, and his conviction years after Evans' death spurred an outcry against capital punishment in Great Britain. In 1961 journalist Ludovic Kennedy wrote Ten Rillington Place, a biography of Christie, as a plea for reform. According to contemporary sources, the case and Kennedy's book contributed to the 1964 decision to abolish capital punishment in Britain. Evans was granted his posthumous pardon in 1966.
In June 1962, as noted in Hollywood Reporter, producers Elliott Kastner and Stan Shpetner bought the film rights to Kennedy's novel. In March 1968, Shpetner's Forest Park Productions announced in Daily Variety that they would team with William Dozier's Greenway Productions and CBS Films to produce the film version of the book. They hoped to star James Mason and Dirk Bogarde, with Joseph Losey directing. Dozier would serve as executive producer and Shpetner as producer. Daily Variety noted on August 22, 1968 that the producers had signed Sean Graham to write the screenplay.
By March 1970, however, Film Daily stated that Filmways would produce 10 Rillington Place as a Columbia release. Although Columbia's European production chief, John Van Eyssen, and Filmways head Martin Ransohoff announced in a March 1970 Hollywood Reporter news item that Basil Appleby would serve as executive producer, he is listed onscreen as associate producer. Director Richard Fleischer stated in a June 1970 Hollywood Citizen-News article that he had wanted to make the picture for years, but was prohibited by a British law requiring fifty years to pass before a real-life murder could be shown onscreen. The law, however, was changed to thirty years shortly before the production began.
Press notes and contemporary articles reported that the film renewed interest in the case and in the location of Rillington Place, by then renamed Ruston Close. A June 1970 Hollywood Citizen-News article described the area as "like a vacation resort," frequented by tourist buses and squatters. The press notes indicate that because filming could not take place at the actual building, most scenes were shot at the house next door. In 1970, the street was demolished and rebuilt as Bartle Road.
Press notes state that the production hired as technical advisors Albert Pierrepoint, the man who hanged Evans and Christie; police constable Ledger, the man who arrested Christie; and John Nutting, a London criminal lawyer. Although Filmfacts includes Bernard Lee in the cast as "Chief Inspector," according to the BFI index, this role was cut from the finished film.
Despite receiving excellent reviews for his portrayal of Christie, Attenborough stated in press notes that he disliked playing the role and accepted it only because the film was such a devastating statement against capital punishment. The Sunday Times (London) review stated that British response to the film was bound to be painful, as "the memory of the execution of poor trapped Evans is still too fresh."