DVDs from TCM Shop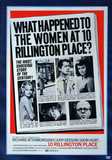 10 Rillington Place A serial killer frames a... MORE&nbsp> $17.95 Regularly $20.95 Buy Now
Articles
SEE ALL ARTICLES
10 Rillington Place (1971)
Never let it be said that movies cannot change the world. This film, 10 Rillington Place (1971) by journeyman filmmaker Richard Fleischer, played a role in the abolition of the death penalty in England.

First, the facts: In 1950, a simpleminded man named Timothy Evans was hanged for the murder of his pregnant wife and infant daughter. An illiterate habitual liar well-known for violent quarrels with his wife, Evans was the most obvious suspect. To the end, he insisted that he was innocent and that it was actually his fellow tenant at 10 Rillington Place, Mr. John Christie, who had committed the crimes. Yet no one, not even Evans, could offer an even remotely plausible motive for why Christie would do such a thing.

Years later, police discovered that in fact 10 Rillington Place was lousy with corpses - they were buried in the garden, shoved under the floorboards, and stuffed into the crawlspaces. The bodies predated Evans's tenancy, and postdated his execution. Mr. Christie was a serial killer.

At first, the police resisted public cries to reopen the Evans case. Rather than admit to such a monstrous error, the police preferred to argue that Evans had killed his family, and it was a mere coincidence that his next door neighbor was a serial killer with an identical M.O. Such flimsy excuses fell apart over the years, and eventually Evans was posthumously pardoned. The British public had to come to grips with the realization that, at least once, the full force of the state had been used to hang an innocent man. To prevent any future miscarriage of justice of the kind, capital punishment was no longer permitted as a penalty for murder.

Social change of such enormity never comes cheap. Just a few years after the abolition of the death penalty, there were anxious calls for its reinstatement. Into the middle of this roiling debate, the case of 10 Rillington Place returned to public attention via an unflinching film adaptation by Richard Fleischer. Thanks in part to the film's reminder of the cautionary tale of Timothy Evans, the law was not changed back. Over the years that followed, more crimes were removed from the list of offenses for which capital punishment was allowed. Eventually in 1999, the U.K. finally and officially banned capital punishment in all cases-but this was a mere formality, as no crimes then remained on the books for which execution was a permissible punishment.

The son of cartoon pioneer Max Fleischer, Richard was an adept hand at every genre of movie imaginable: 20,000 Leagues Under the Sea [1954], Fantastic Voyage [1966], Tora! Tora! Tora! [1970], Conan the Destroyer [1984], Mandingo [1975], Doctor Dolittle [1967], The Narrow Margin [1952], Soylent Green [1973]..."I've done every kind of movie," Fleischer told interviewer Paul Talbot in 2006, "and I put the same energy into all the pictures." If Fleischer could be said to have a specialty, it was crime thrillers, especially those based on true stories. Having already made the true-crime pictures The Girl in the Red Velvet Swing [1955], Compulsion [1959] and The Boston Strangler [1968], Fleischer seemed the perfect choice to dramatize journalist Ludovic Kennedy's non-fiction book about the Christie case. And he just happened to be in England at the time, on a tour that would find him making three films abroad before returning to Hollywood.

When Fleischer asked Richard Attenborough to take the lead role, the distinguished actor leapt at the opportunity without even asking to review a script first. Known for investing himself fully in each of his roles, Attenborough was revulsed by the character of Christie and hated doing the work itself. However, the desire to make a political point against the death penalty trumped his own personal disgust, and Attenborough gave a standout performance. Attenborough had recently directed his first film, the troubled production of Oh! What a Lovely War [1969], and returned to acting briefly for 10 Rillington Place before resuming his directing career on Young Winston [1972].

Playing opposite Attenborough as the unjustly accused Evans was John Hurt. The son of a small town vicar, Hurt had originally studied art. When his scholarship money ran dry, though, he found himself shifting into acting instead. It proved to be a fortuitous transition, which led to a long and still active career as a busy and much admired performer. As his wife, Fleischer cast Judy Geeson, an actress who had come to prominence as a teenager when she appeared with Sidney Poitier in To Sir, with Love [1967]. From there she distinguished herself primarily on television, first in the 1960s soap opera The Newcomers, and later on American screens in such shows as Mad About You, Star Trek Voyager, and The Gilmore Girls.

Fleischer's approach to the material differed from the more melodramatic flourishes of his earlier true-crime pictures. 10 Rillington Place strove for a low-key realism that felt more like a quiet slice-of-life drama than the story of a necrophiliac human vampire. Some of this is attributable to the subdued screenplay by Clive Exton, a television writer with few big screen credits. Exton dampens the more salacious details of the source material, as if expecting to have to meet the more stringent censorship standards of TV. Exton deserves credit for capturing the stifling mood of postwar Britain, an atmosphere that Fleischer had not personally experienced. The sense of place that dominates the film is so pronounced that the 1971 production attains a sort of timelessness. This is not a movie about what kind of environment could create such a monster, but what kind of environment would allow him to hide.

As his cinematographer, Fleischer chose Denys N. Coop, whose CV is chock-a-block with important British pictures, as a cameraman and director of photography. Not too many years after his work with Fleischer, Coop would handle some of the special photographic effects on both Superman [1978] and Superman II [1980].

In search of a documentary touch, Fleischer set up shop on the actual Rillington Place. The current occupants of Number 10, however, refused to move out for the production, so the film was actually made next door to the notorious address in an unoccupied flat at Number 7. In the service of this cinema verite ethic, Fleischer hired executioner Albert Pierrepoint as a consultant, to advise on the authenticity of the hanging scene. Pierrepoint had been the hangman responsible for executing both Evans and Christie, just two of the roughly 700 British convicts he ushered into the next world. When asked his opinion on the death penalty debate, England's executioner scoffed at the notion that it served any deterrent function at all. "If death were a deterrent, I might be expected to know. All the men and women who I have faced at the final moment convince me that I have not prevented a single murder."

Perhaps Mr. Pierrepoint has not prevented any murders. But the motion picture 10 Rillington Place played a role in preventing executions, by re-galvanizing British popular support against them.

Producer: Leslie Linder, Martin Ransohoff
Director: Richard Fleischer
Screenplay: Clive Exton (writer); Ludovic Kennedy (book "Ten Rillington Place")
Cinematography: Denys Coop
Art Direction: Maurice Carter
Music: John Dankworth
Film Editing: Ernest Walter
Cast: Richard Attenborough (John Reginald Christie), Judy Geeson (Beryl Evans), John Hurt (Timothy John Evans), Pat Heywood (Mrs. Ethel Christie), Isobel Black (Alice), Miss Riley (Baby Geraldine), Phyllis MacMahon (Muriel Eady), Ray Barron (Workman Willis), Douglas Blackwell (Workman Jones), Gabrielle Daye (Mrs. Lynch).
C-111m. Letterboxed. Closed Captioning.

By David Kalat

Sources:
David Castel, Richard Attenborough
Steve Greenfield and Guy Osborn, "Pulped Fiction? Cinematic Parables of (In)Justice," University of San Francisco Law Review Issue 1181
Phil Hardy, BFI Companion to Crime
Jefferson Hunter, English Filming, English Writing
Chris Lloyd, "Cutting Down the Hangman's Noose," Northern Echo
Paul Talbot, "The Third Dimension of Evil," Video Watchdog Issue 124.
Richard Fleischer Obituary, Entertainment Insiders, March 24, 2006.

back to top
---