DVDs from TCM Shop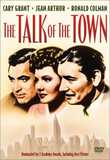 The Talk of the Town An escaped political prisoner... MORE&nbsp> $9.75 Regularly $14.99 Buy Now
NOTES
The working titles of this film were Three's a Crowd, Mr. Twilight, Justice Winks an Eye and The Gentleman Misbehaves. Although Columbia publicity materials note that Claire Trevor was to play the second female lead in this picture, and a Hollywood Reporter production chart places her in the cast, she does not appear in the completed film. According to materials contained in the George Stevens papers at the AMPAS Library, Everett Riskin asked Columbia to credit him as the film's producer, claiming that he had worked with writer Dale Van Every to develop the story and screenplay. Studio head Samuel J. Briskin denied his request on the grounds that his contribution was limited to the development of the story and two drafts of the script and that he did not oversee the production, casting or editing. Briskin also credited Stevens with enlarging the part of "Leopold Dilg" so that it would be suitable for a star of Cary Grant's stature.
According to pre-release news items in Hollywood Reporter, the film originally was two hours and thirty minutes long and the studio considered screening two different endings in sneak previews. In one, "Nora" would be paired with "Dilg", and in the other, she would be coupled with "Lightcap." The audience would then decide on her mate. In all the drafts of the screenplay contained in the Stevens papers, however, the film ends with "Dilg" and "Nora" together, suggesting that only one pairing was ever filmed. Several drafts of the script include an additional scene at the end of the picture, however. In that scene, "Dilg" leaves the courthouse followed by "Nora" and proceeds to the town square. When he realizes that the park benches have been removed, he becomes incensed and rallies the crowd to action. This park scene was dropped in the revised final script, dated January 27, 1942, eight days after filming began.
An Hollywood Reporter news item adds that Columbia sound chief John Livadary used a track recorded for Only Angels Have Wings (see AFI Catalog of Feature Films, 1931-40; F3.3283) for the rain scene in this film because he was dissatisfied with the track originally recorded for the scene. Ted Tetzlaff was borrowed from Paramount to photograph this picture. Stevens and Grant had previously worked together on the 1941 Columbia film Penny Serenade. The picture was nominated for Academy Awards for Best Picture, Best Original Story, Best Screenplay, Best Cinematography, Best Art Direction, Best Film Editing and Best Score. Jean Arthur, Cary Grant and Ronald Colman all reprised their roles in a Lux Radio Theatre broadcast on May 17, 1942.