DVDs from TCM Shop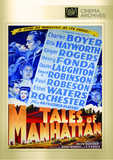 Tales of Manhattan A formal black coat that gets... MORE&nbsp> $12.95 Regularly $19.98 Buy Now
NOTES
DVDs from TCM Shop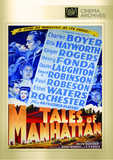 Tales of Manhattan A formal black coat that gets... MORE&nbsp> $12.95
Regularly $19.98 buy now
The working title of this film was Tails of Manhattan. According to a June 4, 1941 Hollywood Reporter news item, producer Boris Morros originally was to make the picture at Paramount, with Dalton Trumbo and Aben Kandel preparing a screenplay based on an original story written by Billy Wilder and Walter Reisch. Morros planned to use seven different directors on the seven planned episodes. No other contemporary source mentions Wilder and Reisch's involvement, and it is unlikely that they, or Trumbo and Kandel, contributed to the completed picture. A October 26, 1941 New York Herald Tribune article reported that Morros had been "planning his picture ever since a year ago when a friend of his named Eagle brought the idea to him." Several other contemporary sources credit co-producer S. P. Eagle (pseudonym of Sam Spiegel) with the original story idea, although the Twentieth Century-Fox Records of the Legal Department, located at the UCLA Arts-Special Collections Library, contains a memo from Spiegel in which he states that the idea of tying the individual sequences together "by means of a tail coat was based on an original idea" found in a 1931 book of German stories by Max Nosseck. Spiegel did not use any of Nosseck's stories, however, just his basic premise, to which Nosseck sold the rights to well-known literary agent George Marton, who in turn assigned the rights to Spiegel.
Further information in the legal records indicates that the first sequence was based on Marsall, a one-act play by Ferenc Molnar, which was performed as The Field Marshall in Budapest on October 19, 1929; the second sequence was based on a play entitled Sextette by Ladislas Fodor, the production dates of which have not been determined; and the rest of the sequences were based on original story ideas. Contemporary sources note that director Julien Duvivier also had a hand in shaping the screenplay. Besides Duvivier, Marton, Morros and Spiegel, none of whom received onscreen writing credit, the studio's legal records indicate that writer Nicholas Jory and dialogue director Don Brodie May have contributed to the script. A February 5, 1942 Hollywood Reporter news item noted that the production would feature writing credits for twelve of the twenty writers who worked on the screenplay. The news item also commented: "The tangle of original story credits has not yet been worked out. A total of 40 original stories and ideas were purchased for its variegated sequences."
The legal files and contemporary news items note that Irene Dunne and Joel McCrea were originally set for the leads of the second sequence, although a November 23, 1941 New York Times item stated that Dunne would play Thomas Mitchell's wife in the first sequence. Walter Huston was considered for a role before Morros and Spiegel signed a distribution deal with Twentieth Century-Fox in September 1941, and Frances Dee was considered for one of two sequences. According to a Hollywood Reporter news item, Buster Keaton was signed to play "Hiawatha" in the film, although he is not in the finished picture. Other Hollywood Reporter news items state that the singing group Deep River Boys and Gene Austin were cast, but their participation in the completed picture has not been confirmed. Rita Hayworth was borrowed from Columbia for the production. Although the legal files contain a December 3, 1941 memo from Spiegel requesting a $2,500 salary payment to Jean Levy-Strauss, the exact nature of Levy-Strauss' contribution to the completed picture has not been determined.
The legal records, in addition to the Twentieth Century-Fox Produced Scripts Collection and other contemporary sources, note that an entire sequence featuring W. C. Fields, Phil Silvers and Margaret Dumont was filmed and deleted from the finished picture. The sequence was written primarily by Bert Lawrence, Anne Wigton, William Morrow and Edmund Beloin, although a Hollywood Reporter news item stated that Eddie Welch was to collaborate with Morrow and Beloin. Hollywood Reporter also noted that director Mal St. Clair worked with Duvivier on this sequence, "advising on gags and comedy routines for Fields and other comics." Modern sources, however, report that St. Clair directed the majority of the Fields sequence. In the sequence, which was to be placed between the ones starring Edward G. Robinson and Paul Robeson, Fields played a confidence man who speaks before a temperance society headed by Dumont and accidentally gets his audience drunk. A May 3, 1942 New York Times article reported that the sequence was deleted because "the producers, having shown it at sneak previews, feel that it is not in keeping with the other five sections." On May 8, 1942, an ad placed by Fields appeared in Hollywood Reporter, in which he quoted from positive reviews of his sequence and rebutted a radio report that he was going to sue the studio for deleting his sequence. Fields asserted that he had no intention of suing Twentieth Century-Fox or the producers. The legal records indicate that the studio considered using Fields' sequence in its 1944 compilation film Take It or Leave It (see below). In May 1996, the Fields sequence was included in the video version of Tales of Manhattan released by the studio.
According to a studio press release, Morros commissioned the "Bacchanale Moderne" by Sol Kaplan after hearing him play his piano concertos at a recital in Los Angeles. In a contemporary article entitled "Film Music Notes," contained in the film's file at AMPAS, the young composer noted that "Morros was so impressed with this piece that the picture in this particular sequence was shot to the music." A February 9, 1942 press release stated that actor Jean Gabin provided Duvivier with "a roughed out musical theme for the [second] sequence, based on a popular French ballet," but Gabin's contribution to the musical score has not been confirmed. On November 18, 1941, Hollywood Reporter noted that Robert Katcher had reported to the studio "to prepare musical scores," but the extent of his contribution to the finished picture also has not been confirmed. In August 1942, Hollywood Reporter noted that Kaplan's score would be broken up into five popular songs, with Paul Webster supplying the lyrics.
According to Hollywood Reporter news items, the studio had trouble devising a trailer for the film due to the unusual number of starring actors, until it was decided to have a trailer "in which only speaking voices [would] be heard and no images" of the actors would be shown. Charles Boyer's voice was to be used to open the trailer, although a July 1942 Hollywood Reporter news item stated that Walter Winchell had narrated the trailer. According to a October 6, 1944 Hollywood Reporter news item, Tales of Manhattan was the first film shown to civilians in Paris after the city was liberated by the Allies.
Tales of Manhattan marked the last film appearance of actor/singer Paul Robeson, although his singing voice was featured in the 1954 East German film Das Lied der Strme. According to a September 23, 1942 New York Times article, Robeson announced he was "through with Hollywood until movie magnates found some other way to portray the Negro besides the usual 'plantation hallelujah shouters.'" In the interview, Robeson stated that he was "particularly despondent" over his role in Tales of Manhattan because "in the end it turned out to be the same old thing-the Negro solving his problem by singing his way to glory." Robeson asserted that this "very offensive" depiction was the result of "Hollywood [saying] you can't make the Negro in any other role because it won't be box office in the South."
Information in the legal files reveals that Mexican writer Francisco Rojas Gonzales sued Twentieth Century-Fox for plagiarism, claiming that Spiegel had read his story "History of a Full Dress Coat," which was published in a book of short stories in 1931, and stolen the premise. The disposition of the suit is not known, however. Another plagiarism claim was pursued by Peter J. Fabry and Raoul E. White, the authors of a book entitled Ever Yours...Casanova. The disposition of their suit also is not known.