DVDs from TCM Shop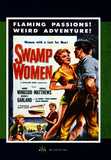 Swamp Women A plucky police woman... MORE&nbsp> $10.95 Regularly $14.99 Buy Now
NOTES
DVDs from TCM Shop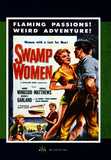 Swamp Women A plucky police woman... MORE&nbsp> $10.95
Regularly $14.99 buy now
The print viewed was missing one or more opening title cards that listed actresses Marie Windsor, Carole Mathews and Beverly Garland. The order of their placement in the above credits is based on reviews. There was an onscreen copyright statement for Woolner Bros., 1956, but the film was not registered for copyright. Although the screen credits read "Introducing Jil Jarmyn," Jarmyn previously had appeared in several films released in 1955 and 1956. The following written acknowledgment appears at the end of the film: "For their cooperation in the filming of this picture, the producers wish to thank: Mayor De Lesseps Morrison of New Orleans, Police Chief John Dayries of New Orleans, Governor Robert Kennon of Louisiana."
As noted in the screen credits and in news items, the picture was filmed entirely on location in New Orleans and the Louisiana Bayou country. Because the film was shot in October 1955, not during February or March when Mardi Gras takes place, scenes of an actual Mardi Gras parade, which did not include any of the film's actors and appeared to be stock footage, were most likely not shot specifically for the film. Although news items in Hollywood Reporter and Los Angeles Examiner indicate that actress Nancy Gates "headed the cast," she was not in the film; her role was taken over by Mathews.
News items and Hollywood Reporter charts indicate that the film was being shot in CinemaScope, but the process is not mentioned in reviews. The Daily Variety and Variety reviews, which were the same, mention photographer Fred West's "Eastman color camera work," but the screen credits state that it was filmed in Pathcolor. Swamp Women was the first production of Woolner Bros. Pictures. Modern sources credit Luke Saucier with stunts. As noted in a TV Guide listing, the film was shown on television, circa 1973, as Swamp Diamonds.